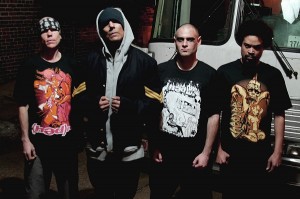 Thanks to our very good friends at Riothouse publicity, we have three double passes to see (Hed)p.e. and Snot in Sydney at the Factory Theatre on October 16, including a meet and greet with both bands to give away to three of our lucky readers.
So if you want win one of the three double passes, simply send us an email to mtrbwy@maytherockbewithyou.com with the subject line of '(Hed)p.e. and Snot Giveaway' and include your name, address, phone number and the answer to this question…

'What year did Snot release 'Get Some'?'
We will then randomly pick the winners who enter and answer correctly, and they will be notified via email.
Entries open:  Monday 5th October
Entries close:  Monday 12th October
Tour Release:
Ahead of their October tour playing their classic "Get Some" album in full, reformed Funk Metal legends "Snot" have just announced they will now be joined by Californian rasta-punk legends (Hed)p.e. for their double headline national assault!
With a career spanning more than 20 years and nine albums, U.S. metal/rasta/punk heavyweights (Hed)p.e need no introduction to Australian fans. The band have enjoyed a long-running love affair with the country ignited by (HED)p.e.'s genre defying blend of aggressive sound and enlightened lyrics.  While the band has weathered the stormy waters of the music business for over a decade and enjoyed a slew of successful albums, it's their quest for answers that has given them purpose.
(Hed)p.e. have their sights firmly set on the New World Order and they are using their brand of hardcore to bring it down. While early (Hed)p.e. albums found them mixed up in the rock n' roll lifestyle, the group have been reborn to become the voice for a movement that empowers the youth and explores Secret World History, and at the same time promotes unity and political activism. Always pushing the envelope, (Hed)p.e.'s new album EVOLUTION is built on heavy dark riffs and deep, solid grooves.
When Snot released their debut album Get Some in 1997 it was heralded as one of the most melodic, groove laden offerings of the then popular nu metal scene.  Full on massive punk riffs and killer heavy funk grooves, the album found immediate critical favor and won the band a legion of dedicated Snot Heads, in the process helping to fuel the founding fire of a new musical movement that was to sweep the globe.  Dedicated Australian Snot fans will now be able to experience this groundbreaking album live in full as the band's original line up pay homage to the late singer Lynn Straight who was tragically killed soon after the debut album release, which still stands strong today all these years later.
Full tour dates:
Tue 13 Oct – Adelaide – Fowlers Live
www.moshtix.com.au
Wed 14 Oct – Brisbane – Wooly Mammoth
www.mammothmanestage.com.au
Thur 15th Oct – Newcastle – Small Ballroom
www.oztix.com.au
Fri 16th Oct – Sydney – The Factory
www.oztix.com.au
Sat 17th Oct – Melbourne – Corner Hotel
www.cornerhotel.com
Sun 18th Oct – Perth – Capitol
www.oztix.com.au