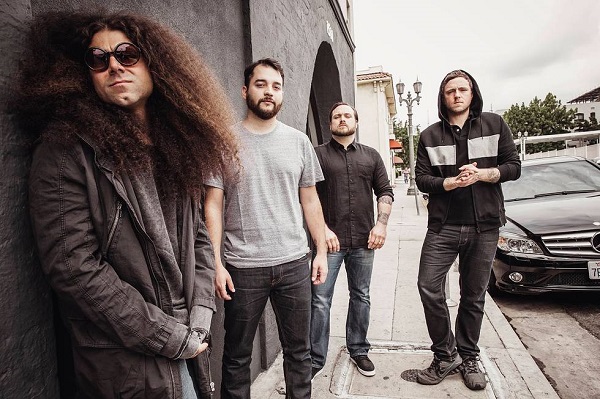 "I think it's through and through a Coheed album in the sense that it explores different territories of the band. And in different way than we ever have before. And that is something Coheed had done with every record."
From Release: The Color Before The Sun is the outfit's eighth studio album and their first non-conceptual release, with the previous offerings forming the larger story of "The Amory Wars", a science fiction saga depicting the story of Coheed and Cambria Kilgannon. The New York-based band's album arrives via the recently formed label, 300 Entertainment who pride themselves on being an independent, creative driven record label that focuses on intense artist development.
Ahead of Coheed and Cambria's new album 'The Color Before The Sun' being released, we had Travis of the band answer some questions for us about the new record, going without a concept, its creation, and much more…
Thanks for your time again, Travis and welcome back to May the Rock be with You! To start us off, this is the band's first non-concept album, why was now the time to try something different?
Coheed has had the concept involved for so many years people have just set aside as a "concept band". Coheed is way beyond that. And as can be heard in the music Coheed does not like to be confined. Every prior album has had a very personal approach lyrically from Claudio. Then it is of course is nestled in comfortably with the concept. The fiction seeing the real and vice versa. But on this record so much had happened in his personal life that it felt more comfortable to put it to song without the concept involved. And of course have the band the opportunity to show we aren't just a "concept band".
Is there a meaning or representation behind the album title you can share with us?
I feel like it is describing the color in the sky everywhere at dawn. Claudio is a very early riser and also works his hardest on music at that time. I, personally, used to be late night worker. Being most creative later. That has changed for me and I have also become someone who likes working early. So I have a connection to that aspect of the title. Where you are starting your day before everyone and everything else is up and at it. Before the silence is broken. Before the sun. There is an excitement, suspense, and mystery about that time of day/night and Claudio is describing that with the name.
With a fan base obviously dedicated to the band and also to the ongoing story throughout your albums, what should fans expect from 'The Color Before The Sun'?
I think it's through and through a Coheed album in the sense that it explores different territories of the band. And in different way than we ever have before. And that is something Coheed had done with every record. There is definitely also an energy that comes with this record because as a band we cut most of it live. A great deal of the instrumentation is what we played together as a band in live takes. That was a whole new approach.
I've listened to the album and man, it's so good, I was enjoying it and then 'Here To Mars' came on, what a song man, when a song like this comes to the table what's the vibe like in the studio and listening to the finished product?
That was definitely an exciting song for all of us to sit and listen to once completed and especially mixed. One of my favorites for sure. Aside from vocals and one or two guitar overdubs all the instruments are a live take that we did together. So hearing that energy after completion was quite exciting.
Does this see the end of The Amory Wars?
No. There are many places to go in that world. Just a break.
Was it somewhat difficult to step away from what you've done for so long in terms of working around a concept or idea?
Not at all. Especially not for the rest of us band members. We speak through our instruments on these songs. I realize someone would think Claudio would have a rough time but that was not the case at all. A testament to how great of a song writer, lyricist, and singer he is. Not to speak for him but in a way he has been hiding behind the concept all these albums. "Color Before the Sun" is more of a place to express himself from the heart and not mask it at all. So I know it was both scary and liberating at the same time. But by no means would it be described as difficult.
In saying that, what was the creative process like for this album compared to your back catalogue?
On this record Claudio had a full on initial idea of where he wanted to go with "The Color Before The Sun". Everyone else in the band still speak through their instruments and add their touch but with the songs themselves Claudio had a precise vision for where he wanted them to go. Not that isn't the case for prior albums it is. But some of the songs may have been a mixed batch of ideas. Some being guitar riffs I have had that Claudio likes and writes a song to. And some songs that come from jamming out on an in initial idea and arranging it into its musical outcome. With "Color before the Sun" Claudio had each song written and arranged as how he wanted them to be on record. And then of course the rest of the band added their flavors to that.
You had Jay Joyce at the helm for this album, what was he able to bring to the band that you felt may have been missing previously?
I think saying that he added something that was missing would be going a little far. His live approach was brand-new to us and the fact that he brought that out of us was huge step and boost in confidence for the band. So in that sense he brought new perspective to the band and to this record.
We last spoke you'd just released the Afterman albums so how has the last two and half years been for the band?
They've gone well we did an in keeping secrets neverender tour which went incredible. Claudio and I becoming fathers has been the biggest deal I would say. An incredible experience.
Seven albums in, what keeps you driven?
The music and the anticipation of what the music will do and how people react. It's one long mysterious trip that we love being on.
It would be remiss of me not to ask about when we might see you down here in Australia, any plans you can tell us about?
I hope soon haha. No plans yet. But we love coming there.
You've been a part of Coheed and Cambria for twenty years this year, what for you has been the most notable change or evolution you've witnessed throughout the past two decades?
There have been so many changes but I guess I can only talk about what has stayed the same and that is the dedication to the music that each member past and present has had. Each and every person band and crew have created this incredible experience that is Coheed .
Has there been any progress on The Amory Wars movie that was in discussion?
Nothing to update about as of now.
Lastly, I like to check in with everyone and see if we can predict the future, so let's look ahead, finish this sentence for me, by the end of 2015, Coheed and Cambria will…
Touring like crazy on their new record
Essential Information
From: Nyack, NY, USA
Band Members: Claudio Sanchez – lead vocals, guitar, Travis Stever – guitar, Josh Eppard – drums, Zach Cooper – bass
Website: http://www.coheedandcambria.com
Forthcoming Release: The Color Before The Sun (October 16 – 300 Entertainment)