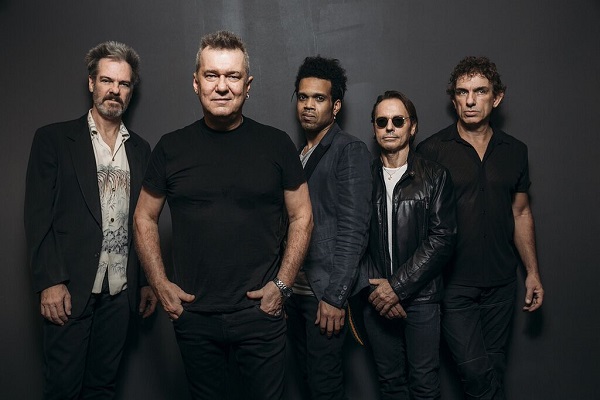 "…as long as we all enjoy playing together and coming up with new songs we've just got to keep doing it and enjoy it while we can because the realisation of Steve's passing, were only here for one shot in life so we've got to do it while we're here and enjoy it, so that's kind of the path we chose and we're all enjoying it still."
From release: The Perfect Crime is the follow-up to Cold Chisel's 2012 comeback studio album, No Plans. As the title of that previous record made clear, No Plans was initially intended as an open-ended affair – the original line-up of Australia's most iconic rock band quietly reconvening in a studio for the first time in some 14 years. If it didn't work, if anyone wanted out, then no one need ever know the meeting took place and everyone could walk away quietly. It did work, of course. From the first sessions, it was obvious the legendary Cold Chisel chemistry had not evaporated with the passing of time. So it was on: all pledged to make a new album, undertake a massive reunion tour. But then the cruellest twist of fate – the loss of drummer Steve Prestwich. It could easily have stopped right there. Instead, they decided to continue what the five of them had begun, turning it into a tribute to their lifelong friend, calling on the immeasurable talents of New Yorker Charley Drayton to fill in on drums.
Phil Small gave us a call to talk about Cold Chisel's new album 'The Perfect Crime', the upcoming tour and some great memories…
So it seemed to be announced out of nowhere, and the name suits it perfectly, tell us about 'The Perfect Crime' and how this album came about?
Well the album came about, it's all happened in the last twelve months, we got together in around about June of last year at Jim's studio over at Botany and we put down about nine tracks I think it was back then and that all came along nicely, but at that point in time we weren't quite ready to do anything with them so we just sort of shelved them. Time went by and our management managed to get us a couple of gigs towards the end of the year, one of them in February and that was the Clipsal 500, the V8's in Adelaide, so we rehearsed for that and at that point in time since we last recorded quite a bit of time had elapsed and we were still writing, and we thought now's a good time because we're all rehearsed why don't we just go into the studio off the back off this Clipsal gig that we've just played and continue on recording some new songs, so that's what we did. We went into 301 studios in Alexandria and we ended up putting down eleven more tracks, so it was quite a productive twelve months for us.
After 'No Plans' and of course with the truly unfortunate passing of Steve Prestwich, were there reservations or was it a difficult task to put this album together?
Well no not really, the difficult time we had was more so with the previous album, that being 'No Plans' because that was the transitional period for Charlie coming in and we were also getting over that point in time Steve was still involved with the album, so it was like Steve had recorded on two or three tracks and Charlie came in and finished it off, but it took a while to get into the groove because we were still getting over the fact of Steve not being there anymore, it was quite an emotional time for the band as you can imagine. It just didn't happen overnight… So that particular album 'No Plans' was a bittersweet kind of thing because we actually got through it and we all decided that Steve would've wanted us to complete it so that's what we did. At the point in time as things went on it went so good with Charley and out doing that tour, it was an amazing tour for us, we just thought we can't not keep going, as long as we all enjoy playing together and coming up with new songs we've just got to keep doing it and enjoy it while we can because the realisation of Steve's passing, were only here for one shot in life so we've got to do it while we're here and enjoy it, so that's kind of the path we chose and we're all enjoying it still. The fact that Charley has slotted in so well has just been amazing really, we've been able to continue in that regard.
And of course continuing with touring as you're heading out on a run of shows, have you got an idea of how these shows will come together?
Well we've got pretty much a basic plan, all the base fans will want to hear all the old songs so there's all the old goldies that people will demand to hear, they'll always be there. Obviously we're going to be throwing in new songs from the album and hopefully they'll come together well, they should do because it's not that far off since we played them on the album. Toward the end of the tour especially in Sydney with the closing down of The Entertainment Centre here, we'll probably do a few of the old numbers that we played on that particular night at the initiation of the band splitting up back in '83 – '84. We're quite open to trying different things and throwing in new songs last minute, we don't really know how things go until that point in time and just wait to see what the reaction is like and take it from there I think. We've got plenty of songs up our sleeves to choose from, to put in and take out as we go along.
Well the new album is a rocker so they should have no problem slotting into the set…
Yeah, it's going to be interesting to see how they shape up and fit in with the older ones as well, and you know, there's all that to consider how they'll fit in and what are the different keys and it's quite an art. Don's quite good at arranging a set list so it builds and compliments each other and it's not too similar a key or similar sounding so it sounds like one continuous song you know what I mean?
You also have the honour of playing the last ever show at the Sydney Entertainment Centre, what does that feel like for the band?
They in particularly invited the band to play for the final shows, it's a real honour really to be included with the Elton John's especially, he holds the record there I think he played six nights in a row, Chisel happened to do about five I think it was and they invited us I suppose for old sentimental reasons.
I've seen the band a number of times now and it's always fun watching a pub band just play really big pubs, has anything changed in the way that the band take to the stage after so long?
Well I suppose we're all quite a bit older now, there's a lot of history with the band, the band first got together and we were quite young, I'd only just turned twenty one when I joined the band and the band had been going for roughly eighteen months before I joined and that was '74… so it's quite a long time ago, we were quite young back then, quite youthful and of course we're all well passed middle age now so obviously our mental attitude has changed quite a lot, we've all been affected by life and family life and we still enjoy the music and still enjoy the moments on stage playing together, there definitely is something very special within the band, especially in a live context because hopefully something magical happens, that's what we achieve and enjoy. It's like a mental telepathy through music on stage, it's something that's hard to explain, you know when it's happening you know when it's all clicking.
'Flame Trees' is and always will be one of my all-time favourite songs, after so long and knowing that many feel the same about that song and others of course, does it still give you a buzz when you play these classics and get such a great reaction?
Yeah it just evokes so many memories and that's the thing about music, it's about being in that point in time, and that's the good thing about music, it evokes memories, smells, feelings and you don't get that with many other things and music inspires all those feelings and emotions. Each night's different, you can play the same song over a period of weeks or tours or whatever and for some reason one night it can affect you more for some reason than another time. I can't explain why but these things can happen.
Then of course you've got Khe Sanh which is one of the biggest karaoke songs in the entire of Australia, so that must be a buzz?
*laughs* Well it transpired that one, it's become a real iconic, folklore kind of strong hasn't it…
Now 'East' turned 35 this year, it's the band's biggest album, looking back now, what are some of your best memories of when it was released?
It was a great period of time for the band, that was the period around 1980 I think it was up at the top of The Cross there at Paradise studios with Mark Opitz and I think that's when everybody really got into it and there was just such a great vibe in that studio at the time and everyone started to get into the writing side of things, and it was just a really good, up time for the band. Previous to that we had 'Breakfast' and we'd been touring quite extensively around Australia and we were quite tired and it was good to get in the studio, I don't think it was a good representation of the band at that point in time, we weren't that thrilled with the result of 'Breakfast', but on the other side of the coin, 'East' was a real shot in the arm for us all because it was a real vibey time and it seemed to come through with the material that came off the album I think.
The music industry is a much different place now, even though there was a big break for the band, what for you has been the most notable difference in the industry that has affected the band?
Well we've all just grown, I think we've all grown to appreciate in that hiatus and yes it was a long period of time, a long time to reflect on what's gone under the bridge and I'm sure we've all admitted to ourselves that yes we missed those old times and yes it was a great band and a good period of our lives, and that I guess that's why we're still enjoying it now. We do enjoy playing as a band and we're like family really, we're like brothers and even though we don't live in each other's pockets like we did in the old days we still get together every now and then and keep in touch, it's just great and great to be a part of something that we can all enjoy.
With the new album it feels like you guys are firing on all cylinders, are Cold Chisel well and truly back for the foreseeable future?
I don't know… we kind of keep it open, we don't like to sort of delve too much into the future because if things are going well we'll just concentrate on the moment and no one knows what's going to be around the corner and the realisation of that is what happened with Steve. So we've just got to take it day by day I think and touch wood things are going good at the moment, so we'll just live in the moment and enjoy it for what it is. I think that's the attitude we have to have and I think that's the attitude we've always had, enjoy the moment, do the best you can, put on a good show and that's all you can do.
Well you certainly do that, I think the last time I saw you was back in 2012 on the 'No Plans' tour and it was great, you guys still had it…
Yeah I think I's a realization especially with Steve's passing it really sort of brought us back to reality, we've only got one shot here and I think we're also coming to the realization is there's something always with this band that hopefully we just give it all we can and something will happen with it you know? I mean just keep it open ended sort of thing.
Well hopefully it'll continue into the future, we don't want to let go of you guys yet and you'll be around doing a little bit more for us…
Well I hope so, that's what I think on the quiet we all sort of wish for that as well, but we'll all take it day by day.
Catch Cold Chisel on tour in Australia at the following dates:
Saturday, 24 October 2015
The V8 Supercars Castrol Gold Coast 600, Gold Coast, Qld
Tickets on sale now from HERE  / 13 28 49
Saturday, 31 October 2015
Decades Festival, Strathpine, Qld
With The Living End, Something for Kate and more
Tickets on sale now from HERE  and HERE  / 13 28 49
Thursday, 5 November 2015
Cairns Convention Centre, Cairns, Qld
Tickets on sale now from www.ticketlink.com.au
Saturday, 7 November 2015
1300SMILES Stadium, Townsville, Qld
In association with Townsville Rock Fest
With special guests – Grinspoon
Tickets available now from www.ticketek.com.au / 13 28 49
Tuesday, 10 November 2015
Darwin Amphitheatre, Darwin, NT
With special guests – Grinspoon
Tickets available now from www.ticketek.com.au / 13 28 49
Friday, 13 November 2015
Eadon Clarke Oval, Geraldton, WA
Tickets on sale from 12.00pm, Thursday 3 September from www.ticketek.com.au / 13 28 49
Saturday, 14 November 2015
Perth Arena, Perth, WA
Tickets available now from www.ticketek.com.au / 13 28 49
Tuesday, 17 November 2015
Adelaide Entertainment Centre, SA
With special guests – Grinspoon
Tickets available now from www.ticketek.com.au / 13 28 49
Thursday, 19 November
Rod Laver Arena, Melbourne, Vic
With special guests – Grinspoon
Tickets available now from www.ticketek.com.au / 13 28 49
Saturday, 21 November 2015
Hanging Rock, Macedon Ranges, Vic
With The Living End, Mark Seymour & The Undertow and Stonefield
Tickets available now from www.ticketmaster.com.au / 136 100
Saturday, 12 December 2015
Hope Estate, Pokolbin, NSW
With The Living End and more to be announced
Tickets available now from www.ticketek.com.au / 13 28 49
Sunday, 13 December 2015 – SOLD OUT
WIN Entertainment Centre, Wollongong, NSW
Tuesday, 15 December, 2015
QANTAS Credit Union Arena
With special guests – Grinspoon
Tickets available now from www.ticketek.com.au / 13 28 49
Thursday, 17 December, 2015 – SOLD OUT
QANTAS Credit Union Arena
With special guests – Grinspoon
Friday, 18 December, 2015 – SOLD OUT
QANTAS Credit Union Arena
With special guests – Grinspoon
Essential Information
From: Australia
Band Members: Jimmy Barnes – Vocals, Don Walker – Piano/Keyboard, Ian Moss – Guitar/Vocals, Phil Small – Bass, Charley Drayton – Drums
Website: http://www.coldchisel.com
Latest Release: The Perfect Crime (Out Now)