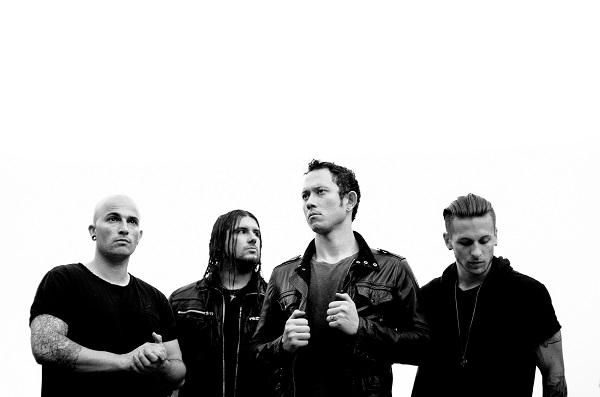 "…we pretty much just went in and we never deviated from it we never thought we had to appease someone that might like screaming, someone that might like singing, we just purely stayed true to what we wanted to do and very, very excited for people to hear it, so there's a lot of cool stuff on the record."
From release: As Trivium's seventh studio album, Silence in the Snow stands as a long gestating creative milestone for the band. The collection had its genesis moment back in 2007 and was directly influenced by the time Trivium spent touring alongside the legendary Heaven & Hell that year.  Ultimately, it would take eight years before they felt equipped to tackle the challenging work of weaving their classic influences into a modern record. Fuelled by the inspiration of true classic metal – spanning Black Sabbath and Rainbow, Iron Maiden and Judas Priest,  Pantera and Slayer, Megadeth and Metallica – Trivium challenged themselves to attain similar levels of greatness, taking on vocal coaches and guitar lessons to further their creative evolution. The result is extraordinary, bridging the history of hard rock and metal while simultaneously powering it forward into the future.
While in New Jersey, we caught up with Paolo of Trivium to fill us in on the band's new album 'Silence In The Snow', its creation and why they wanted to do something different, evolution, and touring…
For starters, holy shit, this record is so good, it feels like a classic metal album, did you guys intentionally set out to do something different this time around?
Yeah we wanted to make a modern metal record with a classic undertone to it and that was kind of the goal we set for ourselves earlier this year and we pretty much just went in and we never deviated from it we never thought we had to appease someone that might like screaming, someone that might like singing, we just purely stayed true to what we wanted to do and very, very excited for people to hear it, so there's a lot of cool stuff on the record.
So what was the process like putting this album together compared to previous releases, did you do anything different in the studio?
Well we rehearsed a lot, we jammed in a warehouse and we were writing for a while on and off tour but we knew we needed more time in the studio together before we pushed record and that was like the main thing. That should be the standard thing for recording and it's something we've learned time and time again, the more that we do it the better the outcome of the record, I think the vision is stronger, the execution is stronger, you know what you're gonna do so you know what you need to do in the studio to get it done. So there was no second guessing of what we had to do and once we got into the studio for the most part certain things are routine but there's still a lot of new stuff for us to try and to do, it's always fun, I love recording. It never gets old.
This will be the band's seventh album and the sixth you've been a part of, do you find that as each album comes around that it becomes just that little bit easier to make a record now?
I don't think this its ever super easy, you kind of have to really dig deep to make stuff great and I guess the longer that goes on the more second guessing you can get into, as a band of perfectionists you've got to know when to step away and when you've done it. It's really fun but it's really a lot of work, I think mentally the hardest part is trying to make sure you get everything you want to get done in the time that you have and no matter how much time you think you have, it always runs up against the clock in getting everything done. We had a lot of time to do this too, we had no deadlines, we pushed ourselves, Elvis pushed us, it was hard work but it was fun.
You worked with 'Elvis' as your producer, your first time working with him, why was he the right choice and what was he able to bring to the band that you felt may have been missing previously?
Well when we decided when we were going to make a record that sounded like this I think the bands that he's worked with, I think when we talked to him and kind of got his aspect, his vibe, his opinions on what Trivium should do this time, and that's what we do, you talk to producers you need to hear what they think you should be doing on a record, what is the missing thing that Trivium hasn't done, and I think that's kind of the selling point like 'what are you going to bring to us that we haven't done on a record?' and we kind of told him what we were going for and showed him demos it was like the stars aligned perfectly.  He was in Orlando as well so that was like an added bonus, and we just went from there, we wanted to make a record like this and he was a great guy to work with, I mean his work with Slash is awesome, Alter Bridge, he's done a lot of different stuff and we share a lot of similar influences, so it was like a no brainer.
The thing is that bands evolve and try new things and I've been reading comments on your facebook and the likes regarding the 'direction' of the band and Matt's vocals on the record, does it annoy you to read all this stuff or does it not bother you at all?
I don't really care about it, it's like really inconsequential, because every time we've made a record it's always controversial and there's always comments and I learned right away that you'll never please everyone and so if you're not doing it for yourself then you're just going to go insane, because that is really not a big deal. If you do something and fans don't buy it then that answers itself, you did something people didn't like, but at the end of the day if you're trying to just sell records I mean it's tough, you're just trying to play it safe and you don't do anything new or cool and I like to kind of swing for the fences and stuff and when it comes to people being into the music, I just look at the live shows and how people react and you can only do the facebook comment game, the YouTube likes and the likes far outweigh any dislikes so to me it's like whatever. People that are listening to it don't have time to write about it, you either get it or you don't, the people that spend time writing about bands, you've got way more time than I do because I've never done that before *laughs*
I have to ask, when do you think we might see you back in Australia?
As soon as we can, I don't know when but probably next year.
Soundwave? Yes? No?
Umm… I haven't heard anything yet, so no comment yet… *laughs*
You've always killed it down here, do you have a stand out memory of a previous tour?
I just remember the first tour being insane, we've always had great shows, but the first time we went down there it was so far away from home and we'd never been that far and to have people so crazy about seeing us it's kind of life changing and it was amazing. It was Big Day Out and we were like stuck out like a sore thumb but metalheads came out, they were chanting our name through The Vines who were before us on the stage next to us that was funny, and it was fun, fun to be a new band playing a new place for the first time, it's a once in a lifetime experience.
In your now eleven years with the band, what for you has been the biggest and most notable change you've witnessed take place in Trivium?
I guess probably drummer changes is the most obvious in big changes, but I mean you just kind of grow with the band and touring is very natural it's not like a weird thing anymore to leave for months on end and be out, be away, we've kind of made touring a normal life. It's fun, we get out and do stuff I think that's the key man, you can't isolate yourself that's when you go crazy. So that's kind of been the biggest change, touring feels very normal now, when I go home it takes me a few days or a week to just not have to travel a lot and I love it so much I don't want to be away from it too long.
Other side of that, what for you is the most enjoyable part of being in this band?
Outside the live shows, the travel, I like to get around and see different stuff great food, culture, meet new people, it's really one of the greatest jobs ever, I couldn't imagine being home stuck doing something I didn't like so we're very lucky for that, very lucky to keep doing it. I'm one of the only people I know that's ever been to Australia as many times a s we have, most people never get there and it's crazy, it's something I always think about when we fly down there or to other places, most people I know will never come here and we get to come back, we have some spots that we go to in different cities and that's a cool thing to experience.
Lastly, let's look ahead to the future, so finish this sentence for me, in 2016 Trivium will…
We are going to tour our asses off, we're going to make this record hopefully blow up around the world and bring metal to hopefully new people, new ears, we want to get more people into this and that's the goal for us.
Essential Information
From: Orlando, FL, USA
Band Members: Matt Heafy – lead vocals, guitars, Corey Beaulieu – guitars, Paolo Gregoletto – bass, Mat Madiro – drums
Website: http://www.trivium.org
Latest Release: Silence In The Snow (Out Now – Warner Music Australia)