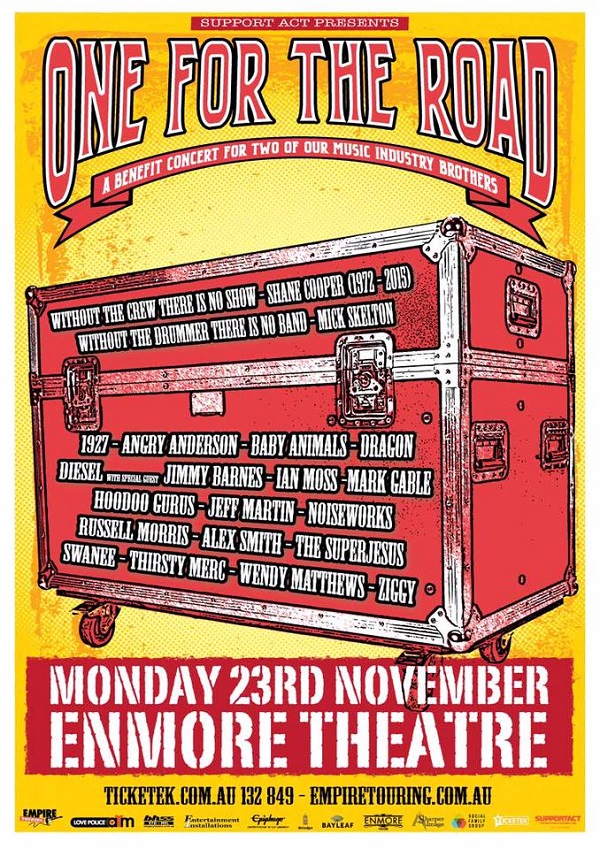 THE MUSIC INDUSTRY COMES TOGETHER TO SUPPORT TWO OF THEIR OWN WITH 'ONE FOR THE ROAD'
Baby Animals, Hoodoo Gurus, The Superjesus, Noiseworks, 1927,
Diesel with special guest Jimmy Barnes, Ian Moss, Swanee, Thirsty Merc,
Dragon, Wendy Matthews and MANY more confirmed to perform!
#onefortheroad
Last month the Australian music industry was devastated by the tragic death of well-known and much loved production manager, Shane Cooper, and the serious injury of drummer Mick Skelton, in a car accident while on their way to a gig in regional Victoria.
Since the accident, hundreds of musicians and friends have put their hands up to help out in the best way they know how – with an all-star benefit concert featuring the who's who of Aussie rock for Mick and Shane's families. We can now confirm the One For The Roadconcert to be held at Sydney's Enmore Theatre on Monday, 23 November 2015.
Performers confirmed are (in alphabetical order):  1927, Baby Animals, Diesel with special guest Jimmy Barnes, Dragon, Mark Gable (Choirboys), Hoodoo Gurus, Noiseworks, Jeff Martin (The Tea Party), Wendy Matthews, Russell Morris, Ian Moss with Andy Bickers, Angry Anderson, Alex Smith (Moving Pictures), The Superjesus, Swanee + Jagger Alexander-Erber, Thirsty Merc, and Ziggy (the Bowie Show) featuring Steve Balbi, Brydon Stace + Jeff Duff.
Mick Skelton, who has now been released from hospital and is recuperating at home, has the following message:
"I'm incredibly grateful to everyone for the love and support that's been shown since the tragic accident in September.  Of course, all our hearts and thoughts are, and will always be, with Shane's wife Olivia, their beautiful children and the entire Cooper family.
Since being told of the benefit concert, not a day has gone by that I haven't felt overwhelmed and so very humbled. I am so proud to be surrounded by people with such love and support for Shane's family and for my family and myself. It says so much about everyone, from the people putting this together, to the absolutely stellar line up. It's just incredible and words can't describe what the night is going to be like.
Even though there is still a long road of recovery left, my spirits remain high and I find comfort in the knowledge that I'll soon be back behind the drums again, playing the music I love, with the people I love.
To everyone, thank you SO much, inspiration is what can get us thru anything, and I'm not only incredibly driven to get up and get back out there, but I'm so very, very inspired.  All my love, Mick xx"
One for the Road's promoter, Marc Christowski from Empire Touring, said today, "Shane Cooper was an integral part of my organisation and Mick Skelton is my go-to drummer. It's not often this sort of tragedy strikes and I'm proud to say that we have been inundated with artists and crew offering their services to produce this extraordinary benefit concert. It's going to be one hell of a show, packed with all the biggest hits, a huge production and some very special surprises.
One for the Road is proudly presented by Support Act and produced by Empire Touring.  Support Act is the Australian music charity helping music professionals in crisis and all concert proceeds will go to the Cooper and Skelton families.
For anyone not able to attend the concert, donations can be made by going to www.supportact.org.au/donate, noting under "Benefit or Appeal" in Step 2 – SHANE & MICK.
Tickets for One for the Road go on sale at 10.00am on Monday 2 November 2015 and are expected to sell fast!
Featuring:
1927, Baby Animals, Diesel with special guest Jimmy Barnes,
Dragon, Mark Gable (Choirboys), Hoodoo Gurus, Noiseworks,
Jeff Martin (The Tea Party), Wendy Matthews, Russell Morris, Ian Moss with Andy Bickers,
Angry Anderson, Alex Smith (Moving Pictures), The Superjesus, Swanee + Jagger Alexander Erber, Thirsty Merc and Ziggy (the Bowie Show) featuring Steve Balbi, Brydon Stace + Jeff Duff
Monday, 23 November 2015 – Enmore Theatre, Sydney, NSW
Tickets on sale from 10am, Monday, 2 November from
www.ticketek.com.au and 132 849