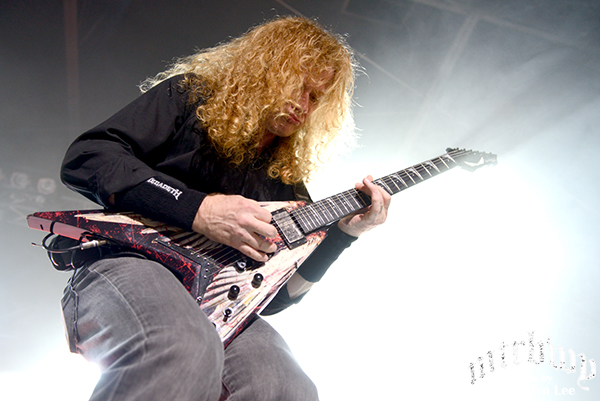 Megadeth are back in Australia, this time with Children of Bodom, so we're in for one extremely loud evening, and for a Sunday, that's just what we need!
I made it in just in time… as the lights already dark went darker and ready for Children of Bodom as they thrashed their way onto the stage bathed in green lights as their Finlandish goodness takes off with 'Are You Dead Yet?'and front man Alexi with guitar planted firmly on his knee shreds through the opener. Ooh red lights now, I like it. This early on I must give a special mention to the keyboard player who smashes down an entire beer while playing the keys with his other hand, bravo sir, the duelling solo in this one also stood as a highlight. OK so I've never seen these guys before and must say they're pretty rockin' and now with a very Van Halen-esque keyboard interlude Alexi introduces 'Morrigan' from the bands newest album and its driving rhythm is an absolute stand out and to watch everyone get into this one was pretty cool. They shred through the next couple once again showcasing the talent of the band and as they go back to the new album with 'I Worship Chaos' and requesting a circle pit that they get this one gets a little bit louder. The 'Hate Crew Deathroll' shows off even better musicianship which I thought would be unheard of, but man these guys can play! The keys intro the old school 'Angels Don't Kill' more things are ripped up and a single cowbell hit makes this song for me. Leaving us tonight with 'In Your Face' the sirens kick off and let the synchronized head banging begin. Man they were good.
Ok so I'm ashamed to say that I've never seen Megadeth live, yeah I know… What's that about?!
As the all so metal sea of phones rise to capture the opening to the show there is a cheer and anticipation the intro video plays the crowd go crazy as Chris Adler takes his place behind the drums and 'Hanger 18' kicks in big time and man musicians plus, the tempo change breakdown was nailed, man this is some killer playing. Wow. If this is what we can expect from the rest of the show then hold on… 'Kingmaker' sees Dave's vocals turned up so we can actually hear them which is a bonus and that short and sharp one was perfect to keep the momentum going, although I don't expect we'll be getting any ballads tonight… 'Wake Up Dead' from 'Peace Sells… but Who's Buying?' gets some love but for me I'm truly loving just watching all four of these guys play their instruments. New additions of Adler on drums and Kiko Loureiro on guitar really give these songs something and they are so damn good in their balance with Mustaine and Ellefson. As the crowd bounces in rhythm with the beat and the fists get thrushes towards the stage I can't even imagine how hot it would be in that pit right now. The last one didn't even fade out before 'In My Darkest Hour' slips in and these guys truly haven't really stopped to even take a breath, it's awesome to watch but man, insane. As I say that they finally do stop if only to introduce 'She Wolf' and the harmony guitar solo was spot on.
A little bit of 'Silver Linings Playbook' is shown, hopefully not illegally downloaded otherwise they'll come after you Dave!! Kidding *shifty eyes* but the Megadeth part is pretty cool. Now we start 'Sweating Bullets' and the fists are pumping once again and that one just scored the most love of the night so far. 'Public Enemy Number 1' has monkeys driving cars and more driving rhythms and I'm loving it. Speaking of driving rhythms, Ellefson and Adler are pounding it as Mustaine is singing 'Dawn Patrol' off stage and now it's bass solo time… The world needs more bass solos, just as I say that here come the guitars to kick things back into gear and 'Poison Was The Cure' indeed and some tiny technical glitches before 'Tornado of Souls' blows us away (pun intended).
Yeah! A snippet of 'Wayne's World' leads into 'Trust' and this riff is a monster, there's head banging all over the place and it's hard to type right now, back in a minute. Ahhh ok it's slowed down, let me get my bearings… Back just in time for it to rock up again, well played. This one is my favourite so far for sure. Ooh a slow starter… Could I have been mistaken? Is there a ballad?! Nope, squashed that within the first minute of 'A Tout Le Monde' this ain't a ballad at all but it sure as hell rocks and with more perfect harmony guitar work this one is a huge winner tonight. Awesome. As a 'Dave Mustaine' chant humbles him, he introduces 'Skin o' My Teeth' and they play through it and the ultimate rock and roll ending they continue to slay! Cover time! A Thin Lizzy track called 'Cold Sweat' is done thrashy justice as the video screens project walls of Marshall Amps it's short and to the point, but when 'Symphony of Destruction' from 'Countdown To Extinction' kicks in there is a whole lot of metal happening, and as you'd expect they love this one. Rightfully so too.
So if there's one song that the majority here wanted to hear tonight it's this next one… 'Peace Sells' and that all familiar bass part rips the roof off The Hordern and as the crowd join in to sing it back, this is awesome. Man, they've turned the volume up too, those drums were insane!! So that wins the night by far. With only a couple to go, we get what is usually the 'dreaded new song' but after the set the band have played so far right now they could play 'twinkle twinkle little star' and they'd lap it up. This is only the second time they've played 'Fatal illusion' live and you wouldn't know… It sounds like they've been playing it for years. I'm looking forward to their new album in January that's for sure.
They close the set with 'Holy Wars… The Punishment Due' and it is a perfect choice to finish up a kick ass night of loud heavy metal. Megadeth? More like Megadeaf… and I wouldn't want it any other way. Loved this show, now don't call me for a few days, just text or email as I won't be able to hear you if you call. \m/
Essential Information
Venue: The Hordern Pavilion – Sydney
Presented by: Dainty Group
Supports: Children of Bodom
Date: October 18, 2015
Website: http://www.megadeth.com
Photo by: Gwendolyn Lee – Check out out full gallery HERE
Megadeth Set List:
Hangar 18
Kingmaker
Wake Up Dead
In My Darkest Hour
She-Wolf
Sweating Bullets
Public Enemy No. 1
Dawn Patrol
Poison Was the Cure
Tornado of Souls
Trust
A Tout Le Monde
Skin o' My Teeth
Cold Sweat
Symphony of Destruction
Peace Sells
Fatal Illusion
Holy Wars… The Punishment Due
Children of Bodom Set List:
Are You Dead Yet?
Sixpounder
Morrigan
I Hurt
Hate Me!
Downfall
I Worship Chaos
Hate Crew Deathroll
Angels Don't Kill
In Your Face