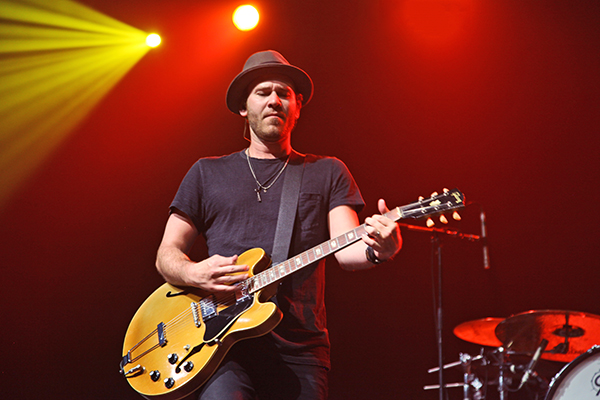 Thirteen years is a long time between tours, and although they almost made it back in 2013 we had to wait another couple of years for it to actually happen, but here we are, Lifehouse have made it back to Australia…
Stone Parade are here to entertain the early comers and they're doing it quite well at present, even managing to get this small crowd joining in during 'My Generation' and I dig that, I like it when a crowd are accommodating to the support band. I've been aware of these guys for years even before they were Stone Parade, so after so many years seeing them out there still slogging it out is pretty awesome. This band is all about the big song, lots of 'whoa ohs' and soaring musicality, and their songs that are perfectly suited for this environment. New single 'Be Someone' is the stand out of their set in my opinion as with any new works the band tends to give it that little bit of extra love and it sounds great. Sometimes the support band never really suits the main act, it happens, but tonight there couldn't have been a better match, Stone Parade played a great set and made some new fans. Nice work boys.
Darkness, crowd cheers and Lifehouse emerge on a Sydney stage for the first time in thirteen years, and like the name of the opener, they go off like a 'Hurricane' and they instantly sound great. Jason Wade's voice sounds pristine and record perfect which is outstanding, and as the band get warmed up rockin' this one out and the crowd love it. I get the feeling this is going to be a night of catch ups for being away for so long, almost a night of hits, as 'All In' gets a run and that big hook of a chorus is perfect for this live environment. 'Between the Raindrops' slows the pace down a little and this one really gets it's groove on and with the lights engulfing the band, it really brought it out.
A welcome and back to their new album 'Out of The Wasteland' with 'One For The Pain' and it slips perfectly into the set and come across great live and this band is tight. Bryce takes on shared vocal duties with Jason on 'Stardust' which is cool and he's got great chops I have to say. Although I personally don't know this one that well, I have found myself instantly needing to check this one out when I get home, what a track. Another of Lifehouse's patented middle of the road rockers, namely 'Whatever it Takes' takes it place, man these guys do this well and I guess that's why they're still around today, and what makes this one is the outstanding middle 8, man I miss those.
A cheer is heard or as I like to call it, the 'ooh we know this one' with 'Sick Cycle Carousel' and in the live environment it has a bit more beef to iIt and sounds awesome. I guess anything the guys play from their debut is going to go over well, and I'm looking forward to a few more… I say that but when 'Halfway Gone' starts a sea of phones rose to capture it, admittedly this song blew me away when I first heard it, so hearing it live for the first time is kinda cool as a bit of crowd participation tops it off  this is my song of the night so far. The sea of phones just turned into an ocean as Jason throws on an acoustic guitar to give us 'You and Me' and there's a whole lot of love in the room right now. Side note, it's a damn nice song. The acoustic stays out for 'All In All' as the band then leave the stage…
As Jason engages the crowd for the first time he stands alone on stage with his guitar for an outstandingly perfect acoustic section featuring 'Only One' then MY favourite 'Take Me Away' which I later found out was pretty good timing as this hasn't been in a set for a little while, so to say I was stoked to hear it, well part of it is an understatement. The acoustic session ends with 'Somewhere In Between' from 'No Name Face' that was an absolute seamless section but as he plays a piece of 'Everything' the place gets excited, the band re-join him to absolutely blow this one out of the park. When you talk rock ballads this is one of the best and trust me, I know ballads. I wish they'd played the whole song but some is better than none, and the acoustic to electric transition was perfect for it. I wish bands still wrote songs like this.
We're well and truly rocked up again with 'Spin' and you're damn right, I wouldn't change a thing, and for the four piece that they are this song sounds extra big right now. Loving it and the big rockin' outro was so on point that it's not even funny. I'm beyond impressed with how good these guys are, I mean I knew they were good and I saw them in 2002 and they were amazing, it's like they've just gotten better. Band introductions followed by the almost funk laden chorus of 'Nerve Damage' that then breaks down into a smooth, soulful musical interlude. 'Runaways' is almost epic in nature and it's not even like these guys had to warm up to get here, they've been flawless from the second they walked on stage and with maybe only a few to go I'm excited to see what they go out with…
Well that's new. A bass version of 'You're The Voice' sung by Bryce and the crowd was pretty cool but let's get back on track "whoa oh oh oh oh oh oh" sorry, it's too catchy… 'First Time' is up and on the downhill and sees what has been a relatively motionless crowd tonight get a little jumpy and that's cute. 'Breathing' gets the live treatment, meaning it gets a little louder and heavier and there are zero complainants coming from anyone here regarding that. A big ending as the band leave the stage…
Don't mind us, we're just hanging by this moment waiting for the band to come back. Wow. Yeah. I wrote that, just terrible ha ha. Anyway…
Oh look they're back! Phew! Back with the slower 'Flight' an odd choice for the first song of the encore but hey it's still awesome and builds and builds and yeah ok it just got huge but what's next is even better. It's the one we've all been waiting for… Yes of course the band closes the set with 'Hanging By a Moment' and it's everything that everyone wanted tonight. It sounds like it should, it's just one of those timeless songs from the early 2000's and we all love it. Some I dare say hearing it live for the first time, let's hope it's not the last…
I seriously can't fault tonight's show, musically amazing, vocally even better, what a great band with great songs and a fan base that is willing to wait. Now, let's not make it another thirteen years please guys…
Essential Information
Venue: The Big Top – Sydney
Presented by: Metropolis Touring
Supports: Stone Parade
Date: October 16, 2015
Website: http://www.lifehousemusic.com
Photo by: Annette Geneva – Every Day Is Saturday – Check out out full gallery HERE
Set List:
Hurricane
All In
Between the Raindrops
One for the Pain
Stardust
Whatever It Takes
Sick Cycle Carousel
Halfway Gone
You and Me
All in All
Only One
Take Me Away
Somewhere in Between
Everything
Spin
Nerve Damage
Runaways
You're the Voice (John Farnham cover)
First Time
Broken
Flight
Hanging by a Moment