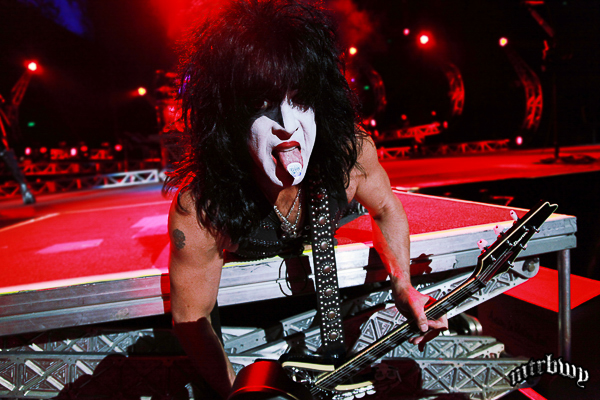 It's time once again for the band that will never go away, and I say that in the nicest way, even after farewell tours, KISS can't stay away and continue to draw crowds of dedicated followers, an army if you like, so tonight we're here as a part of their 40th anniversary and as always I'm sure it'll be a spectacle…
The Dead Daisies take the support slot tonight and open with 'Midnight Moses' and with a big sound, big riffs and not a note missed, this is going to be huge. John Corabi has joined the band out front, and his distinctive voice really helps give these songs the dimension they need, but it's not only him that make the band this good… Each player is pristine, but watching Marco Mendoza play on a big stage where he belongs is perfect, although it's almost hard to take your eyes off of Brian Tichy on drums, that man is a machine. Special mention to Dave Leslie who is filling in for Richard Fortus, I mean Dave is one of those players who can do it all and he's nailing this. 'Mexico' is a song written to be performed on stage and it sounded great tonight, as does 'Empty Heart' the duet the guys did with Jimmy Barnes, but tonight Mendoza takes on Jimmy's parts.
Time for a cover with 'Hush' which went down well and got the crowd going followed by our first taste of Corabi taking on a track from the bands' first album, 'Lock 'n' Load' and he brings that rock grunt to it and it rocks and Leslie just nailed the solo that Slash lent to the single. Oh shit! A talk box!!! Winning. 'With You and I' is another made for the stage and resonated through the arena as did 'Angel in Your Eyes'. After some band introductions the 'love song' – 'Devil out of Time' which was a BIG rocker set up another cover with 'Helter Skelter' and was the perfect way to close a set and get people that had no idea who this band were interested.
"Alright Sydney… You wanted the best… You got the best… The hottest band in the world… KISSSSSSS"
As the opening riff of 'Detroit rock city' kicks in the spider stage descends with Paul, Gene and Tommy as pyro, fire and lasers engulf the over the top production that we all know and love so much and the flames are so hot that I'm sweating up in my seat and I wouldn't have it any other way. There was no other way this show could've started and it just goes on with 'Deuce', Paul being the show man he is plays up for the photographers in the pit as they scramble to get that shot. The other reason I love this song is for the amazing guitar choreography! Always a winner.  We get "Welcomed to the show…" With 'Psycho Circus, a song that always sounds so good live, as it's just that little bit heavier. Going back to 1982 with 'Creatures of The Night' rockin the place, Paul says 'Sydney' for the 64th time which we love, he goes on a bit of a rant but then staying with the 'Creatures of The Night' album with 'I Love it Loud' and we sure do, so much crowd love with this one too, of course being one of those perfect sing back songs. Oh sweet, 'War Machine' turns the heavy up just that little bit more with one hell of a driving riff, great choice for the set tonight and as Gene blows fire and the crowd goes nuts.
Paul asks the crowd the question 'Do You Love Me?' and the answer is yes, we do love you… And what's great about KISS is that these songs stand up today, with the added bonus of some great old school footage of the band on the video screen takes us back through history and again, yes, we do love you. No wonder this band has an army… So much dedication. Ooh the dreaded 'new' song… We get the introduction telling us to give it a chance as it'll become a 'classic' it's 'Hell or Hallelujah' and it did sound great but from where I was sitting it was the 'think I'll go and get a drink' song, even more so when it turned into an extended jam, hey, don't get me wrong, I love this stuff and as Tommy plays his rocket guitar, the place laps it up.
'Calling Dr Love' turns up the heat, and after Paul makes everyone stand up because "sitting gives you a fat ass" it's 1983 all over again with 'Lick It Up' and the spider stage comes down taking Paul and Tommy back up for the little bit of showmanship and for me the song of the night so far. Time for Gene's bass solo and as the blood flows from his mouth, he flies to the top of the spider for 'God of Thunder' and this is just rockin' and never gets old in my opinion.
It's 'Cold Gin' time again and watching Gene and Tommy play up on stage is fun, but now Paul takes off over the crowd as 'Love Gun' explodes (pun intended) and this is my favourite KISS track so I need to rock out for a minute. Ok I'm back! Yes! That just rules! Paul stays out on the smaller stage at the back to start 'Black Diamond' as Eric Singer takes lead vocals on this one turning it into one hell of a musical onslaught as the drums rise high into the air and the band leave the stage for a breather.
The obligatory photo to post on line leads into 'Shandi' and a whole lot of love from the crowd, they really love it here. The sea of lights does look pretty amazing though and Paul seemed genuinely chuffed by the reaction and reception the army gave it. The volume gets kicked up about 100 notches with 'Shout It Out Loud' but the crowd get louder when 'I Was Made For Loving You' starts, now let's see if Eric can get the famous drum part right… and you know what?! He did! Man that was outstanding; I guess with that song being my introduction to KISS it holds a special spot.
The confetti cannons go wild as we 'Rock and Roll All Nite' which is what we've been doing for the last almost two hours, with more pyro, fire and confetti that ever needed for anything the band go out with one hell of a bang and have shown everyone how it's done, and continues to be done. Sometimes the word benchmark gets thrown around and in this case it can be used for KISS, if more bands knew how to entertain and put on a show like KISS do then the world would be a much happier place…
The stage curtain drops, now saying 'KISS loves you Sydney' and as 'God Gave Rock & Roll To You II' plays over the PA, everyone is leaving with a smile and in most cases running face paint… a good night had by all.
Essential Information
Venue: Allphones Arena – Sydney
Date: October 10, 2015
Website: http://www.kissonline.com
Support band: The Dead Daisies
Presented by: Empire Touring
Photo by: Annette Geneva – check out our full gallery here.
Set List:
Detroit Rock City
Deuce
Psycho Circus
Creatures of The Night
I Love it Loud
War Machine
Do You Love Me?
Hell or Hallelujah
Calling Dr Love
Lick It Up
God of Thunder
Cold Gin
Love Gun
Black Diamond
Shandi
Shout It Out Loud
I Was Made For Loving You
Rock and Roll All Nite