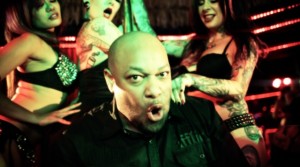 DEVIL YOU KNOW has partnered up with Loudwire to exclusively present their highly-anticipated new music video for the new track 'The Way We Die', which comes off their new full-length album, »They Bleed Red«, available everywhere on Nov 6th (Nuclear Blast Entertainment).
The clip features a slew of Burning Angel porn stars and was shot by renowned director Corey Soria (DANZIG, HOLLYWOOD UNDEAD). You can check it out now HERE
John Sankey (drums) states: "There's nothing more rock n' roll then spending the night at a Hollywood strip club partying and getting wild with a bunch of sexy porn stars, so when it came time for us to decide on a concept for our latest video shoot that's exactly what we did. What metalhead doesn't want to see hot tattooed girls dancing and stripping while listening to heavy guitar riffs, thunderous bass, pummeling drums and HOJO singing about 'The Way We Die'? It's the perfect heavy metal storm! The infamous Burning Angel girls were a blast to hang out with and we had a whole lot of fun letting them entertain us for the evening. Howard got to do some 'pole fishing', Francesco was making it rain, Ryan was getting plenty of attention at the pool table and I got a bit too busy with some of the ladies in the corner and eventually got us all kicked out. No regrets! We had no interest in doing another performance video with us jamming out, since we did that last album and wanted to shake things up. This was all about us having fun, getting crazy, living the dream and sharing it with the world to enjoy."
Pre-order »They Bleed Red« from this location
The band recently debuted the vicious new track 'Stay of Execution':

Howard Jones (vocals), Francesco Artusato (guitars), John Sankey (drums), and Ryan Wombacher (bass/backing vocals) deliver a dense monstrosity of technical prowess and angst-ridden passion. A deep interpersonal understanding and an evolving camaraderie set the stage for the unique confidence behind »They Bleed Red«, the band's ferocious follow-up which extinguishes any so-called "sophomore slump" without mercy. It's the sound of primal bloodlust.
Produced by Josh Wilbur (AVENGED SEVENFOLD, LAMB OF GOD, KILLER BE KILLED),»They Bleed Red« is a breakneck paced trip through DEVIL YOU KNOW's broken psyche, struggles with anxiety, and ultimate triumph against adversity, all laid upon a foundation of high-level artistic achievement and vitriolic full throttle heavy metal fury.
»They Bleed Red« – Official Track Listing
1. Consume The Damned
2. The Way We Die
3. Your Last Breath
4. Stay of Execution
5. Break The Ties
6. Shattered Silence
7. Let The Pain Take Hold
8. Master of None
9. Searching For The Sun
10. How The End Shall Be
11. Broken By The Cold
Bonus Tracks
12. Eye of The Tiger (Cover Track)
13. I Am Alive
14. We Live
www.facebook.com/devilyouknowofficial  | www.nuclearblast.de/devilyouknow