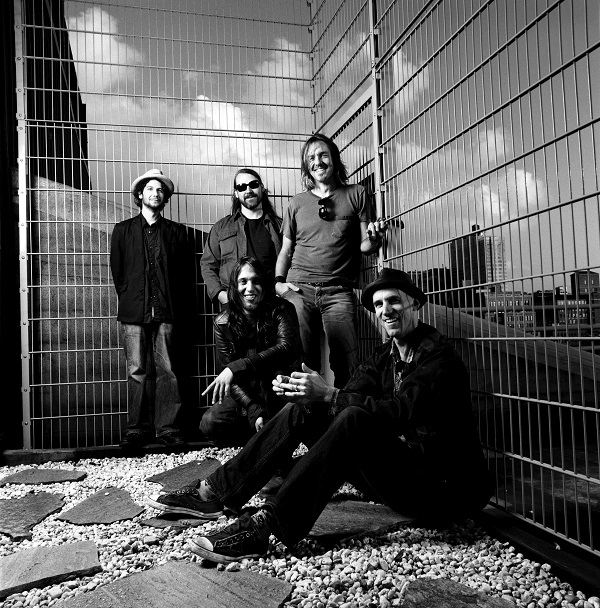 "I think we were worried for about a year but when it happened it felt like we were launched into space and our lives were never the same. It's hard to explain but I can say that every boy hood rock and roll dream I ever had came true … and then some."
From release: In recent years, the tale of Blind Melon has taken a dramatic turn from an abrupt and tragic end, to a rebirth and reconnection with their legions of dedicated fans. No matter how you slice it, the group was responsible for some of the most memorable and pure sounding rock music of the '90s. After the tragic death of Shannon Hoon in 1995, and a lengthy hiatus and their reformation with singer Travis Warren, Blind Melon have picked up with their fans exactly where they left off…
Ahead of their first ever Australian tour, we had Christopher of the band answer some questions for us about what we can expect, new music, memories of music and of course of Shannon Hoon…
Thanks for your time, Christopher. For starters, it's almost criminal that this will be your first tour to Australia, so as we've never had the chance to see you guys perform, how would you best describe a typical Blind Melon live show?
I don't think there is a typical Blind Melon show. I think our band has always had a level spontaneity to our show. I think any great rock n roll show should never be typical. We feed off the energy of the audience and try to take them on a ride they will never forget.
For your first time here, have you thought about how you'll put the set list together for your live introduction to a new country?
We will play songs from all 4 records. We like to play fan favorites as well as band favorites. We will swap out certain songs in the set depending on the mood of the band and audience on any given night.
Besides the shows, what are you hoping to do while you're here?
I really love to travel. I love soaking up the local culture. A great dinner is a good start. I would also love to surf. I'm not great but I would love to say a caught a wave in Australia.
The 90's resurgence is huge at the moment, are you finding that the crowds are almost generational now with your early fans now bringing their kids along as they learn to appreciate the music?
Yes we do see that at our shows. It's an incredible compliment to have a mom or dad bring their kids to our show and tell us that that all listen to our records.
Now it can be a hard task for a band to replace singers, so how did Travis get involved with the band, and what made him the right choice to front the band?
Brad and I were introduced to Travis through a friend at Atlantic records. Travis was looking for producers and he mentioned to the label that his favorite band was Blind Melon. Brad and I worked with Travis for a few weeks and were so blown away by him. We saw so many similarities to him and Shannon. Shannon was his biggest influence. At one point Brad looked at me and said" let's put the band back together "- "this guy can sing melon songs in his sleep." I had been thinking the same thing. We called Rogers and Glen and they flew out to LA to meet Travis. The first song we rehearsed was '2 by 4' and by the end of the song Rogers and Glen said "Let's do this." Travis was the first guy I met in 20 years that I thought could deliver Shannon's words and passion within the songs.
Even though he's been with the band for close to ten years, was there ever a time you thought Blind Melon may not play together again?
That is always a possibility in this band. I never take it for granted because it could end any day.
You have made one album 'For My Friends' with Travis back in 2008, are there plans for a new album or new music on the horizon?
Yes – we are currently discussing writing new material. We have started passing demos' around between us.
It's also a year of remembrance as it's been twenty years since the untimely passing of Shannon, truly hard to believe it's been that long so let's remember the good times, can you tell us your best Shannon Hoon story?
Well I have lots of them – One of my favorite times I had with Shannon was when we went to Mammoth CA to work on songs for the Soup record. My Aunt had a great cabin at a ski resort up there. I brought my recording gear and set up in the living room in front of the fireplace. We snowboarded all day and worked on songs all night. We finished the song " Soup " up there which is my favorite song I wrote with Shannon . We spent a couple weeks up there together and it is one of my favorite memories with Shannon.
Twenty three years on your debut album still stands up so well, what are some of your best memories of releasing that first record and watching it take off?
Well it took a long time to take off – I think we were worried for about a year but when it happened it felt like we were launched into space and our lives were never the same. It's hard to explain but I can say that every boy hood rock and roll dream I ever had came true … and then some.
The band is probably best known for 'No Rain' a song that still gets played on the radio and recognized as a stand out rock song of the early 90's, what do you think it is about that song that still connects with people after almost a quarter of a decade?
I think it's a combination of a great song and great video. I think everyone relates to feeling like the outcast and wanting to be accepted. It's a universal feeling.
Lastly what I do with everyone is get them to grab their crystal ball and look ahead to the future, so finish this sentence for me, in 2016 Blind Melon will…
Be working on new material and touring the world . We will also be supporting the Danny Clinch /Shannon Hoon movie that we are all very excited about. The movie will be an insight into Shannon and the band that no one has ever seen. Shannon shot all the footage and narrates the film as well. It is the last great gift he left behind for us.
Thanks again for your time, safe travels and we'll see you Down Under very soon. May the Rock be with You.
Thanks a ton – Looking forward to Rocking Down Under!!! ct
BLUE PALM TOURING is proud to present BLIND MELON in their first ever Australian shows:
WEDNESDAY OCTOBER 21:
WOOLLY MAMMOTH BRISBANE
FRIDAY OCTOBER 23:
MAX WATT'S SYDNEY
SUNDAY OCTOBER 25:
MAX WATT'S MELBOURNE
Tickets available at
www.thevenuecollective.com.au
Or
1300 724 867
Essential Information
From: Los Angeles, CA, USA
Band Members: Rogers Stevens – lead guitar, piano, keyboards, Brad Smith – bass, flute, backing vocals, Christopher Thorn – rhythm guitar, steel guitar, mandolin, harmonica, Glen Graham – drums, percussion, Travis Warren – vocals, acoustic guitar
Website: http://www.blindmelon.com
Latest Release: For My Friends