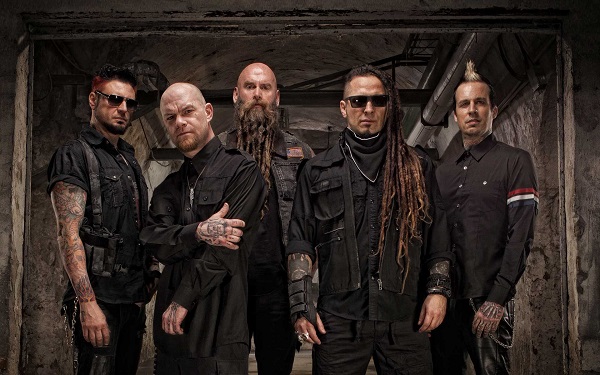 "This is our sixth record in, Five Finger Death Punch has become a well-oiled machine and we do the things that we do and do them very well, everything is gelling in the sense that everybody writes together and all the ideas are bounced off one another, so pretty much a continuation of the process really."
From release: FIVE FINGER DEATH PUNCH has grown exponentially in a breathtakingly short amount of time – 15 consecutive Top 10 Hits, 3 #1 Hits and 5 Gold albums.  With the release of their 2-volumes in 2013, the band had continuous new content with which they outsold the majority of bands in their genre, selling 1.5 million albums over the past 2 years in North America alone, and the highly-anticipated 6th album from FIVE FINGER DEATH PUNCH, entitled GOT YOUR SIX, is out now.
In the middle of a five week tour of The U.S we caught up with Chris Kael of Five Finger Death Punch to fill us in on the creation of the band's newest album 'Got Your Six', touring, fanboy moments, and much more…
The new album has just been released and debuted at number three here in Australia which is killer, so 'Got Your Six' is the title, and I know it's the old adage of someone having your back, but can you give us a bit of background behind why this was the naming of the album and what it represents for the band?
You know we've always had a strong military support and got your six is a military term like you said for someone having your back, imagine you're flying in a plane formation and the face of a clock, at twelve o'clock is the person behind you and at six is the person behind you that has your back and is kind of looking out for you. We always have a lot of fans reaching out and telling us that our music has helped them get through various struggles that they've been going through and I always say that we may have been the soundtrack but it's them that got them through those various struggles. At the end of the day the fans have always been there for us, we've been there for them and we've got their six and they've got ours and that's basically where the album title came from.
These songs are heavy, catchy and sound like they were written to be played live. Was there a specific catalyst or inspiration behind what became these songs and the end result?
100% these songs were written with the intent to be played live, that's the idea that we had with thus record going into the writing process. You know, we've got a lot of great songs in the sense of 'Coming Down', 'Remember Everything' and kinda slower anthemic type stuff, and we were listening to our set and were like man we really want to get more stuff in there like 'Under and Over It' and 'Lift me Up' just kind of four on the floor stompers, and that's what we came up with on 'Got Your Six' that was the intent and I think we nailed it.
Did you set out to do anything differently when making this album compared to previous releases?
This is our sixth record in, Five Finger Death Punch has become a well-oiled machine and we do the things that we do and do them very well, everything is gelling in the sense that everybody writes together and all the ideas are bounced off one another, so pretty much a continuation of the process really. We did try some new things on this record, like for instance the first single 'Jekyll and Hyde' the verses in that were literally taken from a voicemail message that Ivan left Jason Hook, Jason took it right off the voicemail, put it in the computer, loaded it in, then got it lined up so it would fit in time and we thought that was interesting, and it fir the song, but yeah, straight off the answering machine message straight on the album.
You worked with Kevin Churko  once again on the album, what does he bring to the band that allows him to keep getting the call up to produce your albums?
With Kevin he's worked with us on the last five records so he's certainly become an integral part of the Death Punch sound and the Death Punch studio vibe, he's great at taking five very strong personalities and having those five personalities with all different ideas and having them work all together, he's great at lighting fires they need to be lit and putting out fires when they need quenched. So he's kind of the referee and is able to kind of get everything in line and make Death Punch do what it does best which is write songs as evident by the stuff on 'Got Your Six'.
You're mentioned that you're currently out on tour, is the new stuff slotting in and going down well?
Oh yeah, right now we're doing two new songs, we're doing the title track 'Got Your Six' and we're also doing 'Jekyll and Hyde' which is the first single off the record, so we've got those two worked in there now with plans of adding a few more as the tour progresses and as we continue to go across the world with this new record and the tour in support of this new record.
I have to ask, when do you think we might see you back in Australia, any plans?
We have everything mapped out but nothing is set in stone just yet, the plan is to come to Australia next year. I don't know who with, don't know exactly when, but we will be in Australia next year.
You've been here before, now besides the shows, what's your favourite thing to do here in Australia?
Oh my gosh, there's so many things, the last time we did the Soundwave festival I had a great day off in Perth, that one really sticks out, had a nice day on the beach and had a hotel there with a nice ocean view, so Perth really sticks out. I enjoyed the vibe of Melbourne and going out and doing all tourist things and in Sydney when we had a couple of days off there, that's basically what I do end up going out and doing the whole tourist thing while I'm there and just checking out all the different sites. Being in this band gives you a chance to see the world so I'm definitely taking every advantage to see all the sites in any place we're able to tour.
You've now been a part of Five Finger Death Punch for four years, but in that time there's been four albums which is almost unheard of for a band, in this time has this frequency helped to really create the bond that you guys have?
I think so, I'm one of those real calm, easy to work with kind of guys  and in every job I've ever had I've seen myself as like the glue so I'm the guy that's always smooth and there's no drama with me, so yeah I guess that's kind of helped the vibe a little bit *laughs*
What I've noticed about yourself and the band is that you're all fans of music and get as excited as fans, so what for you has been your ultimate fanboy moment you've been able to achieve by being in Five Finger Death Punch?
*laughs* I actually have, the last European tour that we did we were out with Judas Priest and every single night, Rob Halford he's a fan of rock and metal just like we are, he's always on the side of the stage watching us play and there was one night when we were in the back, we did the song called 'Remember Everything' it's an acoustic piece we do in the live set, so me, Zoltan and Jeremy were standing back behind the curtain and Rob Halford comes up and was like 'Hey man, I hate to be that guy, but can I get a selfie with you?' I was like oh my god, never in my life did I think I'd grow up to be not only playing with Rob Halford but that Rob Halford would want to take a selfie with me *laughs* that was certainly a fanboy moment.
Well Rob is truly one of the nicest guys I've ever had the chance to interview, an absolute gentleman…
100% and that's another thing too, we talk about being fans of rock and metal, there was one festival we were playing and I walked in around noon going into catering and Rob had a piece of paper in front of him, I walked over and said 'Hey man, whatcha doin?' he was going  through and circling all the bands he was going to check out on the festival that day, so spent a lot of time that day bouncing around and checking out bands with Rob Halford, we were pretty much into the same bands and wanted to see the same shows, so pretty much a whole afternoon watching rock and heavy metal with Rob Halford.
What has being in Five Finger Death Punch allowed you to do as a musician that you may not have been able to do previously?
Reach a huge audience, that's the thing, the structure is still the same, still playing bass, still singing background vocals, still writing songs but something about this band has reached a huge, huge audience, I mean we go all around the world, sell out places everywhere, like you said number 3 in Australia, number 2 here in The States, that's just a couple of chart numbers coming off the top of my head, this album has been very well received by people all around the world so that the voice and the platform we have with this band is something brand new. We've been able to do a lot of good things too, like for instance for the last album 'The Wrong Side of Heaven' we actually did a charity campaign called 5FDP4VETS   and raised a quarter of a million dollars for veterans suffering with PTSD and dealing with homelessness, so that's something as a musician I haven't had a chance to do and that's to have that huge audience, that huge platform that can help out and kind of positively help people around the world. It's a new day in rock and roll, particularly with us we enjoy helping them, we have a huge supportive audience that is also into our charitable aspects as well and we appreciate that.
Lastly, let's predict the future so finish this sentence for me, in 2016, Five Finger Death Punch will…
Continue to tour the world and positively affect lives as we do so.
Essential Information
From: Las Vegas, NV, USA
Band Members: Zoltan Bathory – rhythm guitar, Jeremy Spencer – drums, Ivan Moody – lead vocals,  Jason Hook – lead guitar, backing vocals, Chris Kael – bass, backing vocals
Website: http://www.fivefingerdeathpunch.com
Latest Release: Got Your Six (Out Now – Sony Music Australia)