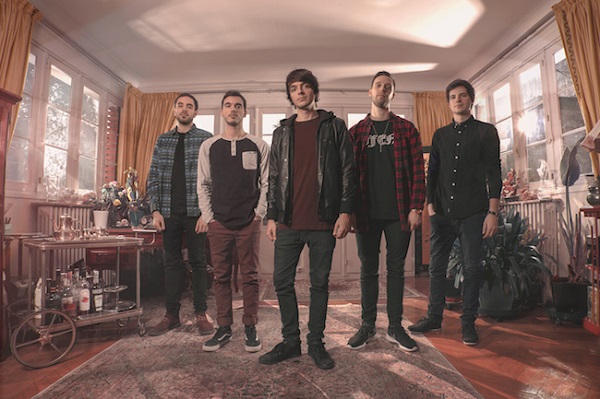 "I hope it will do well, honestly I have some high expectations after Soundwave, but this is gonna be great and were gonna try to party every day with everyone on stage and a lot of craziness, a lot of crazy stuff."
From release: French pop-punkers Chunk! No, Captain Chunk! will be returning to our shores for their first headline tour of Australia this October, having previously toured as part of Soundwave Festival. Named after the 80's classic adventure movie 'The Goonies', Chunk! No, Captain Chunk! vacillates between two different extremes, folding high octane, crazy catchy pop-punk melodies into pummeling and potent hardcore. Chunk! No, Captain Chunk! third album Get Lost, Find Yourself was released in May this year via Fearless Records/Unified and sees the band at the top of their game
At home in the mountains we chatted to Bert of Chunk! No, Captain Chunk about their upcoming Australian tour & what we can expect, as well as filling us in on their newest album, the state of Rock music in France, and much more…
Being to Australia before on that massive beast of The Soundwave Festival, what are you most looking forward to about coming back?
Honestly, we're like very, very, very excited to come back to Australia, we've been to Soundwave like you said two years ago and that was one of the biggest things we've ever played, the biggest festival, the biggest line up and that was like a big experience for us. So we're very excited to come back, and honestly I don't know what to expect, this might be a totally different thing, it's not a massive festival, it's a headliner and this is also like a different part of the year. I think earlier someone told me it's like spring time for you over there, so I don't know what to expect, I'm also very curious and according to our past experience at Soundwave it's going to be great and we're all very, very, very stoked, I think with our whole schedule for the year this is the one we're most excited about.
These being your first run of headline shows, what can people expect from a typical set of yours?
A lot of craziness, I like I don't know, I like to get the crowd very involved in the show and do some crazy stuff. I don't like playing boring shows of course, but we're gonna play some new songs, we're gonna play some old songs, heavy songs, softer songs, Chunk songs *laughs*, there's gonna be a little bit of everything for everyone. So yeah, I don't know, honestly like I don't really know what to expect myself because Soundwave is huge and you're playing on a big stage every day and there's a big crowd every day and I don't know what a headliner in a club tour in Australia will look like just because we don't even realize what is our following in Australia. I hope it will do well, honestly I have some high expectations after Soundwave, but this is gonna be great and were gonna try to party every day with everyone on stage and a lot of craziness, a lot of crazy stuff.
Your newest album 'Get Lost, Find Yourself' is out now, and now three albums in did you set out to do anything different this time around?
Yeah, totally different actually, this album is kind of like an experiment for us compared to the two other ones, for 'Pardon My French' we came into the studio very prepared, we knew exactly what we wanted and we were just like when we entered the studio we just basically recorded what we wrote and we were like one other person short of direction. On this record we wanted to try something new and we tried some new stuff and we basically got lost in this writing process to find ourselves better in the end, and so yeah basically we entered the studio with not a lot of material, we just had some ideas that we tried to build and tried to build up some songs around these ideas. We also co-wrote some songs with producers because it was great to have some different input from other people as it gives you a fresh perspective of your music and yeah, basically we tried new stuff. I think this album sounds very accurate as it is right now because I think we succeeded in this whole process, when I listen to the record right now it sounds like us, the Chunk of 2015 and I'm very happy with the direction and I think this is something that we're gonna double up on a future album.
I do like the title, did that come from this process as you mentioned above?
Exactly, yeah.
So what for you has been the biggest change you've seen taken place within the band?
So touring is the ultimate experience you know? We've been on totally different tours, we've been on metal tours, we've been on big festivals, we've been on pop punk tours and every tour is different and made us different kind of people, it's like for me touring is the ultimate experience that a human can live you know? It makes your life intense in some ways, but it makes you maybe more mature and I wish everyone could experience the same thing, it gives you a different perspective for life like I said. We have a new drummer a new guy in the band since the beginning of the year and it's great to see a new guy on board because maybe it gives us a fresher perspective of our job, we realise how lucky we are to do what we're doing, it's I don't know, it's cool… Even if touring is hard, being a musician is very hard, it's very exhausting and at the end of the day you just sit down and say 'yeah our lives just rock' so we're just very happy with what we're doing.
Coming out of France, a scene I'm not really up on, what's the rock scene like over there?
There's basically no rock scene *laughs* it's very hard for a rock band to stand out because there's no label, there's no kind of structure for this music, there's no label or management or anything because people in France are into electro music, rap music, but definitely not rock music unfortunately, so us when I think of our career we just got lucky to get signed on an American label and have all these opportunities for five years now and yeah, I don't know, we're just like very lucky because there's no future for us in France for sure. I mean we can play like a show in Paris and it's sold out, there's going to be people coming to the shows but the reason is because we played like Warped Tour, we played Soundwave, we played all these huge shows and we got some big promotion with the label and our managers and everything but without all of this we would be nothing, no one and no one would care. So France is a weird country for this type of music and I can say we're lucky with the people who gave us a chance…
Have you ever thought of relocating to America or somewhere like that?
We thought about it, it's actually mot an easy thing, I don't know , it's just good to be back home in between tours I guess we're French in our blood you know *laughs* and maybe it will happen one day, we'll see, but for now we enjoy our time home.
In terms of influences when you were growing up and even today, who really made you want to make this kind of music?
Basically we grew up with bands like 'Blink 182', 'New Found Glory', Green Day', 'Millencolin' that kind of stuff and I remember me buying the Warped DVD 2003 I guess? It was very hard to find in France because I went to a very local DVD store and as soon as I found it I was like 'oh shit I want it right now' and this is still the DVD that I watch right now as it reminds me and gives me another perspective of what Warped tour is and the way I looked at it when I was a little kid. Even if we grew up in France and even if this type of music is not popular in France we grew up with that type of stuff with the internet and everything we just discovered some different type of music from the bullshit that was played on the radio, so yeah, like Blink 182 that's my base, my fundamentals for me, the first thing that I punk rock band that I listened to.
Well the influence shines through, I love your upbeat kind of music where that really seems to be missing in a lot of music these days…
Yeah like I was saying, Blink 182 has been like a big influence especially for me and this is the type of pop punk bands that keep the fun vibe in their music and in pop punk and I think that's how pop punk should be, pop punk shouldn't be sad or anything. Bands right now can do whatever they want but when I look at this type of music it just makes me want to have fun and that's how it should be. So yeah we try to keep the party and the fun vibe in our music and I think this is something that we're going to try to keep no matter what, this is like a guideline.
Lastly let's look ahead to the future, so finish this sentence for us, in 2016, Chunk! No, Captain Chunk will…
Will probably release a new album and they will get as big as One Direction *laughs*
Catch Chunk! No, Captain Chunk on tour in Australia at these dates!
THURSDAY OCTOBER 1st –ENIGMA BAR, ADELAIDE18+
Tickets available at www.oztix.com.au | www.moshtix.com.au
SATURDAY OCTOBER 3rd – MAX WATT'S , MELBOURNE 18+
Tickets available at www.oztix.com.au | www.maxwatts.com.au
SUNDAY OCTOBER 4th –THE BLAD FACED STAG, SYDNEY LIC/AA
Tickets available www.oztix.com.au | www.moshtix.com.au
MONDAY OCTOBER 5th –BRIGHTSIDE, BRISBANE 18+
Tickets available at www.oztix.com.au
Presented by Taperjean Music
Essential Information
From: Paris, France
Band Members: Bertrand "Bert" Poncet – lead vocals, keyboards, Éric Poncet – lead guitar, Paul "Wilson" Cordebard – rhythm guitar, Mathias Rigal – bass guitar, Bastien Lafaye – drums, percussion
Website: http://www.chunknocaptainchunk.com
Latest Release: Get Lost, Find Yourself (Out Now – Fearless / UNFD)