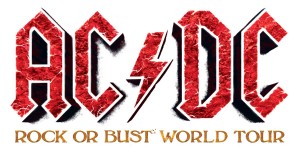 Promoter Garry Van Egmond announced today that critically acclaimed Swedish rock bandThe Hives and Australia's own Kingswood will join AC/DC's ROCK OR BUST Australia Touras special guests in one of the most coveted guest spots in the country. Following on from the release of their worldwide Number One album 'Rock Or Bust', AC/DC will play Australian stadium shows in November and December.
AC/DC NATIONAL TOUR DATES:
SYDNEY – Wednesday 4 and Saturday 7 November at ANZ Stadium, www.ticketek.com.au
BRISBANE – Thursday 12 and Saturday 14 November at QSAC, www.ticketek.com.au
ADELAIDE – Saturday 21 November at Adelaide Oval, www.ticketek.com.au
PERTH – Friday 27 and Sunday 29 November at Domain Stadium, www.ticketmaster.com.au
MELBOURNE – Sunday 6 and Tuesday 8 December at Etihad Stadium, www.ticketmaster.com.au
Tickets *$99 to *$159.90
New Oval tickets *$99.00
Australian audiences require no introduction to The Hives. The five-piece Swedish rock n' roll force are returning to Australia after captivating audiences at last year's Big Day Out. The Hives– Nicholaus Arson, Chris Dangerous, Dr. Matt Destruction, Vigilante Carlstroem and Howlin' Pelle Almqvist shot to superstardom in 2000 with their second album, Veni Vidi Vicious, featuring top selling singles 'Main Offender' and 'Hate to Say I Told You So'. Their fourth album The Black & White Album introduced now fan-favourite 'Tick Tick Boom'. Their latest offering, Lex Hives, was self-produced and mixed by Grammy Award winner Andrew Scheps (Red Hot Chili Peppers, Adele), and bonus tracks recorded and produced by Queens of the Stone Age's Josh Homme. The Hives are currently at work on their sixth studio album.The Hives commented, "When we were 6 years old in Fagersta, Sweden we were struck for the first time by the lightning that is Rock n Roll. That lightning was AC/DC. Now many years later we find ourselves in a successful rock n roll band and going on tour with them. It couldn't be better if we made it up. Life rules."
Australian Rock band Kingswood will join The Hives as special guests on AC/DC's ROCK OR BUST Australian Tour. Fergus Linacre, Alex Laska, Jeremy Hunter and Justin Debrincat make up the four-piece rock band from Melbourne.  The band has performed at numerous festivals including Splendour In The Grass, Big Day Out, Groovin The Moo and Falls Festivals. In 2014, the band returned from Nashville having recorded their debut album with Grammy Award winning producer Vance Powell (Jack White, Arctic Monkeys, The Ractonteurs). Kingswood's album'Microscopic Wars' had a top 10 debut in the national ARIA charts at #6 and subsequently went on to receive an ARIA Nomination for 'Best Rock Album'.
Don't miss the concert event of the decade which is heading to Australia in November and December 2015.
If there is one thing you have to do in your life its AC/DC live!
*Ticket prices include GST and booking fees. Transaction and credit card fees may apply.Visit: www.acdctour.com.au for more tour information
AC/DC Australia
https://www.facebook.com/acdcaustraliantour
www.instagram.com/acdctourau
@acdctourau
#acdcaustraliantour #rockorbust