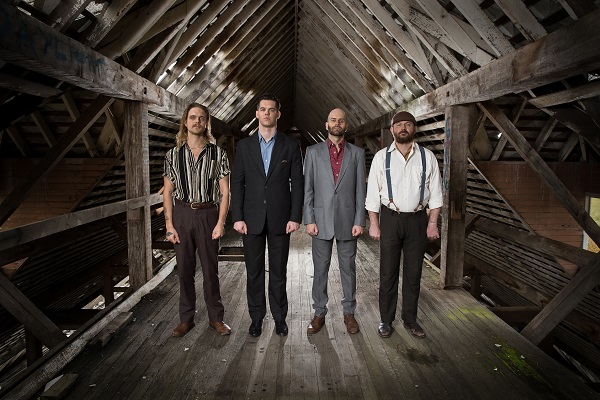 "The Snowdroppers started with a very specific purpose and we were very much, well we still do to some extent but we were very much wearing a costume both physically and metaphorically *laughs*, and aurally I guess…"
From release: Seminal Sydney blues-rockers The Snowdroppers are back, and they're not mucking around. They return with a swag of brand new pop-soaked anthems on third studio album 'BUSINESS', released on 4 September, 2015 through ABC Music imprint FOUR | FOUR. On 'Business', long-time sound man Ryan Hazell  (The Drones, The Fumes) distils the band's live energy and unorthodox interpretation of rock n' roll into a triumphant collision of potent song writing and discordant raw power. The album's twelve tracks, an unpredictable fusion of everything from classic soul and r'n'b, fuzzed-out stoner riff-rock to distorted country…
Out for a stroll, we chatted to Jeremey / Johnny from The Snowdroppers about the band's new album 'Business', touring, evolution, personas and much more…
So, 'Business' has just been released, how is business?
Business is good, business as usual, business casual…
'Business' is your third album, so going into this one did you set out to do anything differently this time around?
Well not necessarily different, I think we just went in there and the last record, like a bit of our history, but our last record was a little bit rushed in terms of the song writing process, we didn't have as much time as wanted to really let the songs sort of simmer before serving *laughs*, just because it had been so long between releases we really felt the pressure to get something out. There's some great songs on that record that we love and we still play live but a couple of songs we say 'ooh that could've been a little bit longer in the oven' *laughs* if you know what I mean… So this time we just wanted to really have enough time to let the songs tell us what they wanted.
How do you feel your approach to song writing has changed in your time together?
I mean credit given where credit is due, Pauly has really stepped up on this record and song writing wise it's very much a labour of love for him; he really has come into his own as really kind of a brilliant song writer in my opinion. On the last album I guess there was a bit of a sense of competition between his songs and my songs if you know what I mean? Pauly is a bit of an evil genius, he's very reclusive in his song writing, he likes to tuck himself away and he'll just come out with this like a mad scientist, he'll have it in his lap for a couple of weeks then all of a sudden he'll bring this brilliant song to rehearsal. So this time around I think it was a little bit more collaborative *laughs* we were sharing a lot more idea as opposed to writing separately, more so than in previous records, so yeah it was a bit more collaborative this time around.
The sound has evolved somewhat, do you put this down to growth or a natural evolution within the band?
Column A, column B… I think it's just a case of whether it is that album or not, was probably getting closer and closer to the album that The Snowdroppers always had inside us you know what I mean? At the end of the day the nature of how the band started, I'm not going to say unusual and I'm not going to say unique, but just a little bit different you know what I mean? The Snowdroppers started with a very specific purpose and we were very much, well we still do to some extent but we were very much wearing a costume both physically and metaphorically *laughs*, and aurally I guess. So I think as the albums go on we shed that a little bit more and more and at the end of the day you're just talking to a couple of Billy Joel fans that are trying to write a really good song *laughs*. We're just kind of classic pop fans at the end of the day, we love choruses, we love melodies, we love singing along, we love pop music at the end of the day. So I think that's what we're trying to do, I guess at the same time though we're kind of really aware that we like to dance, we like to boogie, boogie on down, so we're trying to keep things a little bit more up this time and that was a conscious decision just to keep it a little funky fresh.
Your live shows are always a whole lot of fun, have you got anything planned for this upcoming run of shows?
Just the usual smattering of under rehearsed, bad stand-up comedy *laughs* no we've been rehearsing pretty hard now for a while so we're hoping we can bring something quasi-rehearsed to the table, but that'll probably all go out the window in the first five minutes of the gig *laughs*
What's your favourite thing about being in The Snowdroppers?
Talking to journalists on my way to work *laughs* man, it has been and always will be playing live for me, just that feeling of making music with three other people in the room just when you hear that first incarnation of a song, you can't beat that, that germ of creativity, it's that God particle *laughs* it's why we're all here, so whatever way you can get that is what I enjoy about life and that's what I enjoy about music.
You mentioned before that you wear the costumes back starting but you also went under personas, are you still going as Johnny or are you Jeremy now?
It depends who you ask, people are still quite confused, and I am *laughs*… like I do interviews now and people kind of go "Who's Jeremy?" and I have to say "Well you're talking to him." I think I'm kind of comfortable with both now, I've sort of centered and come to terms with my addiction *laughs* and I still some days I'm more Johnny than Jeremy and some days I'm more Jeremy than Johnny *laughs* but I mean I've definitely shed that, that persona was sort of a coping mechanism with nerves when we started to be honest, so it was easier for me to climb inside that character and it would help me get over the nerves and it wasn't me, it was a performance so I didn't have to be nervous anymore. I think as the years went on that skin was shed a little bit and I don't know, people really took to it and that's kind of nice.
My thoughts are the Australian rock scene is doing quite well and a lot of bands are out there at the moment killing it, from an artist side, what are your thoughts on where the scene is at the moment?
Man, I get asked this,  I don't know and I'm not going to say I don't care, I mean I do obviously being a gigging rock musician, but I sort of avoid and just put my head down and do it. There's that whole sort of moaning in the scene at the moment in terms of venues closing, like oh rock is dead, music is dead, live music is dead… and I mean there is that argument that it's certainly not the same as it was, but everything changes man, it's never going to stay the same you know what I mean? So I'm going to use a Shawshank Redemption quote here "Get busy livin' or get busy dyin" *laughs* so I've always just put my head down and got on with it, I mean what are you not going to play because some venues close you know what I mean? It'll make it harder I suppose, but a band starting out, fuck, I don't know *laughs*. In terms of the scene, rock and roll will never fuckin' die, man *laughs*. I've seen a lot of great shows, I was actually at The Grenadiers show on Saturday night up at Newtown Social and they killed it dude, if anyone hasn't got their new record or gone to see them, they are the tightest rock and roll band. I've seen all this new music recently, I went and High Tension, they were fantastic, obviously Royal Headache are just killing it at the moment, and yeah rock and roll will never die.
So let's get a bit of a quick fire insight into you…
What was the first album you bought?
Would've been Presidents Of The United States Of America…
What was the last album you bought?
It was and I know this… It was… actually purchased on vinyl, a Canadian band called Single Mothers.
Who is your favourite band to see live?
I've seen The Hives a couple of times and they're fantastic.
What band or artist made you want to be a rock star?
Oh fuck… I don't know… you know what? Probably Pink Floyd…
Do you know all the words to 'Informer' by Snow?
No, I know there's licking of boom boom's involved and that's about all I got *laughs* not actually sure what a boom boom is but use your imagination.
Lastly, let's look ahead to the future, and predict the future, so finish this sentence for me, in 2016, The Snowdroppers will…
In 2016, The Snowdroppers will be embroiled in a small civil lawsuit in America involving our bass player  and the theft of some pet food, dog food from the pet store in middle Connecticut *laughs*
THE SNOWDROPPERS NATIONAL 'BUSINESS' ALBUM TOUR 2015
Plus Special Guests FOOD COURT* & guests
Presented by FasterLouder, Select Music, Four | Four and push.pull
THUR 10 SEPT – BIGSOUND, BRISBANE*
FRI 11 SEPT – HELM BAR, MOOLOOLABA*
SAT 19 SEPT – NORTHCOTE SOCIAL CLUB, MELBOURNE
FRI 25 SEPT – NEWTOWN SOCIAL CLUB, SYDNEY – Part of Rolling Stone Live Lodge 
THUR 01 OCT – ED CASTLE, ADELAIDE*
FRI 02 OCT – PRINCE OF WALES, BUNBURY*
SAT 03 OCT, THE BOSTON, PERTH*
SUN 04 OCT, NEWPORT HOTEL, FREMANTLE*
FRI 09 OCT – THE BRIGHTSIDE, BRISBANE
SAT 10 OCT – THE SPOTTED COW, TOOWOOMBA
THUR 26 NOV, REPUBLIC BAR, HOBART*
FRI 27 & SAT 28 NOV, QUEENSCLIFF MUSIC FESTIVAL, QUEENSCLIFF*
For further ticketing info head to www.snowdroppers.com
*FOOD COURT not appearing
Essential Information
From: Sydney, Australia
Band members: Wishbone – Vocals, Pauly K – Guitar, Cougar Jones – Drums, London – Bass
Website:  https://www.snowdroppers.com
Latest release: Business – (out now – ABC Music / FOUR|FOUR Music) – Get it HERE