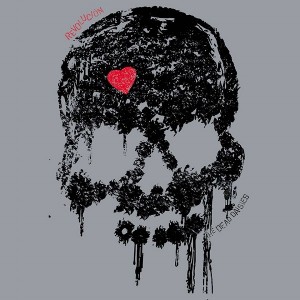 The Daisies arrived in Sydney today to continue the 40th Anniversary world tour with KISS. The band are super excited to play tracks from their new album Revolución, including the latest track with Jimmy Barnes – 'Empty Heart' for their Australian fans. Unfortunately Richard Fortus had a bit of a motorcycle accident recently and, will not be able to make this leg of the tour. We wish him a speedy recovery and he will definitely be 'back on deck' for the KISS KRUISE.
"I was involved in a motorcycle accident recently and as a result, I not be able to make the tour. The doctors say I will make a full recovery.  I'm devastated that I will not be able to play to the Australian and New Zealand fans, who have been so supportive and loyal. Thank to everyone for their well-wishes." – Richard Fortus
Amazing rock player extraordinaire from the Baby Animals, Dave Leslie, will jump in and play these dates. Dave is busy learning the tunes and can't wait to get out there and play with The Daisies.
"Richard Fortus is an amazing guitar player and I'm really thrilled to be asked to cover for him. I am going to have to pack an extra bag of socks, because his are extremely big shoes to fill!"– Dave Leslie
KISS have extended a very special offer to the Daisies fans who would like to attend the concert supported by The Dead Daisies. This will be Gold Tickets ($138.00) for Silver price ($99.00) including all floor and Gold seats available. A promotional code can be found at www.thedeaddaisies.com
A documentary film about the band's historic trip to Cuba titled Revolución has been created and will air on Qantas Inflight 'On Q' Entertainment in October and November. A coffee table book and e book about the trip are also available at: www.thedeaddaisies.com
The Daisies have teamed up with Fraser Harley-Davidson Sydney, Pistonhead Lager, Beach Burrito and Southtrade International Patron Silver Tequila to bring you a 'Secret Location' Private show on October 11 in Sydney. There is also the opportunity to donate and win a customised 'Daisies' Harley-Davidson 'Street 500′ Motorcycle with all donations going to Cancer Council NSW. Go to our partners' facebook, websites and www.thedeaddaisies.com to enter.
Tour Dates with KISS in Australia and New Zealand
Saturday, October 3 – PERTH Arena
Tuesday, October 6 – ADELAIDE Entertainment Centre
Thursday, October 8 – MELBOURNE Rod Laver Arena
Friday, October 9 – MELBOURNE Rod Laver Arena
Saturday, October 10 – SYDNEY AllPhones Arena
Monday, October 12 – NEWCASTLE Entertainment Centre
Tuesday, October 13 – BRISBANE Entertainment Centre
Friday, October 16 – AUCKLAND Vector Arena
www.facebook.com/TheDeadDaisies
www.twitter.com/TheDeadDaisies
www.youtube.com/TheDeadDaisies