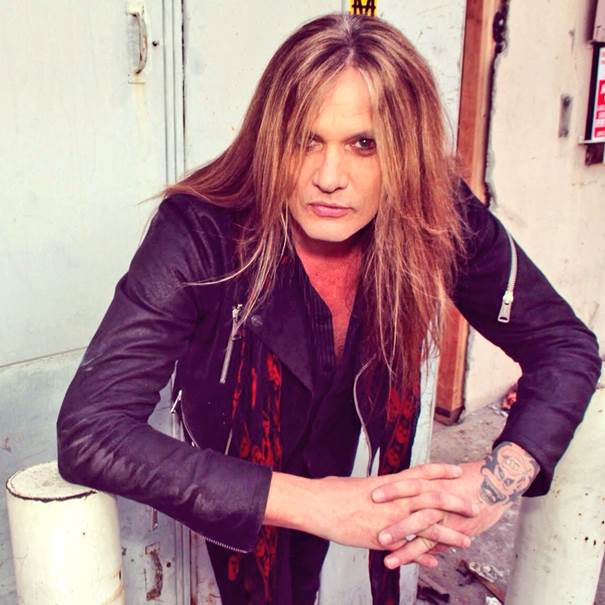 "I just want to tour the venues, bigger venues that are dangled in front of me like a carrot, like "If you get back with the old band you can play here" I know someday it's just a matter of time before it's "OK, just fuckin' play here" *laughs* so that's what I would like to accomplish… I would like to be able to tour the venues that are propositioned to me with my old band… I would like to play those venues with my solo band. "
From release: Known as the Original Voice of SKID ROW, SEBASTIAN BACH is one of the finest front men to come out of the late 80's / early 90's with one hell of a voice; he is considered musical royalty and a personification of pure rock and roll at its finest! Not being one to do anything by half, Bach devotes 110% to give his all resulting in one hell of a show. Whether you're a fan from the SKID ROW days or his solo material nowadays, Bach is ready to Give 'Em Hell and leave you Kicking And Screaming for more!
At home in California and broadcasting me live us Periscope, we chatted once again to Sebastian Bach, this time about his upcoming Australian tour, new music, his upcoming book, and the past and current state of music…
I have to start by mentioning that when we spoke about four years ago you called the site May the Bach be with You, just wanted to say it's still pretty much my favourite thing ever *laughs*
Well yeah, I kind of *laughs* I've used a lot of puns in my day… *laughs*
Now of course we're here because you're headed back to Australia! As your catalogue grows, what can we expect set wise at these upcoming shows?
Well you know there's four or five tunes that I pretty much have to do every night, I think you know those ones, you'll get the ones that you want to hear for sure, then other than that we kind of switch it up, there's a lot of great songs to choose from now, I've put out a bunch of records *laughs* so there's a lot of songs. I arrange it, I'll go into sound check and I'll look at the room, to be honest with you some songs sound better and lend themselves to a bigger room an some songs lend themselves to a smaller venue, and the example I can think of is the song 'American Metalhead' off of Angel Down has all these huge big screams in it and it sounds insane in a gigantic room, whereas as a song like 'TunnelVision' which is more of a compressed kind of tight riff song with harmonies and stuff, not so many screams, that sounds better in smaller rooms. So how I choose the songs has to do with what kind of venue it is, is it an outside show, is it an inside show, like obviously a ballad like 'In A Darkened Room' works  better in a darkened room *laughs* imagine that, 'In A Darkened Room' in a darkened room but doesn't feel so good in the middle of the afternoon at 4pm *laughs* it's called 'In A Darkened Room' *laughs* you know what I'm saying?! I usually do 'In A Darkened Room' when we're playing in a darkened room *laughs*
You've been here many a time, do you have a favourite memory of a past tour here?
Oh yeah, yeah, yeah… my favourite memory of touring Australia is not exactly on stage, my favourite memory was being invited on Motley Crue's boat in the middle of Sydney harbour, with Vince Neil, Tommy Lee, Nikki and Mick and all their family and friends, they rented out this boat with Motley Crue and Skid Row and we took a tour that day and Vince also, I went on another day with him in Australia just me and him and some people that I barely remember because we were pretty fucked up *laughs*but what I do remember is me and Vince were drinking, big surprise, and suddenly I found myself swimming in the Australian waters in Sydney harbour, I had cut myself on the propeller on the back of the boat and I was swimming in Sydney arbour in a pool of blood *laughs* and Vince is like "Get the fuck out of the water, you're gonna be shark bait!" I was actually swimming in shark infested waters in a pool of blood, are we having fun yet?! *laughs*
'Give 'Em Hell' has been out now for just over a year, how has the last year been for you since its release?
It's been great, 'Give 'Em Hell' is my top charting Billboard record, records are something that once I put them out I hate literally zero control over what happens to the records, the only control I have over the records is making it, writing it, singing it, designing the album cover, just all that *laughs* but the day it comes out, it's in the hands of the record company, I don't have any control over what happens. After I give my approval and turn it in, I put a stamp on it and I put it in the mail and it's gone, it has a life of its own. The songs live are incredible, 'Temptation', 'All My Friends Are Dead', it's hard to put a song next to 'Youth Gone Wild' in the set and believe it or not, I've accomplished the impossible *laughs*, but all I can do is make the best record that I can, and the fact that it's my top charting Billboard solo record is encouraging for the next record, it's just going to be a long time before I feel up to making another record.
Although you did work with Bob Marlette again, has he helped to light a fire under you or do you try and spread records out?
No, I don't know how to answer this, all I can say is that my records come from my heart and I've done 'Bring 'Em Bach Alive', 'Forever Wild DVD', 'Angel Down', 'Kicking and Screaming', 'ABachalypse Now', 'Give 'Em Hell' and I'm saying that's a lot of music that I've done and made just solo, not even counting Skid Row and I need some time before I put out another record. I just need some time to recharge, most of the music industry now is really about the live show way more than putting out a new record, that's another thing that's out of my control, I'm always on the road, I just did seven weeks in America and Canada, I'm coming to Australia and I can't make a record while I'm doing a seven week tour, it doesn't work like that *laughs* so it's gonna take some time. I also have to turn in my book which I'm working really hard on and that's the next big project for me, so put 'Give 'Em Hell' on in your car and turn it up, next thing coming from me is my book and that's a real big project.
Is that going to have a really cool pun name with Bach in it as well?!
Oh the name of the book is '18 and Life on Skid Row', what do you get when you're 18 and it's life on Skid Row… *laughs* the title has to do with the fact that you can kick the man out of the band but you can't kick the band out of the man and everywhere I go that's what people know me as, like in public when I'm walking down the street and all over the world, so it's like a label that's put on me and it's very ironic that I'm not even in the band, and it'll always be like that, so that's the title. *laughs*
The statement being thrown around too much at the moment is that Rock is dead, and while some are capitalizing on the resurgence, what do you see happening with rock in the next ten to twenty years?
Well my first answer to you, what do I see happening in the next ten or twenty years, the obvious fact that everybody realises is that all our favourite bands and heroes are in their sixties and seventies now, I mean all of them… Rush is announcing their very last tour, that's really sad, I mean when Rush is hanging it up that's a bad sign for rock *laughs*, so gosh, I would say there was a quote that says "Sebastian Bach – Rock and Roll needs me" and of course that looks ridiculous when I say that, what I mean by that is I'm in my forties, I'm not in my sixties, do the math, who you gonna go fuckin' see in ten years? Who? I don't think Ozzy and Tony Iommi will be touring in ten years, hopefully they will be, I don't think these bands that we love are going to be able to tour in their eighties *laughs*. So when I said rock and roll needs me I just mean that I'm younger than most rocker *laughs* it's all I mean by that.
You've been more active than most across a broad spectrum of disciplines, namely music, movies, TV and theatre, so what music/theatre or art really has your interest right now, and why?
Well that's a good question… I'd have to say Marvel movies, like Ant-Man, I just saw Ant-Man, Fantastic Four is coming out in a couple of weeks, those movies blow my mind because I collected the comics when I was a kid, I own pretty much all of those comics, I bought them for a quarter when they came out when I was a kid. So when you're a kid and you're reading these stories about The Hulk or Spider-Man and all you've got is the comic book and your imagination and you really believe in that shit, then when you're almost fifty and you go see a movie in 3D Imax of what you imagined, like three or four decades ago, that's very overwhelming to me, when it's done right it is incredible. So I love those movies. Books, I'm trying not to read other people's books because I'm writing my own, I don't want to be influenced but there's a lot of great books, that's what I'm doing, I'm doing a book so it better be good.
So is there anything that you really want to do that you haven't yet had a chance to accomplish?
I just want to tour the venues, bigger venues that are dangled in front of me like a carrot, like "If you get back with the old band you can play here" I know someday it's just a matter of time before it's "OK, just fuckin' play here" *laughs* so that's what I would like to accomplish… I would like to be able to tour the venues that are propositioned to me with my old band… I would like to play those venues with my solo band. I've done them a lot, the last Guns N' Roses tour we did in Australia we played every arena there was in the country and it was very good, but that's what I would say to you, when I play I club in America it's over sold, it's almost dangerous, there's so many people, they're going fuckin' insane and there's no need for that. So that's what I would say to you, that would be my goal.
Now of course I don't want to ask you about specifically about Skid Row but I do have to mention that the so criminally underrated album 'Subhuman Race' was released 20 years ago this year, what do you think was wrong with the world then as that album should've been massive…
Well I have a platinum record for Subhuman Race from Japan, the album sold over two million worldwide which is not a failure in any means but it's not as much as the two albums before it so it's considered that. Again, you don't have any control over how many millions of people buy your record *laughs* it's beyond anyone's control, I can't answer it, all I do is make albums for me and if I'm proud of it I put them out and I love 'Subhuman Race' and 'Give 'Em Hell', 'Kicking and Screaming' and 'Angel Down' and 'Slave To The Grind' I love all of these records. I'm the guy that's in the studio screaming my fuckin nuts off, that's all I can do *laughs* lucky I can still do it, so it's fun to do.
Lastly, let's look ahead, so finish this sentence for me, by the end of 2015, Sebastian Bach will…
Be married… *laughs*
Congratulations!
Thank you, buddy, yes I'm getting married…
Well good luck and we look forward to the tour and I'll see you in Sydney…
Thanks, buddy, it's gonna be rockin'
Catch Sebastian Bach on tour in Australia at the following dates:
Saturday 19th September GOLD COAST Coolangatta Hotel
Tuesday 22nd September BRISBANE Eatons Hill
Wednesday 23rd September SYDNEY Metro Theatre
Friday 25th September MELBOURNE Forum Theatre
Saturday 26th September ADELAIDE The Gov
Sunday 27th September PERTH Astor Theatre
Get My Tickets – Click Here!
Presented by Metropolis Touring / Tombowler
Essential Information
From: USA
Touring Band Members: Sebastian Bach – Vocals,  Bobby Jarzombek –  Drums, Brent Woods – Guitar, Rob DeLuca – Bass
Website: www.sebastianbach.com
Latest release: Give 'Em Hell (out now – Frontiers Records) – Get it HERE