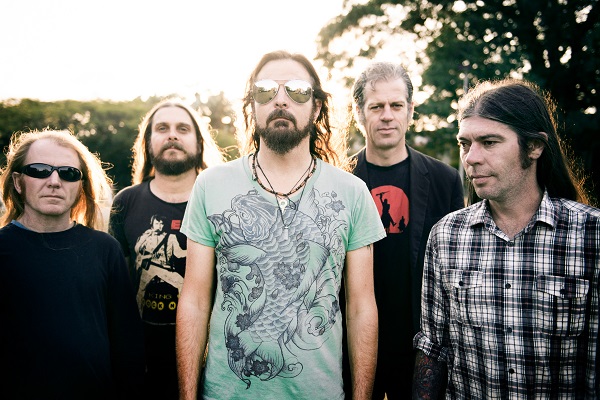 "…it also takes you back to a time, you know, so it sort of unlocks the flood gates and all these other memories come out, so I suppose in relation to losing Jay last year, it was a really nice experience in I suppose having those wonderful memories again and I suppose remembering him as well as a part of this, so that was nice…"
From release: Buoyed by the sleeper success of their debut album Tumbleweed in 1992; a period that saw the band tour the US, Europe and the UK, infamously support Nirvana on their 1992 Australian tour and criss-cross Australia playing countless dates – 1995 saw Tumbleweed release the epic Galactaphonic album on Polygram. 20 years on the album enjoys a strong legacy – with Galactaphonic-era tracks making up a big portion of the band's incendiary live shows.
Now in 2015 – Galactaphonic becomes 'SuperGalactaphonic' with a reissue on August 7th, accompanied by the Galactaphonic 20 tour. The reissue collects the original 13 track album and expands it to a sprawling 34 track celebration.
Sitting at Wollongong University in a darkened room we chatted to Richie from Tumbleweed about the twentieth anniversary of Galactaphonic, the reissue as SuperGalactaphonic, the tour to accompany, as well as amazing stories from the past including opening for Nirvana here in Australia…
It's time for a celebration as Galactaphonic turns 20! So here we have a tour and a reissue / super edition of the release, so let's break it down and talk about each of those. Firstly, the album, in putting together this SuperGalactaphonic package did you have an idea of how you wanted it to come together when the idea for the anniversary came up?
Yeah it sort of happened the other way around, after the first recollection of our songs 'In The Waterfront Years' that we did a few years ago, we thought yeah next thing we're gonna do is a reissue of 'Galactaphonic' and concentrate on that period with B-sides and whatnot, and that idea kicked around for a little while, and when we approached Universal with the idea because they inherited the rights to the stuff, we found that the guy in charge of the back catalogue there happened to be a big Tumbleweed fan when he was a kid and now he's got himself a good job, so it's wonderful how the world works. So he was one million percent behind it, so as soon as that happened the idea just snowballed and it grew wings and flew, and Steve our drummer, he's a great collector of things and his garage is full of old tapes and recordings over the years, live stuff, he just collects everything, so there's all these boxes covered in dust and we'd never gone through any of it. So he digitized it all and gave us all a listen to everything and we all picked out what was the best and eventually sort of just whittled it away to what we got on the record.
Was it a great experience going back and finding all these B-sides and live footage etc?
Yeah it was pretty amazing, it was like looking into an old photo album or something, very nostalgic, remembering a lot of things you'd forgotten, and the thing about playing music is that you tend you get yourself into a  space where it's kind of timeless, and one of the things about that is you forget that moment, so it's awesome going back and hearing things again that you've forgotten about, just little ways that you used to do things or like Lenny, he used to go crazy on the wah-wah peddle, that's one thing that we forgot, because the last few years he hasn't been playing the wah-wah peddle very much at all. So there's little things like that but it also takes you back to a time, you know, so it sort of unlocks the flood gates and all these other memories come out, so I suppose in relation to losing Jay last year, it was a really nice experience in I suppose having those wonderful memories again and I suppose remembering him as well as a part of this, so that was nice…
With these being your first shows since Jay's passing, which I was really sorry to hear about and I hope you're all doing ok, are there nerves or uncertainties at the moment about getting back out there?
I think that this is the perfect way of doing it, I think there was more apprehension in replacing him and making a decision to replace him fulltime and continue on in the same sort of way, but I think that by doing this that it's a good sort of toe back in the water, it's a real focused approach, we're doing the album from start to finish, so there's a real sort of direct thing about what we're doing, there's an angle to it, and I suppose that's making it fun, and there couldn't be a more perfect sort of replacement or person filling in on duties than Luke Armstrong because Jay taught him a lot of things when he was a young whippersnapper and he's been around the practise room since he was a kid and played with Lenny and Jay's brother and still does in a lot of bands, so he's done a lot of stuff, he's a really solid bass player, he's a quick learner, great guy. So that eliminates any sort of fear at the moment, it's just solid and so I'm not worried about it.
OK now onto the tour, I was going to ask about the set, you mentioned you're doing the album from start to finish, but have you got an idea of how these shows are going to shape up set wise and what else we can expect?
Well basically the show is going to be 'Galactaphonic' from start to finish, then after that it's going to be yell out what you want *laughs* but you've got to yell it loud, but we have been practising a lot of B-sides from that era, all the covers from that era, but then again there's always the favourites like 'Daddy Long Legs' and 'Stoned' that people want to hear. So just yell out, we want noise at the end, and we'll be the jukebox.
That's pretty much the best name for a tour, the 'yell out what you want tour'…
*laughs* We want people to do it.
You mention going through the material before, but let's go back to 1995, what's your best memory from when 'Galactaphonic' was released?
Hmm… that whole tour was pretty awesome, we did it with Spiderbait if I recall, and there's lots and lots of great memories, it was a sell-out tour, I became lifelong mates with Kram out of that tour and we went on to record. I suppose the one that's popped into my head, it's by no means the best but it's the first one that's popped into my head is that we did a festival in Geelong called 'Weed Fest' and we had about fourteen or fifteen local awesome bands on the bill including Spiderbait, Regurgitator in their very early days were on it, and we played this big basketball arena and it was just packed full of kids and it was just incredible. That's the just first one that comes into mind, but that period there were so many good memories, it was all sold out, people were hanging from rafters and it was just a wonderful time to be alive and a wonderful thing to be doing, and it was like the focus was just right on us and everything was just right at that time, all the planets aligned for us at that time. So it was good.
I know you've probably been asked about it a million times, so let's make it a million and one, but what are some of your best memories of opening for Nirvana on that 1992 tour?
That was great, Nirvana were an amazing band, we were lucky enough to score that run of shows because years before we'd toured with Mudhoney and Matt Lukin who was the bass player of Mudhoney was living with Kurt at that time and they were unknown and said 'my housemate is interested in coming to Australia would you be interested in supporting them?' and we didn't have the record because they were signed to Waterfront records 'Bleach' that is and it sold about six hundred copies. We said 'yeah cool' so I suppose it started from small things and then in the process they exploded into the biggest band in the world and that was another example of feeling like you're really in the eye of the storm, you're right there when things are happening and you're on the crest of that wave. So there's that exhilaration of being part of this moving natural force that was Nirvana at the time, and as far as the band goes they were absolutely amazing as a live band, they were unassuming people, they were down to earth and came in and shared Lenny's birthday cake with us and stuff like that, so I love them as people, I love them as a band and I loved being a part of that tour and it's something that I'll always remember. I also think it sold out months in advance because the whole tour was sort of scheduled and booked before that hit the big time and then they were still booked into places like The Venetian Club in Sydney, or the old Palace in Melbourne and so they weren't huge venues, ANU in Canberra, so they were wild times. In Canberra people smashed through the glass ceiling to floor windows all along where the gig was, and it was sold out and there was just as many people outside as there was inside and people actually smashed through the glass to get in, there was blood everywhere and we were slipping around on it everywhere backstage, it was disgusting. Yeah, it was wild, just really, really wild.
You guys were a fresh vibe for Australia and really took off in a big way, but what was it like for you coming out at a time when nothing really sounded like you guys here?
Well I suppose like what I was saying, when we played with Mudhoney and Dinosaur Jr and Sonic Youth early on before it really cracked big time, it felt like a really happening scene, there was a good live scene going on in most capital cities where you'd at least get a couple of hundred people to your gig on a weekend and it was a good sort of solid little live scene going on and we were just like everyone else I suppose. I think as far as our sound went, we sort of went through a major shift where we decided to slow everything down and heavy everything up a little more and that sort of happened as pretty much the same time overseas and Seattle bands were doing the same thing and it was more like drawing from a common well, I mean our early singles and stuff were mixed and produced overseas by Mark Arm from Mudhoney did Tumbleweed's first single, J Mascis did 'Proton Energy Pills' second single, so the people that we did work with when we were young, we were seventeen or eighteen years old at the time I feel like we were just drawing from that common well, we had similar interests, we loved The Stooges, we loved a lot of punk rock like The Damned, or Sex Pistols or a lot of stuff that was coming to America prior to that like I suppose all the LA punk stuff that was happening prior to it and it was a good underground scene. Sonic Youth were major influences on all that sort of world, but it was a mixture of sort of melody and heavy stuff, alternatively you had the LA hair rock stuff and I think it was a bit of a reaction to that too, you wanted distortion and heavy music and heavy rock and roll but sort of without that pretention and a little bit more just melody I suppose, so that's where that blend of stuff has a little 60's garage vibe to it as well. I don't know, it was great, it felt like it didn't feel contrived, it felt like we were making the music that naturally came out of us and it was as a result of things we were influenced by which were things that bands that were cracking the big time were influenced by as well. So this while movement just sort of grew up and got picked up by this wave and flung along, but I think when we began we didn't have any sort of possibility of commercial success, it wasn't something happening to bands coming from our world, so I suppose Nirvana was just a huge surprise to everybody that was in that scene at the time, I suppose that's what people that were in that scene prior to the big grunge explosion sort of recoiled against the word grunge and it being marketed in this way because they felt they had this ownership, this private little scene that existed before hand like everyone gets when they sort of jump on something early and all of a sudden people realize how good it is and it becomes really, really popular, it might be a little bit special because it's theirs you know and that's the same way we sort of felt about it.
We of course did have new music back in 2013, but is there music in the works for a new album in the near future?
There's no real plans but  I mean we like keeping moving and I think we wanted to keep things interesting and that's one of the great mysteries of life, you never know what's going to happen, so it's just a matter of seeing what happens, we'll always try and make it interesting.
So can we expect you guys to continue touring?
No, we're just going to concentrate on this tour for now and then we'll weigh up on where to go from there. Take a bit at a time at the moment.
Lastly, let's look ahead to the future, so finish this sentence for me, in 2016, Tumbleweed will…
Hmmm OK… In 2016 Tumbleweed will do something really amazing, and unexpected, we're gonna do something completely unexpected and something we've never done before…
Catch Tumbleweed on remaining dates of their SuperGalactaphonic Tour
Friday 11th September 2015
Manning Bar, SYDNEY NSW
Tix HERE 
Friday 18th September 2015
Rosemount Hotel, PERTH WA
Tix HERE
Saturday 19th September 2015
Fowlers Live, ADELAIDE SA
Tix HERE 
Saturday 26th September 2015
Waves, WOLLONGONG NSW
Tix HERE
Check out the Supergalactaphonic album and tour trailer HERE
Essential Information
From: Wollongong, NSW, Australia
Band members: Richie Lewis (vocals), Lenny Curley (guitar), Paul Hausmeister (guitar), Luke Armstrong (bass), Steve O'Brien (drums)
Website:  Facebook page
Latest release: SuperGalactaphonic  – (out now-  Universal Music Australia) – Get it HERE