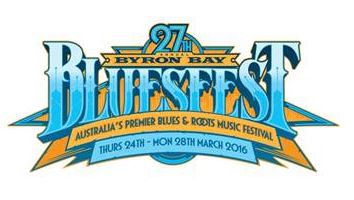 Today Bluesfest releases the second instalment of outstanding artists to perform at the 5 Day Festival, held annually over Easter, just north of Byron Bay (EVENT DATES: Thu 24th March to Mon 28th March 2016).
Co-headlining the second announcement is the incomparable Tom Jones, a living legend who will be appearing at Bluesfest for the first time in 2016. Over his 50 year career, Tom Jones has sold over 100 million records, won a Grammy and two Brit Awards and given us countless hits including; 'It's Not Unusual', 'Delilah' ,'Green, Green Grass of Home',  'What's New Pussycat' , 'She's a Lady',  'Kiss', 'Mama Told Me', 'Thunderball', 'Burning Down The House' , 'Sex Bomb', 'I'll Never Fall In Love Again' and 'If I Only Knew'.
Also headlining this announcement, and in another first for Bluesfest, is one of the most talented songwriters in modern Rock, Noel Gallagher, who will be performing at Bluesfest with his band, the High Flying Birds.
Noel Gallagher, the principal songwriter, lead guitarist & vocalist for multi-platinum, award winning mega band Oasis is also making his Bluesfest debut, having headlined a number of major festivals this year, including T in the Park, Latiitude, Hydrogen, London's Calling Festival, Benicassim and Fuji Rock.
Portland's finest, The Decemberists, the hugely successful and inspiring Indie Folk Rock band will be making their Bluesfest debut in 2016. Their career spans over more than a decade and with their songs ranging from upbeat Pop to instrumental ballads, The Decemberists have charmed audiences all over the world with their eclectic live shows.
The second announcement also includes some of the brightest stars of the next generation, with American Alternative / Classic Country & Southern Rock singer-songwriter Jason Isbell returning to Bluesfest. Jason's album Something More Than Free went No. 1 on three (yes, that's three!) different Billboard charts – Rock, Folk and Country. In 2014 Jason Isbell achieved a clean sweep at the Americana Awards, winning all three awards he was nominated for: Artist of the Year, Album of the Year and Song of the Year!
Also added to the Bluesfest line up is the hugely talented and rising star, Alternative Country artist Sturgill Simpson, who has been heralded as the next Waylon Jennings, Willie Nelson and Johnny Cash all rolled into one.  It was his year (after Jason Isbell scored big in 2014) to clean up at the recent 2015 Americana Awards, taking out the Artist of the Year award and Song of the Year award for 'Turtles All The Way Down'. This year Sturgill also won Best Album, Best Songwriter, Best Male Vocalist in the Nashville Scene Country Music Critics Poll & came in second for Artist of the Year and third for Best Live Act. Sturgill Simpson has become a significant addition to all signature festivals including Glastonbury, Lollapalooza, Bonnaroo and the upcoming Austin City Limits.
Wilco front man Jeff Tweedy, who is one of contemporary American music's most accomplished songwriters, musicians and performers will be coming to Bluesfest as Tweedy; a musical collaboration with his young adult son, drummer Spencer Tweedy. Father and son have been performing together since 2014 and have recently released Sukierae, an album full of great depth and richness. Bluesfest, being hailed the perfect father & son event on many occasions will be the perfect fit for this father & son duo!
Steve Earle, American Rock, Country and Folk singer (as well as one of America's most celebrated storytellers and activists) and his long-time backup band The Dukes will be returning to Bluesfest for two unforgettable performances. His latest release Terraplane (2015) charted higher than his trademark Copperhead Road. Terraplane peaked at No. 1 on the Billboard Blues charts, No 2. on the Billboard Folk albums chart, No 3. on the Billboard Country albums chart, debuted at No 39. on the Billboard 200. Steve Earle has had a massive career spanning over many decades with multiple awards under his belt. This will be his sixth visit to Bluesfest!
Jamaican Reggae icons The Wailers, led by legendary bassist Aston 'Family Man' who has always been the The Wailers band leader, will be coming to Bluesfest for four consecutive shows and each set will be completely different from the other!  Over four massive nights at Bluesfest The Wailers will be performing one of their classic albums in entirety each night including; Exodus, Survival, Uprising and Legend(the best-selling Reggae album of all time) plus the big hits like 'No Woman, No Cry', 'Redemption Song', 'Is this Love', and more.
Grace Potter is returning to Bluesfest with her sultry vocals, commanding stage presence and this time around, along with crowd favourites including 'Paris (Oh La La)', 'Stars', & 'The Lion, The Beast, The Beat', will be bringing the latest from her first solo album Midnight.
In another Bluesfest debut, Lord Huron, the rising Indie Folk band from the US, is joining Bluesfest's 2nd artist announcement. Lord Huron,which begun as a solo project by Ben Schneider, has grown into a band with a big following all over the world; their latest album Strange Tailswent to No. 10 in the Billboard top album charts and No. 1 in the Billboard Folk charts.
World/Folk/Hip-Hop/Roots music collective Nahko and Medicine For The People, known for their unrelentingly positive and energetic shows absolutely blew the Bluesfest crowd away in 2014 and will be sharing their spiritual, socially conscious message at Bluesfest once again next Easter.
American Rhythm and Blues band Vintage Trouble just finished their special guest spot for the legendary AC/DC on their Rock Or Bust World Tour. Their new album 1 Hopeful Rd. is currently No. 14 on the BBC UK Album Charts. Vintage Trouble is set to rock the socks off Bluesfest goers with their very own 'live-wired, straight-shootin', dirty brand of Blues Rock that has audiences all over the world wanting more.
Blues man Lucky Peterson, who released his first record at five years old in 1969, discovered by Blues legend Willie Dixon, will also be making his Bluesfest debut in 2016.
eMDee, hailing from Australia's top end, will be taking a short break from his season at the Sydney Royal Easter show to deliver a mind blowing performance on the didgeridoo that has to be seen to be believed.
Expanding the definition of Southern Rock, Blackberry Smoke is one of America's hottest live Rock 'n' Roll outfits & a grass-roots phenomenon. They've shared the stage with ZZ Top, Zac Brown Band & Lynyrd Skynyrd. Their most recent album Holding All the Rosespeaked at No. 1 in the US Billboard Country charts.
Stay tuned as Bluesfest will be releasing a series of announcements in the coming weeks.
THE SECOND 2016 BLUESFEST ARTIST ANNOUNCEMENT INCLUDES:
TOM JONES
NOEL GALLAGHER'S HIGH FLYING BIRDS
THE DECEMBERISTS
JASON ISBELL • STURGILL SIMPSON
TWEEDY • STEVE EARLE & THE DUKES
THE WAILERS – Perform 4 albums in entirety; Exodus, Survival, Uprising and Legend over 4 nights!
GRACE POTTER • LORD HURON
NAHKO AND MEDICINE FOR THE PEOPLE
VINTAGE TROUBLE • LUCKY PETERSON • EMDEE
BLACKBERRY SMOKE
and many more to come!
Bluesfest Festival Director, Peter Noble shares his excitement about the second announcement:
Here it is – the second Bluesfest announcement and it's like a Royal Easter Show bag of the best music on the planet occurring today – so many goodies – chock full of surprises  and with a couple of legendary favourites to top it off.
Firstly we have the one and only Tom Jones, who will be Burning Down the House at the Green, Green Grass of Bluesfest. Over 100 million records sold – he truly is incomparable.
We have been speaking to Tom and his management about playing Bluesfest for many years and we are absolutely thrilled to lock him down for 2016. We present the legends at Bluesfest, Tom Jones shares the top rung of the ladder with the best we have ever presented. We are – well chuffed.
Noel Gallagher, formerly of Oasis – the finest songwriter of his generation – and with Blur the most successful bands of the Brit Pop/ Indie Rock movement of the 90's, (which was even called "Noel Rock" – Noel Gallagher being such a prevalent influence) is coming to Bluesfest. Oasis won 6 Brit Awards, and were nominated for 92 awards – winning 37 of them including Top of the Pops, NME Awards and MTV Awards to name a few.
After tens of millions of record sales, Noel Gallagher left Oasis in 2009, and debuted the High Flying Birds in 2011. We are proud to present Noel Gallagher's High Flying Birds for the first time at Bluesfest. They have headlined on festivals including Fuji Rock (Japan – twice), T in the Park (Scotland), Latitude (UK), Roskilde (Netherlands), Coachella (USA), Isle of Wight (UK), and Big Day Out on their last tour in January 2012 – plus squillions of others.
I don't just love The Decemberists – I am madly in love with their music. They are amongst the best, if not THE best band to EVER come from Portland, Oregon, my former home when I lived in the US. I have been attempting to get them to play Bluesfest for many years – and finally they are coming for the first time. Their music is creative, it's quirky – maybe a little weird, like Portland itself. They may be described as Indie Folk, however I prefer to describe them as one of the most interesting bands today. If you mixed REM, The Pogues, Neko Case, The Avett Brothers and maybe Morissey and a strong British Folk Music influence, you would kinda get the idea. But, truly, this Grammy winning band is unique, fiercely independent and knows no musical boundaries.  We welcome one of America's great bands to Bluesfest 2016.
Sturgill Simpson – the name on everyone's lips in the Alt Country/Country music movement – the winner of Best Albums, Best Songwriter, Best Performer, Best just about everything in 2015!
He just walked away with the Award for Artist of the year + Song of the year at the Americana Awards 2015.
Nashville is saying this guy is going to be huge – and likening him to Waylon Jennings, Willie Nelson AND Johnny Cash – for his potential to re-energise Country in the classic outlaw manner. Hell, don't believe me – Google him up and you will see. Sturgill's performances at Bluesfest 2016 are a coup – you can say you saw him when.
Jason Isbell – since his last Bluesfest performance he has taken off! He won the Best Artist, Best Song AND Best Album at the Americana Awards 2014 and then released his career defining album so far – Something More Than Free in July 2015 – which topped the Billboard Charts at No 1 – In Country, Folk AND Rock – and No. 2 in Indie Rock – Jason Isbell's time has come.
Yes – there are more announcements to come and Bluesfest will continue to present THE best artists across a slew of genres – so- hold on to your hats – and get out your cheque books – we have an ABSOLUTE Bluesfest classic coming your way!
ARTISTS ALREADY ANNOUNCED:
The National – exclusive
City and Colour
UB40 featuring Ali Campbell, Astro and Mickey Virtue – exclusive
Joe Bonamassa – exclusive
Tedeschi Trucks Band
The Cat Empire
Lukas Nelson & Promise of The Real
The Word • Rhiannon Giddens
Janiva Magness • St. Paul & The Broken Bones
Allen Stone • The Selecter
Shakey Graves • Songhoy Blues
ARTIST BIOS
Tom Jones
'It's Not Unusual', 'Delilah' , 'Green, Green Grass of Home', 'What's New Pussycat', 'She's a Lady',  'Kiss', 'Mama Told Me', 'Thunderball', 'I'll Never Fall In Love Again', 'If I Only Knew', 'Burning Down The House' and 'Sex Bomb'; the list goes on and on and it is an absolute honour to be presenting the man behind all those hits, Tom Jones performing at Bluesfest for the very first time in 2016.
Tom Jones' 50-year career has remarkably gone from strength to strength.  Along with sustaining his popularity as a live performer and recording artist for five decades, he has garnered—at the age of 75—the best reviews of his career for his two most recent albums Spirit In The Room and Praise & Blame.
Jones has a fundamental interest in a wide range of music. Although he is well known for hits, he is first and foremost an artist with a true Rhythm and Blues soul. He has remained a vital recording artist, with his 1999 album Reload the biggest selling (5m) of his then 35-year career and he has sold over 100 million records, an impressive feat.
Tom was knighted by Her Majesty the Queen in 2006, an honour he was able to celebrate once again in 2012 when he performed at the Queens Diamond Jubilee concert at Buckingham Palace. Other highlights of his long career include receiving a BRIT Award for Best Male and Outstanding Contribution to Music, a Silver Clef Award for Lifetime Achievement, the Hitmaker Award from the [US] Songwriters Hall of Fame, GQ Man Of The Year, and the prestigious [UK] Music Industry Trust Award. He has been animated as himself in The Simpsons, Duck Dodgers, The Emperors New Groove; other film roles include Tim Burton's Mars Attacks. In 2012 he landed his first acting role not playing himself, alongside Brenda Blethyn and Alison Steadman, in "Playhouse Presents: King of The Teds" for Sky Arts.
Jones has been busy in 2015 including performing at the 57th Annual Grammy Awards alongside Jessie J, touring and releasing his first ever autobiography entitled Over The Top And Back and the book's companion soundtrack entitled Long Lost Suitcase. He is also engaged in a major fund-raising effort for the BBC's charity Children In Need.
Sir Tom is indeed a living legend, one of the few musical artists whose profession began at the dawn of modern popular music who continues to have a vital recording and performing career to this day. His irresistible show traverses musical eras and genres, cuts across class divides and appeals to young and old, male and female, mainstream and cutting edge. Sir Tom has always been about the power of the song, the power of the voice.
We welcome the iconic Sir Tom Jones to Bluesfest.
Noel Gallagher's High Flying Birds
"The finest songwriter of his generation" – George Martin
In another first for Bluesfest, we excitedly welcome one of the most talented songwriters in modern Rock, Noel Gallagher & his High Flying Birds, for the first time!
The principle songwriter, lead guitarist & vocalist for megaband Oasis, Noel Gallagher is responsible for one of the biggest selling albums of all time with Wonderwall. Regarded as the spearhead of the Britpop movement, Oasis, known for hit making genius that nods to The Beatles, sold over 85 million albums, all 7 studio albums reached No. 1 in the UK, are multi-platinum & produced 23 Top 10 singles. The ubiquitous'Wonderwall' was named the No. 1 song in Triple J's recent birthday Top 100 countdown.
Noels' personal influence on the Brit/Indie Rock world is so great, the term 'Noel Rock' was even coined to describe the music of artists who were influenced by him such as Kula Shaker & Cast.
Now with his own band he released two smash albums in the 2011 multi-platinum self-titled album featuring opus' like 'Everybody's on the Run', 'If I Had a Gun', 'Dream On' & 'AKA…What a Life!', and Chasing Yesterday, with follow up hits 'Riverman' & 'The Heat of Moment' has reached Gold inside of 6 months of release. Both albums went No. 1 in the UK & Ireland, & reached the Top 10 in at least 5 other countries.
His solo sound, and the new album extends far beyond what people expect from Noel & his eponymous Oasis sound; it experiments with horns, Psychedelia and even Space Jazz. Yes, Space Jazz.
In four short years together the project has racked up an impressive 12 award nominations including a Brit award, and won an NME award and two Q Awards, and catapulted a 15-month tour in arena-sized shows quicker than both Noel and his audiences expected.
Bluesfest is in for a treat and a great time, experience this history-making musician live for the first time ever at Bluesfest.
The Decemberists
Portland's finest, The Decemberists, will be making their very first Bluesfest appearance next Easter.
Since their earliest recordings more than a decade ago, The Decemberists have been known for their sense of scope and daring. Drawing on influences such as REM, The Shins and Death Cab for Cutie, they sway through upbeat Pop to lush ballads to sea shanties, and employ a plethora of instruments including accordion, organ, and upright bass to orchestrate exciting, theatrical performances that have charmed audiences the world over.
After the success of the 2011 Number 1 album The King is Dead, which included the Grammy nominated song 'Down By the Water', they took a break to spend time with families, and now much to fans' delight, The Decemberists are back with their seventh album What a Terrible World, What a Beautiful World (2015) and a collection of B-sides from the recording sessions– a 5-song EP titled Florasongs to be released on October 9.
What a Terrible World, What a Beautiful World has been heralded as the band's most varied and dynamic work, both musically and emotionally, they took their time to make it & experimented with texture, vocals, strings and more to shape the tenor, whilst drawing from profound pieces of inspiration including President Obama's national address following the Newtown School shootings, from which the album title came.
As well as selling out tours across the globe, the Grammy-nominated collective from Portland have featured on the Hunger Gamessoundtrack, appeared on Conan, & Jimmy Kimmel Live, and they even had the honour of legendary TV show creator Matt Groening selecting them to feature in animated form on The Simpsons, and performed on the season six finale of Parks and Recreation.
Jason Isbell
Jason Isbell made his Bluesfest debut in 2014 and was such a crowd favourite, it was only a matter of time until he would return. Hailing from Alabama, Jason Isbell has changed the face of Country music with his beautifully crafted and emotive music.
The former member of the Drive-By Truckers released his fifth studio album Something More Than Free in July 2015 which went to #1 on three Billboard charts including, Country Albums, Folk Albums  and Rock Albums, and debuted at #6 on the Billboard 200.
After the success of his previous and breakthrough album Southeastern, Jason Isbell has stretched himself even further with Something More Than Free, greatly expanding the boundaries of Isbell country, that territory of the heart and mind where people strive against their imperfections, and simultaneously against their circumstances.
Sturgill Simpson
Bluesfest is honoured to present one of the biggest names in Country music right now: Sturgill Simpson.
From winning Emerging Artist of the Year at the 2014 Americana Music Awards to conquering the same awards ceremony this year, winningSong of the Year for 'Turtles All the Way Down' and Artist of the Year, Sturgill Simpson is fast becoming the most exciting, talked about artist in Country music in years.
From working in the armed forces to the railroads, to the South Carolina shrimp boats to now performing every major event from Bonnaroo to Willie Nelson's Fourth of July Picnic, international TV appearances & sold out headlining performances, Simpson's music career is exploding. His current tour of the US has been so popular he was compelled to increase the original schedule by double to meet the demand from fervent audiences all over the country.
Not to mention a list of accolades that never seem to end – His highly acclaimed second album Metamodern Sounds in Country Music (2014) was nominated for a Grammy in 2015 for Americana Album of the year. Topping just about every major music outlet's hit list of 2014, the ground-breaking album came #18 in Rolling Stone Magazine's 50 Best Albums of 2014, #1 in American Songwriters Top 50 Albums of 2014, # 2 in Best Country Albums of 2014 & 'Turtles All the Way Down' #4 in the Best Country Songs of 2014. He also claimed #1 Album, #1 Male Vocalist, #1 Songwriter, #2 Artist & #6 single in the 2014 Nashville Scene Country Music Critics Poll.
Hailing from Eastern Kentucky, Sturgill is consistently referred to as the 'real deal' – the second coming of the true outlaws of Country music Johnny Cash & Waylon Jennings. His music pushes the boundaries of classic Country to various genres, containing elements of Roots, Psychedelia and Soul and has even been described as "Country music for people who don't like Country".
His ability to sound concurrently both nostalgic and contemporary Country, largely owing to his song writing brilliance, has earned him respect from heavyweights of Country including legend Merle Haggard, who was quoted saying Simpson is "the only player in modern Country music who makes the cut".
Lovers of music rejoice!  Making his Bluesfest debut in 2016, Sturgill Simpson's star is on the rise and fast becoming renowned as one of the most important Country musicians today – make sure you get in and be one to say 'I saw him when'!
Tweedy
Wilco's incomparable front-man, Jeff Tweedy is coming to Byron Bay for another special performance – different to how Bluesfest audiences have seen him before.
Tweedy is a musical collaboration with his 18-year-old son, drummer Spencer Tweedy. The father/son duo's 2014 debut album is calledSukierae and features 20 songs written by Jeff Tweedy, with Spencer on drums, and Jeff on guitars, vocals, bass & keyboards.
As the founding member and leader of the American alternative Country Rock band Wilco and before that the co-founder of the Alt-Country band Uncle Tupelo, Jeff Tweedy is one of contemporary American music's most accomplished songwriters, musicians and performers.
Since starting Wilco in 1994 Tweedy has written original songs for nine Wilco albums, played more than 1,500 concerts world-wide, become a highly sought-after producer, collaborated with legends including Mavis Staples & Billy Bragg to critical acclaim, & won two Grammy Awards for his work with Wilco. The Tweedy-produced Mavis Staples album You Are Not Alone won Best Americana Album at the 53rd Annual Grammy Awards.
Wilco has influenced artists including The National, Grace Potter, Norah Jones & Counting Crows to name but a few. Despite covering the big questions in life in his song-writing, the Tweedy live show is determinedly upbeat. Covering a catalogue of over 20 years of stand-out material as well as brand new material from the Tweedy project, this will be one sweet show to see at Bluesfest 2016!
Steve Earle & The Dukes
Singer-songwriter, actor, author, political activist, producer – Steve Earle is one of America's greatest living storytellers. His stories, captured in songs such as 'The Galway Girl', 'Hard-Core Troubadour',  'Jerusalem', 'Goodbye's All We Got Left' , 'Guitar Town', and his anthemic'Copperhead Road', have filled 16 studio albums and earned him three Grammy awards.
A protégé of legendary songwriters Townes Van Zandt and Guy Clark, Earle quickly became a master storyteller in his own right, with his songs being recorded by Johnny Cash, Willie Nelson, Emmylou Harris, Waylon Jennings, Travis Tritt, The Pretenders, Joan Baez and countless others. 1986 saw the release of his debut record, Guitar Town, which shot to number one on the country charts and immediately established the term "New Country".
What followed was an extremely exciting and varied array of releases including the biting hard Rock of Copperhead Road (1988), the minimalist beauty of Train A Comin' (1995), the politically charged masterpiece, Jerusalem (2002) and the Grammy Award Winning albums The Revolution Starts…Now (2004), Washington Square Serenade (2007) and Townes (2009).
Most recently Steve Earle has released  I'll Never Get Out Of This World Alive (2011) which shares the same name with his 2011 debut novel ,The Low Highway (2013) and his latest release Terraplane (2015) peaked at No. 1 on the Billboard Blues charts , No 2. on the Billboard Folk albums chart, No 3. on the Billboard Country albums chart, debuted at No 39. on the Billboard 200, and named "Americana Album of the Month" by Uncut Magazine, along with glowing reviews from Rolling Stone & Vintage Guitar Magazines.
Steve Earle has a close affinity with Bluesfest, and has even called it 'The Best Festival in the World'  it is a pleasure to see him return to the stage with his long time back-up band The Dukes.
The Wailers – Perform 4 albums in entirety; Exodus, Survival, Uprising and Legend over 4 nights!
Bluesfest is thrilled to present one of the most significant bands touring the world today: The Wailers. Their prodigious mission, led by legendary Aston "Family Man" Barrett, is to uphold the legacy of Reggae prophet Bob Marley.
Over four massive consecutive nights at Bluesfest The Wailers will be performing one of their classic albums including Exodus, Survival, Uprising and Legend (the best-selling Reggae album of all time)  in entirety plus the big hits like 'No Woman, No Cry', 'Redemption Song', 'Is this Love', and more.
Just some of the hits from each album include,  Exodus: 'Jammin', 'One Love', 'Three Little Birds' , Survival: 'Zimbabwe', 'So Much Trouble in the World' , Uprising: 'Coming in from the Cold', 'Could you be Loved' , Legend 'Buffalo Soldier', 'Get Up, Stand Up', 'I Shot the Sheriff'.
Together with Bob Marley, the Wailers sold in excess of 250 million albums worldwide, notching up over 20 chart hits, including 7 Top 10 entries. As the greatest living exponents of Jamaica's reggae tradition, the Wailers have performed for an estimated 24 million people worldwide & performed with other greats such as Sting, Stevie Wonder, Carlos Santana, Peter Tosh & Jason Mraz.
This is the line-up that pioneered Roots Rock Reggae. Under Family Man's musical leadership, they partnered with Bob Marley on the succession of hit singles and albums that made him a global icon, winner of several Lifetime Achievement awards, and Jamaica's best-loved musical superstar. Family Man Barrett was Bob Marley's right-hand man, co-writer, band leader, and responsible for finishing and releasing Marley's posthumous release 'Confrontation'.
For millions of people the heartbeat of Reggae remains the songs of Bob Marley and the Wailers. The anchor of the band is Aston "Family Man" Barrett, who in addition to being Marley's most trusted lieutenant, played on countless other classic Reggae hits throughout the seventies. The authenticity he brings to the Wailers' sound is indisputable and yet today's line-up combines old school know-how with lead vocals from one of Jamaica's most exciting new singers in Dwayne Anglin.
Grace Potter
Bluesfest welcomes back one hot sister of Rock, the incandescent Grace Potter.
The Blues/Country/Pop/Rock star brought the house down at Bluesfest two years ago, earning her a swarm of new fans with her high-energy performance, powerful vocals, and inspired original songs that twist, turn and unapologetically Rock.
The multi-platinum selling, Grammy award-winning multi-instrumentalist has collaborated and performed with serious players in music including The Rolling Stones, Kenny Chesney, Gov't Mule, The Avett Brothers, Wayne Coyne of The Flaming Lips, and Nick Oliveri of Queens of the Stone Age.
Grace Potter's epic musical journey reaches a new milestone with the arrival of her solo debut, Midnight, heralded as "surprising, revelatory and wildly original", packed with infectious, strong, sassy, and smart songs like 'Alive Tonight' 'Empty Heart' & 'Look What We've Become'.
Lord Huron
"…Lord Huron creates rich landscapes that stretch far beyond sound."—T: The New York Times Style Magazine
LA based Lord Huron will be debuting their inventive brand of story-telling Indie Folk at Bluesfest in 2016. Originally a musical and visual solo project by Michigan-native- band leader Ben Schneider, Lord Huron has evolved into a band of epic proportions.  Their most recent albumStrange Trails (April 2015) debuted at #10 on Billboard's Top Albums and received widespread critical acclaim.
A live performance by Lord Huron has been said to transport the listener to distant lands, and although comparisons have been made to the likes of Fleet Foxes, My Morning Jacket among others, Lord Huron manages to remain unique and enchanting.
Since the release of their debut album in 2012 the band have toured extensively including Coachella, Bonnaroo, Lollapalooza, Newport Folk Festival and next stop… Bluesfest.
Nahko and Medicine For The People
Bluesfest welcomes back World/Folk/Hip-Hop/Roots music collective Nahko and Medicine For The People, who will be sharing their spiritual, socially conscious message through amazing music with their fervent 'tribe', as they call their fans.
A multi-instrumentalist who considers himself a citizen in service to the planet, armed with stories, a guitar, and a fierce set of ideals, Nahko Bear leads the popular group responsible for loved songs such as 'Manifesto II', 'Black as Night' & 'Budding Trees' from the 2013 album Dark As Night, which peaked at No. 4 on the Billboard Top Alternative Album chart & No. 6 on the Billboard Top Heatseekers chart.
Inspired by vagabond Americana musicians and storytellers like Conor Oberst and Bob Dylan, and the world-bridging power of music fashioned by Bob Marley, Nahko started playing piano at the age of six, left home as a teenager in search of adventure and self-discovery, and has since been travelling the world spreading the message of social and political change.
Nahko and Medicine For The People are involved in numerous charity and community initiatives, such as 'Kiss the Ground' soil restoration program, Climate Change awareness group 350.org, sustainable farming, and appear at countless fundraising and benefit concerts.
Bluesfest will be jumping when Nahko and Medicine For The People take to the stage with their unrelentingly positive, energetic show and infectious message of good-will.
Vintage Trouble
Live-wired, straight-shootin, dirty-mouth'd, pelvis-pushing juke music. Bluesfest debutants Vintage Trouble will be bringing this and a whole lot more in 2016!
Since their formation in 2010, the self-branded "Trouble Makers" have built an immense, fervent fan base. Music Weekly named them 2011 Breakout Artist of the Year and HMV hailed them as their "Next Big Thing".
The band has performed on such television shows as Late Show with David Letterman, The Tonight Show with Jay Leno, Conan, Jimmy Kimmel Live and Later…with Jools Holland as well as supporting Brian May, Bon Jovi, The Rolling Stones & The Who.
The band's performance on Later… with Jools Holland was one of the most talked about of the year, blowing up Twitter as the 6th most tweeted topic worldwide just hours after it aired.  The very next day, their self-released debut, The Bomb Shelter Sessions (2012), entered the charts at No. 1 R&B Album, No. 2 Rock Album on Amazon UK, and No. 13 on iTunes. The Bomb Shelter Sessions also earned praise from NPR, Rolling Stone, The Wall Street Journal & Billboard. Their first video, 'Nancy Lee', filmed entirely with an iPhone, won at the Original iPhone Film Fest, not just taking the Music Video category, but the festival's grand prize as well.
Off the back of touring with AC/DC in 2015, Vintage Trouble's new album 1 Hopeful Rd has smashed worldwide charts, currently No. 2 on the iTunes Rock Album Chart, No. 14 on the BBC UK Album Charts, & the single 'Strike Your Light' is No. 1 in Japan.
Vintage Trouble has continued to tour non-stop, playing numerous festivals, including Bonnaroo, Coachella & SXSW; their impromptu acoustic Glastonbury set was one of the 2014 festival's most talked about events.
The passionate, hard-working Trouble Makers are a sure-fire to get bodies shaking & dancing at Bluesfest in 2016 – we can't wait
Lucky Peterson
"A master of the guitar" – The New Yorker
Here for his Bluesfest debut, Blues New Yorker, guitar maestro, Lucky Peterson is set to amaze.
With 18 solo albums to his name, Buffalo born Peterson released his first record at five years old in 1969, discovered by Blues legend Willie Dixon.  His debut hit was '1-2-3-4', a James Brown cover of 'Please-Please-Please'.
The Blues Music Award nominee, vocalist, pianist, guitarist, French horn player & gun on the Hammond organ fuses contemporary Blues, Soul, R&B, Gospel and Rock and Roll, blowing audiences away with his energetic quirky live shows, on a continued rigorous world tour.
Performing on The Tonight Show, The Ed Sullivan Show and What's My Line at the age of five, Lucky is the epitome of a seasoned musician and performer, and the guitar chops to boot.
Best known for his hit records Lucky Strikes! and Triple Play, he is a peer of legends, having performed with Mavis Staples, Etta James, Bobby 'Blue' Bland & Little Milton, and has headlined Buddy Guy's Legends, Chicago, famously known as the premier Blues club in the world.
Bluesfest is in for a real treat – the Blues deal – with this talented and enduring legend in a rare trip down under!
eMDee
"Mark Hoffmann (eMDee) is an ambassador for multiculturalism in the Northern Territory. He brings all colors together…feeling one vibration… Sharing one red blood." DAVID GULPILIL, RIDJIMIRALI DALAITHNGU
Bluesfest is very fortunate to welcome back eMDee, who is taking a few days off from his season at the Sydney Royal Easter Show to perform for us.
Described as High Tech Didgeridoo meets Drum n Bass this high energy performance group from Humpty Doo, Northern Territory (NT)in Australia,  are the second highest selling NT artist, after Jessica Mauboy. They have sold well over 60,000 albums from the streets to the stage…. making them one of THE hottest underground success stories to emerge from the top end of Australia.
eMDee aka 'Mark Didge' has been on both the professional busking circuit including his regular appearances at the Mindil Beach Sunset Market in Darwin and high profile performance circuit for over 17 years. Mark Hoffmann has collaborated with many artists over the years and has recorded over 15 albums to date.
Mark Hoffmann met percussionist maestro Lukas Bendal in 2005 and they have remained a tight unit ever since. Their latest project 'THE BANG COLLECTIVE'… A WORLD FIRST PYROTECHNICS MUSICAL is a collaboration with Australia's largest fireworks group, Howard & Sons Pyrotechnics.
Coming to you at Bluesfest next Easter: Didgeridoo playing like you have never seen before, that must be seen to be believed!
Blackberry Smoke
Bluesfest welcomes American Southern Rock/Country band Blackberry Smoke for their Bluesfest debut.
Employing three-part harmonies, fiddle, and heavy percussion expanding the definition of Southern Rock, Blackberry Smoke is one of America's hottest live Rock 'n' Roll outfits, as well as a grass-roots phenomenon with a large and fiercely loyal fan base, tireless touring regimen and staunch blue-collar work ethic.
With four incredible studio albums, two of which hit the Top 10, including  2012's The Whippoorwill reached the Top 40 in the American Country, Heat,  Indie, Rock, & Mainstream charts plus No. 30 on the UK charts; their most recent album Holding All the Roses peaked at No. 1 in the US Billboard Country charts.
As well as headlining tours around the US they've supported Zac Brown Band, Eric Church, ZZ Top & Lynyrd Skynyrd. They've toured Europe three times, had their songs featured in movie and video-game soundtracks, and performed for country legend George Jones (who guested on the band's second album) on his 80th birthday.
Dierks Bentley, Jamey Johnson, Grace Potter and the Zac Brown Band have all gone on record as admirers, and no less an authority than Gregg Allman stated "That band is gonna put Southern Rock back on the map".

All 5 & 3 & 1 day festival and camping tickets are on sale through www.bluesfest.com.au or phone the office on 02 6685 8310.
Tickets are also available through Moshtix www.moshtix.com.auand Ticketmaster www.ticketmaster.com.au.