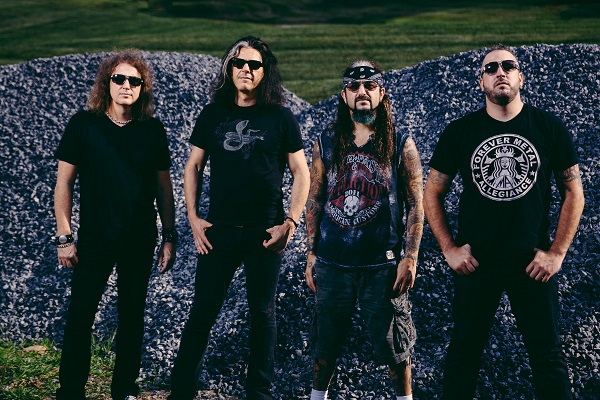 "…when the word Allegiance came up for me when naming this thing I wanted something loyalty, just a loyal group if you will and that's kind of where the name came from and that's what we're trying to do, bring in all these different people, all these sub-genres of metal under one roof."
From release: Heavy Metal is more than a genre, more than an attitude, and certainly more than whatever cheap epithets are dismissively thrown at it by clueless critics. At its best, Metal is a lifestyle, a community, a tribe uniting people across cultural, economic, and philosophical divides with the primal pulse of bombastic and majestic expression. Never before has one entity encapsulated so many components of the heavy metal community's continued vibrancy and dedication to the lifestyle than the collective fittingly called METAL ALLEGIANCE. Like the comic book heroes of 'The Avengers' franchise, the men and women who've assembled on the stage and in the studio as METAL ALLEGIANCE come and go as they please, but each arrive armed with unique mythologies and classic discographies of their own, converging with mutual respect and a collaborative spirit. The result is a continuously evolving musical force both serious in its proficiency and celebratory in its enthusiasm and camaraderie.
We called Mark Menghi for a chat about Metal Allegiance, and special guest Alex Skolnick was there too, so we all chatted about the new album, how it came together, touring, Heavy Metal and much more…
For starters, how do you even conceptualize putting a project of this magnitude together?
Mark: All Mike Portnoy's idea *laughs*
Alex: It kind of happened, it all seemed to have its own energy to it, I think…
Mark: Organic and natural…
Alex: Yeah it was very organic, it was based on these live shows that Mark had conceived, and at some point right shortly after I got to jam with these guys the first time the idea of doing a record came up. So we were going to see how that went, no expectations, just see what happens, maybe we'll do some covers, we'll try to write some originals that we feel good about, then the writing went so well that the covers just got pushed aside and we ended up with a whole record of originals and then once the songs were written we started filling in the space of who's gonna sing, who's gonna do guest solos, and it really happened as we were creating it. So the way you see it now is there's two dozen people on specific songs, that wasn't there originally. We knew it was going to be something, we didn't know what…
So were songs written with specific people in mind that you wanted to sing or perform on them?
Alex: No, not initially, not at all, it was all about parts and then songs and then we started hearing choruses and certain vocal parts, then we started hearing specific types of voices. So we knew with each tune we knew we had a couple of options in mind, names we were tossing around and we knew it was going to depend on who was available, and also we were in a hurry to get the record done because we went into the studio in February and just get a record out the same year, there's a lot involved, not only with the recording but the mixing and manufacturing and marketing, so we were racing against the clock. I think it helped, I think it gave us an intensity and motivation.
When you have so many artists is it hard to get it all coordinated with some people on all sides of the globe, how did you manage to get everything done?
Mark: Yeah we kinda split roles up with that, I would say Alex and myself, musically with guest guitar players Alex kind of charted out Gary Holt, Andreas Kisser, the forty guitar players on 'Triangulum' *Alex laughs* it was very specific, this person is going to play this part for this long. With the vocalists I worked with Troy (Sanders) extensively, I worked with Chuck (Billy) on his track, we all kind of had our tracks that were closer to us than others, because for no other reason it felt that way. So we all kind of split roles with that.
Alex: It was also who knew who, saying sometime a name would be brought up and usually there was someone amongst the four of us that would know that person. Then that person usually ended up working with that person on their parts. Sometimes… so it was different for every tune.
Mark: In the case of Phillip (Anselmo) he was the only one that wrote lyrics to a song on our record, oh Randy wrote too, but Phillip had a clean slate and we went 'here you go dude'
Alex: And we didn't know what he was going to come back with *both laughs*
Mark: In my opinion, amazing performance.
Was there anyone you would've loved to have on a track you weren't able to get?
Alex: It's funny, listening to this record now; I wouldn't change a thing about it. I'd rather not mention any specific names, but there were some folks that were talked to and it was just bad timing, they were constantly on tour, they were in the studio doing records, and sometimes that worked to an advantage because Trivium was actually working on a record but Matt (Heafy) wasn't in the middle of his vocal parts and he was able to get in and do vocals in a proper studio, but yeah, there were a few that we're going to keep that under wraps and they may show up in the future.
It feels like this was more than just a fun project but is something that will continue. So even though the album is only just here, have you already got plans for the future?
Mark: Yeah we're already thinking about it.
Alex: We're sort of in the moment, we're enjoying the moment, we did this, it was a lot of work, but the reaction is fantastic and at some point we're going to think about the next one, but for now we're establishing it… It's a new thing, and it's not a typical all-star record either, even though there's a large personnel it was written by a small core team, and has that feel. We have to introduce this to the world and get people to know it and get to know what the project is all about, then down the road we'll think about the next record. We sure are thinking long term to continue.
You mentioned the song writing before, but had the four of you ever written together previously?
Alex: I've never written with any of these guys… everybody I'd said hi to at festivals, (David) Ellefson was the only one that I'd toured with, Megadeth and Testament have toured together a couple of times, but other than that, no. So it was really like being thrown in a fishbowl… we swam… we swam well.
Mark: It's funny, me being the unknown guy, I've known Dave and Mike (Portnoy) for a long time, and Dave and I were really close for a long time as far as what we've done in the past together, so siting in a room with Mike and Dave for me seemed kind of easy just because we knew each other well, it wasn't like we didn't know each other. Then Alex when he came in, he jammed with us the first time this past September and it was like we knew him forever, at least for me, and for me it was fairly easy to just sit there, pick up instruments and the ideas start flying out. Portnoy would run to his whiteboard and start arranging things, Alex had all these riffs, Dave would hear things, I mean it was all of us, it wouldn't stop which is awesome, you couldn't ask for much more with four people getting in a room. We could've sat there with our thumbs up our asses but we were always working, there wasn't a minute when we weren't coming up with ideas or structures or riffs.
Alex: Yeah, it was just really easy to get from point A to point B. Sometimes you come up with initial ideas and the next day you don't like it or you can't find the next step or the next part to go with it, we were just constantly coming up with parts and selecting the parts we liked the best and then building off that, and some of the parts that we came up with as building blocks became really exciting and took the songs in a whole different direction.
What I do love about the album is that it doesn't feel like it's pieced together, it actually flows from start to finish, so the way you've done that with all these different people really is pretty cool…
Alex: Oh thank you, we didn't want to repeat ourselves either, we knew there was some ground we wanted to cover, we're all fans of a lot of the same classic albums and there are certain parts that might have been inspired by classic moments whether it's Sabbath or Maiden or whatever, but we didn't want it to and it never got repetitive. Then once we developed the tunes they didn't really sound that much like our influences either… even when we wore our influences on our sleeve I think the songs really developed a personality of their own, and then once we added the vocalists it became a whole other thing.
Mark: I mean when we wrote 'Dying Song' I remember that, it was late at night, I remember we were all sitting on a couch, it was late, Dave played guitar, Alex played guitar, Mike had his brushes, I had a bass in my hand and out came this song *laughs* out of fucking nowhere and then thinking about it we wanted Phillip to sing on that track, but what Phillip delivered is completely opposite of at least what I had in my head originally, I was thinking of a completely different vocalist idea, but what Phillip is amazing and it's just things like that that make it pretty magical I guess is the word… Seeing it come together over that time from just a late night jam to a music video which is pretty crazy.
Alex: I remember with most of the tunes I kind of have a part in mind as a possibility to fall back on and I remember there was one for that but we just said to Phil, do what you're going to do with it and when he sent that back it was so beyond anything, none of the rest of us would've thought of that and what he came up with is just magical, it's very different from the rest of the album.
What about touring wise, you said you've played before, but how does a live Metal Allegiance show work?
Alex: Well it hasn't really toured, it's been spot shows…
Mark: And we'll continue that, we're doing our record release show actually next week, September 17th at the Best Buy Theatre in New York City, I guess Metal Allegiance is home to New York and New York is home to Metal Allegiance , so we thought this would the best place to do our first, I guess official show and then we go to Mexico City a few days later, then we're playing Loud Park in Japan and we have a few other things in the works right now that we're trying to firm up, but we'll be out there, we'll be playing and we're just looking forward to getting a record out there for people to hear the entire concept if you will.
Think Australia could ever get to see you guys live?
Alex: We hope so, I mean Japan is not that far away, but we definitely want to go to Australia. Probably not looking until 2016 sometimes. It's on the agenda.
Mark: We'd love to go, not only play I want to surf down there *laughs*
Mark, have you been here before?
Mark: I have never been to Australia before, no…
Shame as the other three guys have been a number of times before…
Mark: They have been… I'm the young new one, and which is nice to be the guy behind the closet and I'm looking forward to it, I'm hoping we get down there sooner rather than later with Allegiance.
The name Metal Allegiance is so perfect for what this is and where Heavy Metal is there days which I think is a good place, what are your thoughts on the genre these days?
Alex: Well the enthusiasm is there, the fans are there, I think the marketplace has gotten kind of confused, some of what gets categorized as metal is not really something that most metal fans would agree on, whereas if you look at the classic records by the undeniably metal groups, Priest, Sabbath, Metallica, Motorhead, whoever it is, most fans can agree on those classic records, they can agree on those bands even though they may not like all the periods. Nowadays it just seems like there's a lot of disagreement on who's a real metal band, who's not, there's some million, million sellers that are classified as metal, but they're not great bands that all metal fans can agree on like those earlier ones…
Mark: All I know is that we got Doug Pinnick from King's X and Jamey Jasta from Hatebreed, two completely different genres of music on the same track, and it works. That's the goal… when the word Allegiance came up for me when naming this thing I wanted something loyalty, just a loyal group if you will and that's kind of where the name came from and that's what we're trying to do, bring in all these different people, all these sub-genres of metal under one roof.
Alex: Stuff that we think can fit and would work on an album that we feel most metal fans can agree on at a level of classic records, I'll give an example, I don't want to name bands that we wouldn't feel that about, but here's a band a I like and respect, it would be Muse…
Mark: Fuckin' love them…
Alex: Good band, has some great moments, actually some kind of metal moments, but I can't picture Matt Bellamy fitting in on this record, this is too different. There's just a lot of bands that maybe they're on the festivals and everything but I don't think they would fit. Everybody here was chosen very carefully and we all had to agree upon, occasionally names would come up and not all of us would agree *laughs* but everyone on the album we all agree on and we have a whole lot of others that we have our eyes on for future works…
Essential Information
From: New York, NY, USA
Band members: David Ellefson, Alex Skolnick, Mike Portnoy, Mark Menghi
Website:  http://www.metalallegiance.com
Forthcoming release: Metal Allegiance – (18th September – Nuclear Blast)