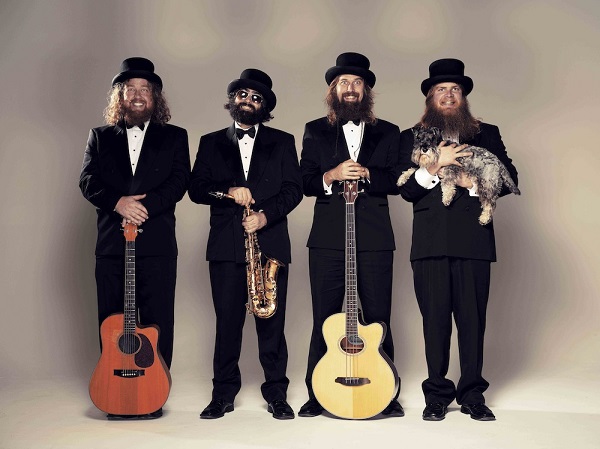 It's been a hell of a decade for Australia's favourite beard-themed propaganda rock band, and to celebrate, The Beards will be embarking on an anniversary tour of Australia this October. The 'Ten Long Years, One Long Beard' Tour will take the band on a limited run of shows at selected venues in Queensland, New South Wales, Victoria and South Australia.The tour will see the Adelaide four-piece return to Australian soil after embarking on their fifth international tour in just three years.
Ahead of the tour The Beards sat down to write us a little something exclusively for us here at MTRBWY giving us their list of the the five best bands in the music industry and here it is…
1 & 2. Definitely our drummer, John Beardman Jr, along with our bass player Nathaniel Beard
They've got some of the best beards out there at the moment. They're probably the longest two in the band. Nathaniel's especially is just great at the moment. So excited to get back on tour with and have a chance to stroke it more.
3. Cat Stevens or Yusuf Islam as he is now known
Not the biggest beard but it's long lasting. It's very iconic. Great songs as well. Again, not about beards so they're not really my thing but he's written lots of good songs, I'm told. And you know, he's changed his name and he's changed his religion but he's always had the beard.
4. ZZ Top
They have to be in there don't they. They're the original beards. It's hard to go past them. I heard once that this is true, and I'm going to say it's true because it sounds right, that they were once offered a million dollars by Gillette to shave their beards and they refused. And this was back in the '80s as well so it would have been a fair whack of money. But they told Gillette to sod off, as it were. Again, I don't know 100% that that story is true but I'm going to say that it's 100% true and you can trust me because I have a beard.
5. Seasick Steve
He's a folk singer who's been around for a few years and we were lucky enough to meet him – he played at Falls Festival a few years ago. He didn't seem very impressed by us probably because our beards weren't that good back then and they obviously weren't good enough for him which is understandable but hopefully in the future we get an opportunity to meet him again and maybe this time we'll get more of an audience with him because he's the real deal.
Bonus Answer: I'm going to make a vote for the worst beard. Kanye West. It's a bad beard – it's a shit beard and he's a shit guy. I think if he grew his beard a bit more he might actually win some people over. At the moment he's a joke, really. He's not going to win the bloody Presidential Election, not with a beard like that mate, sorry.
The Beards Australian Tour dates:
With very special guest Dallas Frasca
Tickets on sale now via www.thebeards.com.au
October 2- Caloundra Music Festival *
October 3– Brisbane, The Zoo *
October 8 -Melbourne, The Corner Hotel
October 9- Frankston, The Pelly Bar
October 10- Mulgrave, The Village Green
October 15– Adelaide, Jive Bar
October 16- Adelaide, Jive Bar
October 17 -Wallaroo, Coopers Ale House
October 23- Sydney, Bondi Beach Rd Hotel
October 24- Newcastle,  Cambridge Hotel
October 25- Sydney, Rocks Brewey