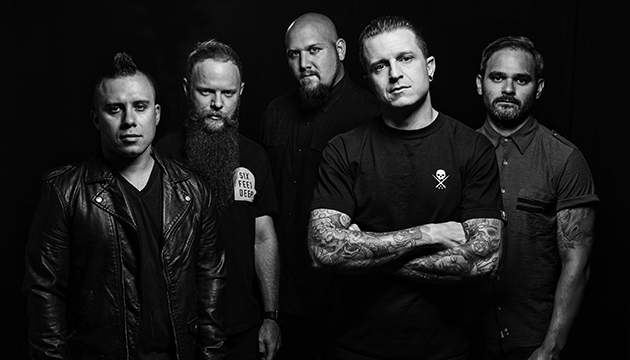 "It's been kind of a whirlwind, we went from doing nothing for several years to all of a sudden back in the saddle again to recording and doing music videos and just touring around the world and just being all over the place and I don't know, it's awesome, it feels good and I'm really, really excited about the whole thing…"
From release: A fire requires only one match. Sometimes, it can be struck in the oddest of ways, but once those flames spread, it's impossible to contain. In 2014 after a three-year hiatus, the embers started to collectively glow again for Southern Californian metal trailblazers Atreyu. To date, the group has moved over 3 million records worldwide and sold out countless shows . Long Live, Atreyu's triumphant return, will land with Australian audiences on Friday September 18. Fans are suitably prepped for the release following the band's Australian visit as part of Soundwave's 2015 lineup. The pieces have fallen into place , the fire has been stoked and the flame is roaring. Long Live Atreyu!
We caught up with Dan Jacobs of Atreyu to fill us in on the band's new album 'Long Live' as well as the band's return after a lengthy hiatus. We talk touring, Australia and much more…
When we last spoke pretty much this time last year you were just back with a single and now it seems like it's all guns a blazin for Atreyu, back on the road and more importantly with new music! How has the last year been for the band?
It's been kind of a whirlwind, we went from doing nothing for several years to all of a sudden back in the saddle again to recording and doing music videos and just touring around the world and just being all over the place and I don't know, it's awesome, it feels good and I'm really, really excited about the whole thing and there's been a great response everywhere we've been which is definitely fuels the fire even more.
So when you make a return after a few years away, going in to making the album, what was it like getting back and having that creative process happening once again?
It's good, it feels like kind of riding a bike, we were probably all a little bit nervous when we all got into it because we didn't really know how it was going to be, especially taking that many years off, maybe we were all a bit rusty especially was that mindset has changed over that amount of time but as soon as we got in a room that chemistry that has always been there was blatantly still there and it made it easy for us to just start pumping out songs which was really cool, even then that fuelled the fire even more and just getting us really excited.
Did the hiatus help shape what became the songs on 'Long Live'?
Yeah I mean along with everything and I mean everything in our past including the hiatus kind of helped us all come full circle I'd say and it was kind of the missing link we needed to kind of get to the next step, and by doing so we were able to see who feels as passionately as we do from our earlier records and put that same kind of passion and drive into this album because of kind of taking that breather and getting excited again and not feeling so burnt out.
So did you tackle this album differently in any way as opposed to previous releases?
Yeah I mean in particular we kind of broke up the song writing and recording process, normally what we would do is write all the songs that we're going to put on the album and once we were done we just go in and record them all, where in this case we recorded three songs probably around July last year we did 'Long Live', 'Reckless' and 'When The Day Is Done' and then from there once those were done we went and did five or six more songs, wrote those and recorded them, and then wrote five more songs and recorded those. So by doing so there's a cohesive vibe through all the songs but at the same time because they were written at different times and recorded in different groups each set of songs has a totally different vibe than the other set.
It's a huge sound, who did you have producing the record?
Fred Archambault who's probably best known in the music world for doing the first Avenged Sevenfold record. He's incredible with what he does, he records a lot of live stuff, he does the Carson Daly show, and so for us we almost want that big arena like Metallica, like fuckin' Bon Jovi, just huge sound to the recordings and stuff, so we get that live vibe. Someone like him, he's so used to recording bands that want that big kind of epic sound and doing it live so we wanted to create that live vibe on the album as well to make it huge and stuff is something he's really good at.
Other side of that, what does 'Long Live' represent to you personally?
I guess just the fact that our band is here to stay and I think we finally figured out who we are as people and who we are as a band and what works best for us to be able to continue what we're doing and do it in the most passionate, best way possible, and Long Live kind of encompasses all that, just us kind of truly feeling like we've just grabbed the whole thing by the reins and have true control and I don't know, we're going to be doing this forever.
After such a break what are the feelings like when you're about to release a return album?
I mean a little bit nervous, we're excited on one hand because we haven't put out anything in so long, and we're so proud of everything we did on this album that we just can't wait for everyone to hear it, and to just get the full response, the response so far has been so good we can't wait to see what the full release is like. At the same time too we're a band that's been gone for a while, especially in the social media rise with Instagram, facebook, Twitter, we kind of went off the grid, so coming back we don't have the kind of reach of some of these bands that have been grinding away the last five years and have hundreds of thousands or millions of followers of whatever, so having that reach. That makes us a little bit nervous to shake the dust off a little bit to get back in the game, but I don't know, I'm very confident, even hearing what's going on now in music and in what we bring to the table, it's still very unique yet feels very relevant. I feel like we're going to stir some things up a little bit, so from that perspective it's very exciting.
You were of course here for Soundwave earlier this year, what was it like being back out in front of Australian audiences?
It was amazing, I mean honestly, it was legitimately the best response that we've had since we've been back as far as anywhere in the world, it was hands down the best shows we've had. We had no idea what to expect coming in, we were literally playing the small stage and at first we heard we were going to be on the main stage and as everyone knows with Soundwave the line ups are constantly changing and these posts of what the potential line up and dates are going to be, and for us it changed literally the day before we left, we thought we were on main stage and we ended up being on a small stage and it's like 'oh man, what does that mean? Maybe nobody knows who we are over there anymore, we're blowing it.' So we get over there and all the bands before us had barely anybody watching them, it was empty pretty much the entire day and it was like 'man, this is not going to be good, this is almost embarrassing *laughs* like what are we supposed to do?' and we get up on stage and all these people come out of fuckin' nowhere and just pile in and for us they put on an amazing show, like wow that was an intensive energy we haven't felt in a long time, even compared to our hometown show where we sold out two nights in a row at our local venue it still wasn't as intense as the Australian audiences.
Leading to the obvious question of when do you think we might see you back?
I don't know, hopefully sometime next year, we don't have any official plans yet, but we've got our eye strongly on Australia. I mean we're not going to do Soundwave again because we did it this year, don't want to do back to back. I mean we love it, the entire country is like southern California and we're all Southern California guys so it feels like home and it's always nice to be over there… down there.
With many more shows back under your belt, has everyone got their footing back on stage?
Yeah I think we've kind of got our groove back, I mean at first it was a little bit of a clusterfuck, you get up on stage and you need to get your footing and just feeling out how everybody moves again and get a rhythm going so you're not running into each other the whole time, and but now we've done a decent amount of shows like you said on all different sized stages, like big amphitheatre stages to small club stages and everything in between, I think all that too can help to tune in your stage performance just by playing all the different sized stages you know how to work with any scenario.
Besides Atreyu, what bands are you really digging at the moment?
Oh man, I mean the stuff I listen to is kind of out there, I really like Mariachi El Bronx, their newest album, I've been listening to a little bit of this band called Santa Cruz they're actually on our label Spinefarm, they're from Finland and they kind of sound like if Skid Row came out this year it'd be these dudes, it's pretty amazing, it's kind of like 80's throwback but with a modern kind of edge to it. You'd love it, it's really good. There's a song called 'Wasted and wounded' you've gotta check out, something about Falling, basically there's two music videos for their two most popular songs on all the stuff. If you love Skid Row you'll love this shit, it's really good.
Lastly let's look ahead to the future, so finish this sentence for us, in 2016, Atreyu will…
Be playing places we've never played before, extending our boundaries and hopefully get down to south America which we've never been to before, do a little bit more of Asia and a little deeper into Europe, all the above.
And back to Australia, right?
*laughs* and back to Australia, absolutely.
Essential Information
From: Orange County, CA, USA
Band members: Dan Jacobs – Guitar, Porter McKnight – Bass, Travis Miguel – Guitar, Brandon Saller – Drums/Vocals, Alex Varkatzas – Vocals
Website:  http://www.atreyuofficial.com/
Forthcoming release: Long Live – (September 18 – Spinefarm Records)