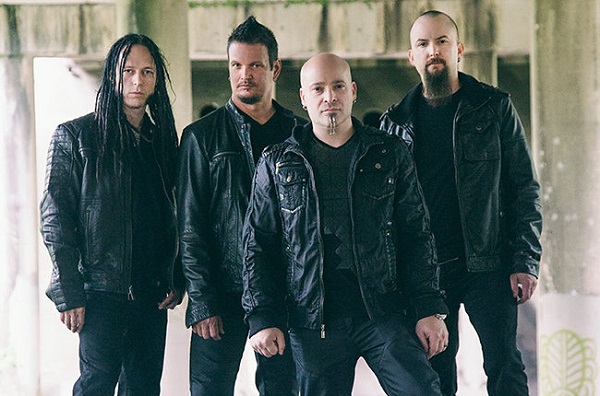 "…all we know is we're only going to return when we're all ready to commit for the long haul, when we're ready to give it back to the fans the way they deserve it and we're not gonna half ass it, we're gonna come back stronger than ever and we have to make a statement and we have to make the best album we can make, and we've gotta commit to that."
From release: After a four year hiatus, Grammy Award-nominated, multiplatinum hard rock titans Disturbed have announced their return with their sixth studio album, entitled 'Immortalized', released August 21 through Reprise Records. In January 2014, David Draiman, Dan Donegan, and Mike Wengren met for dinner in their hometown of Chicago. Shortly thereafter, without notifying friends, families, or their label, the three began to fly back and forth to each other's respective home studios for writing sessions, marking the beginnings of Immortalized and the first time they collectively wrote together since 2001…
At home in Chicago we caught up with Dan of Disturbed to talk about the band's return from hiatus and their new album 'Immortalized' as well as touring plans, Simon & Garfunkel, and much more…
For starters, welcome back!!
Thank you so much, it's great to finally have something to put out there again, some more music and just can't wait to get back on stage and definitely get back to Australia.
I have to lead off with how did you pull this return off without anyone knowing?
I've already said it a number of times, we're definitely ninjas, we definitely pulled this off just under the radar, it was tricky, we didn't want to speak too soon, we didn't want to tell the fans we were together and we were talking or writing because we didn't know how long that would take. Once we started having those conversations we said there's no deadline, there's nothing that we're trying to do, it was just one step at a time, we weren't lining up tours or anything else, we said let's just start writing however long it takes we'll work with a few producers and see if we hit it off with anybody and see where we want to record this. Once we got in that process of it, if we just keep this under wraps and let's surprise the fans with something, we felt like we owed them more than just letting out the rumour of, ok the guys are back together and then they're asking a year later where's the album and where's the tour? Then it takes away from the excitement there, I think as we further discussed it we said if we can keep this between us, it'll be challenging, but if we do it would be nice to give the fans a gift here, let's surprise them with dropping a single out of the sky and then let them know that the album's already done and there's no longer a wait. The album's coming and we felt we owed them something big like that because they've shown their loyalty to us, they've waited five years between albums, it's been four years since our last tour together so we felt that this would be kind of a special way to return.
I was one of the millions who watched that five minute video of the guy coming back to life, were you guys watching the buzz around that first video?
*laughs* Oh for sure, once we started talking about how we generate traffic and tease them back to the news of it we started talking with our record label and doing a little bit of a tease campaign of how do we get them talking about it without us telling them. So we thought it would be a good way to get the fans stirred up by putting up new artwork, having the guy just kind of twitching a bit and give them the impression that something is happening, so it was a very, very well strategy and thought out plan as we put all our minds together in hey what would be a cool way to kind of stir things up… let's wake the fans up, let them know that It's coming as the guy himself is waking up, so it was a nice couple step process to get them fired up and talking about it for those few days before we made the announcement.
I did love that they got shorter too, as the first one was five minutes of him just laying there, I thought it was brilliant *laughs*
*laughs* Yeah we had to correct that problem too, once we saw it come back we were like oh you know what, we kinda made a mistake there, we drew that out too long, so we took the comments and we learned from that lesson of 'we just made them sit through five minutes of it just looping over and over' so we don't want to piss you guys off either, we want to get you excited but we don't want to piss you off *laughs* so we made it clear that the next one had to be shortened up a bit, they're gonna get the point and we don't have to give them five minutes of it, they'll get the point a lot sooner.
'Immortalized' in my opinion is your best work to date, did the hiatus help reshape some things within the band to get this great end result?
I think so, I mean five years it's a long time being away from each other,  I mean the way I can describe it is maybe like being in a marriage and not saying that the marriage was ever in trouble, but maybe we took a break from the marriage, we got away from each other and when we got back together it was like a new life in us. So I suppose if you want to make that analogy of maybe a couple that gets divorced but then decides to reconcile after a few years and then maybe there's a new appreciation when you get back together, you realise what you had was great and sometimes it might inject new life into that marriage, and in our case I think it did. There was always a great deal of respect that we had for each other, I don't think that we ever lost that, but being in a band together since 1996, being around each other all the time, touring hard, it was nice to kind of step away for a minute, all of us do our own thing, we dabbled with a couple of side projects, we spent time with our families, David had gotten married and had his first kid, Mike had his second kid, I have two little kids, so we definitely spent a lot of family time as well. That kind of brought us together too, David being a husband and a father for the first time gave us a more reason to bond too, there's more things to talk about besides the music and that being said, when David's son was first born I took a trip out to Austin, Texas where he lives to go meet his son for the first time, and see David who I hadn't seen in the first couple of years. So it was nice to just reconnect and go see him and see him be a new dad and the excitement there, and that got us talking about plans for us in the future and I definitely wanted to make sure he had enough time at home with his newborn too. So there was never going to be any rush back to Disturbed, it was always like look, we'll do it when we feel like we're ready and we have something to offer and I want to make sure we all have time with our families and our kids, but I wanted to make sure we miss this so much that we couldn't take that anymore either, we had that void in our lives of not having Disturbed, there was that empty void of that we missed it so much that once we started talking about it, and just seeing the level of excitement we had with the idea of writing again, so that just basically evolved into our first writing session and that just kind of snowballed from there.
A number 1 debut not only here in Australia but in the U.S. and Canada for 'Immortalized' must have been a great feeling when there may have been some concerns that the love would still be there for the band?
Well there's always that risk, we never knew how long the break would be, you know like I said, there's was never a deadline to it, ok, well all we know is we're only going to return when we're all ready to commit for the long haul, when we're ready to give it back to the fans the way they deserve it and we're not gonna half ass it, we're gonna come back stronger than ever and we have to make a statement and we have to make the best album we can make, and we've gotta commit to that. We've got to put our families on hold again and we've got to dive into this and commit to writing, we have to commit to recording, we have to commit to the tours that are going to follow. So once we got to that point, it was a risky move to know however much time would be off but we felt confident that the fans have been so loyal to us, we felt that they would stay there with us, even during this hiatus our social media pages and the Disturbed facebook and everything has gotten millions and millions of views and we've always had so much traffic when we were doing nothing *laughs* so we tried to keep them updated and we'd post every now and then to let them know we appreciate them or try and give them updates or what's going on in our personal lives and stay connected with them. We felt confident that they were there for us, but it was definitely reassuring once we dropped the single and surprised them and just to see the level of excitement and response around, at least around here in the country if not the world we can only base it off what we read on social media, but the reaction we've seen here in the United States too was just very overwhelming, so it was definitely reassuring to see that they haven't fallen away or moved on past us, they were just patiently waiting for the return…
So your live shows are always a spectacle, have you got plans for what the Immortalized tour will look like?
I'm not sure just yet, we've been talking with our production team and with management trying to assemble a game plan and a stage show and what we want to bring and carry with us, so the gears are turning, everybody's thinking of idea and collaborating, so those discussions are going to happen in our Fall months, these upcoming months we're going to have those discussions now and see what our plans are for 2016. It's going to be a busy year of touring, we can't wait to get out there, we've only done one show it was the record release show here in Chicago on the day album came out on the 21st of August, so that was somewhat of a tease for us, it was one show and we were like 'oh man I wish we had more shows lined up right now *laughs*' but it's all in the works, we're coming back in full force, Australia is definitely a top priority to us it's just a matter of the powers that be can put it together and say we've got something and we can go over there and do some dates.
Well if you want to give me an exclusive on when that may be please feel free *laughs*
Nothing confirmed yet… we're definitely talking… we definitely know we will be there and I've said it numerous times that I will personally throw the guys in a rowboat and row them over there if that's what it takes to get over there and play in 2016. So it's just a matter of like I said, if our booking agent can get us over there, whether we're headlining, or whether we get on a festival whatever it may be, I don't care, set us up on the beach we'll play on the beach, it doesn't matter  where we go. We're very much looking forward to getting back over there and playing for all the Australian fans.
In Disturbed style we get a cover on the album, this one the most left field yet, how did you decide on the Simon & Garfunkel classic?
Yeah it's definitely the big question that everyone is having about this one and that's the thing, it's nice to have something that's going to push us and challenge us to do something that unpredictable and unexpected and once we decided on the song the first reaction was 'ok Dan, write a cool heavy riff to it and Mike will do some syncopated drums to it' and I just kind of put the brakes on it and said I don't want to really do that, I wanted to push ourselves musically and just try something different, let's evolve as song writers and as a band and see if we can go down a different path for once. I had this vision of David bringing his vocals somewhere he's never gone before that the fans have never seen him go before, I mean I hear him sing other stuff all the time so I know what he's capable of doing and this was something that was really going to put him out there vocally and really make him vulnerable and I'm not sure if he's really dully had the confidence going into it because it was such a change of pace for him so it took a little bit of convincing. Once we talked with Kevin Churko our producer and I said let's try and go down this road with it and he helped kind of find the right key to do it in first of all which was really important to where it would take David vocally, but then just helping us kind of assemble a really good orchestra and string arrangement and some nice piano and I played some acoustic guitar through it, so we wanted to create a nice bed of music that was going to be complimentary to David's vocals and not something that was just going to be big and in the way. So I think we achieved that, we started off experimenting with it but it just started to evolve into this nice, slowly building orchestrated moment where David just kind of vocally put himself out there and really carried the song, and I think once we were done with it I think we were all kind of surprised how great it did, even when he was tracking vocals he's in the vocal booth and I don't think he even realised how it was turning out until he came into the control room and started hearing back for the first time and being like 'holy shit this is something different from us *laughs*' and totally unexpected, we even kind of shocked ourselves, so I'm pretty overwhelmed and surprised at the early positive reaction right out the gate because it is such a different turn for us that I thought it may take the fans a little time to digest such a twist, and so I was surprised to see just how quick they were to respond with all the positive comments on how much they really respect the change and the dynamic of trying something that they never would have seen coming.
Essential Information
From: Chicago, IL, USA
Band members: David Draiman- Vocals, Dan Donegan- Guitar, Mike Wengren- Drums, John Moyer- Bass
Website:  http://www.disturbed1.com
Latest release: Immortalized – (out now – Warner Music Australia / Reprise Records)