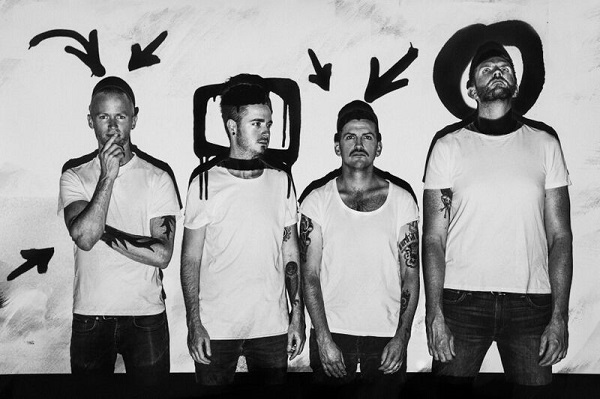 "I guess we've been playing in bands for such a long time that we realize how fleeting every opportunity can be and how fleeting the music industry can be, so I guess it was sort of like that this could be potentially the last thing you ever do, so make it count and make it good."
From release: If you want your rock music full of heart, packed with searing riffage and energetic as hell, then Sydney's BORN LION are for you. Released today via FOUR|FOUR Music, their debut album 'Final Words' is a twisting and turning barrage of furious punk rock'n'roll with a distinctly scintillating Australian sound. Blast it while chatting under the hills hoist over a beer on a hot summer night.
We caught up with John of Born Lion for a chat about their debut album, touring, just who they may open for in the future and much more…
You've just released your debut album, what are the feelings like when you finally get that album out there to the world?
Pretty relieving, I mean it's been a long time in the process and there's been a lot of stuff behind the scenes going on to make it happen, and yeah I think we were just dying to get into the studio and make it happen. We'd been writing for a long time and trying to get together the money for such a long time to get in there and finally make it happen, and then it was a pretty quick turnaround from once we got in the studio for it to being on the shelves sort of thing, so I think yeah, it's all gone super well and we've all worked really hard to make sure all the parts came together and it's really good.
When you're putting what will be your debut together, is it hard putting together the perfect collection of songs or did everything just fall into place?
Yeah, this is the first time I've ever made a debut album, I mean in terms of all the bands I've been in in the past *laughs* as I've done actual albums, so all we're doing is trying to write the best songs we could and just write the way the way we've been writing and use that sort of sound that we've put together across all the songs. I think next time we make one maybe we'll approach it a bit differently in terms of making it more of a piece of work rather than just ten songs jammed together. That's all we're doing, just trying to get over the line, I mean some bands say that they have like fifty songs when they go into the studio and whittled it down to ten, that wasn't us *laughs* I think we had twelve songs and we whittled it down to I don't know, however many songs it is, I think eleven songs… I can't remember.
Well you can save the other one for a Japanese bonus track, that's what everyone else does…
*laughs* Yeah that's it…
The title, 'Final Words' can you tell us why that scored the naming rights and what it represents?
OK, so it's taken from lyrics from the opening track 'Break The Curse' and I guess that sing is sort of about, if this was the last sort of song or last sort of thing I was ever gonna do, I may as well go out in style sort of thing. I guess we've been playing in bands for such a long time that we realize how fleeting every opportunity can be and how fleeting the music industry can be, so I guess it was sort of like that this could be potentially the last thing you ever do, so make it count and make it good. Then there's another side of it which is sort of the natural selection and the dumb ways to die theme which we have running on the album cover and we have running through some of the themes in the lyrics, like a couple of songs that have elements that they're about natural selection and that sort of thing.
You're out on tour at the moment and are out for the next month or so, so what can people expect if they come out and see you live?
Just a shit-tonne of energy and something that's exciting and something that's captivating, yeah, we just put everything into it, there's nothing reserved about a Born Lion show, and there'll be lots of sweat and drinking of stranger's beers… *laughs*
No stranger to playing live, recently out with Yellowcard, even hit up Soundwave a couple of years ago on the main stage. What was that experience like?
Well Soundwave was pretty daunting, we were pretty excited but at the same time there were some logistical nightmares that went down, like we were kind of waiting there to access the stage and we didn't get passes until a few minutes before we were supposed to play, so we had to run our amps and stuff a couple of hundred metres to the stage and then set them up as quickly as humanly possible and then start our set… I think that was more about getting through it and doing it and making it happen, it was the biggest gig we've ever played and that sort of thing. Then the Yellowcard thing was awesome, I think that was best tour we've done, just those venues, the sound was incredible and the audience was really sort of welcoming and encouraging, so that all helped, so it was probably the best we've sounded in terms of sound systems and having our shit together. They were all awesome guys, also the Mayday Parade guys, they were all friendly and accommodating.
My thoughts are the Australian rock scene is doing quite well and a lot of bands are out there at the moment killing it, from an artist side, what are your thoughts on where the scene is at the moment?
Yeah I think it's in a good place, I mean from our perspective we're in a little community of bands that all really support each other and have really good rapport with each other and we're always playing with the same bands and I guess it's just who you identify with. The little community we're a part of is really strong and thriving and I think everyone wants each other to do well.
So let's get a bit of a quick fire insight into you…
What was the first album you bought?
Boys II Men… *laughs* followed by 'Nevermind'.
What was the last album you bought?
Oh shit man, I think Sonic Youth 'Dirty'…
So not Boys II Men's greatest hits?
No, that's next…
Who is your favourite band to see live?
The Hives.
What band or artist made you want to be a rock star?
Nirvana.
Are you a fan of 80's hair band White Lion?
*laughs* not familiar with their catalogue. Straight after this interview I'll be on that.
Lastly, let's look ahead to the future, and predict the future, so finish this sentence for me, in 2016, Born Lion will…
Be doing heaps of crack *laughs a lot* yeah…
And supporting Boys II Men on their upcoming Australian tour…
Yeah and that, but I think we'll have to do the crack first *laughs*
Catch Born Lion at their remaining tour dates:
Saturday September 12 – The Milk Factory, Brisbane
Friday September 18 – Brisbane Hotel, Hobart
Saturday September 19 – Club 54, Launceston
Thursday September 24 – Prince of Wales, Bunbury
Friday September 25 – Jimmy's Den, Perth
Friday October 2 – The Entrance Leagues Club, The Entrance
Saturday October 3 – Captain's At Mariners, Bateman's Bay
Friday October 9 – Cherry Bar, Melbourne
Friday October 16 – The Loft, Warrnambool
Saturday October 17 – Crown & Anchor, Adelaide
Essential Information
From: Sydney, Australia
Band members: John – Guitar/Voices, Dave – Drums, Nathan – Bass, Red – Guitar/Voices
Website:  https://www.facebook.com/Bornlionmusic
Latest release: Final Words – (out now – FOUR|FOUR Music) – Get it HERE