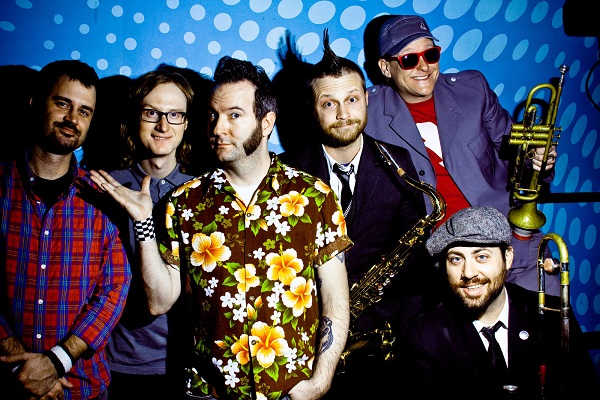 "…I love performing, I love being on stage, I love playing guitar and singing in front of people and making them dance and party and have a good time. That's why we stay on the road like ten months out of the year, just because we love to play."
From Bio: Reel Big Fish was one of the legions of Southern California ska-punk bands to edge into the mainstream following the mid-'90s success of No Doubt and Sublime. Like most of their peers, the band was distinguished by their hyperkinetic stage shows, juvenile humor, ironic covers of new wave pop songs, and metallic shards of ska. The group cultivated an underground following that broke into the mainstream in summer 1997, when their single "Sell Out" became a modern rock radio and MTV favorite. Still fronted by original lead singer and song writer Aaron Barrett, they continue releasing albums and touring relentlessly, playing more and more countries and bigger venues all over the world…
In Orange County CA, we chatted to Aaron from Reel Big Fish ahead of their upcoming Australian tour with Less Than Jake, we chatted about the shows, the sets, the music, and much more…
You were last here for warped tour a couple of years back, now returning with Less Than Jake for some shows, what can we expect this time around?
Oh you never know, it's gonna be crazy just the two of us together, it's gonna be a party.
You've been doing this tour across the States, what's been the craziest thing to happen so far on this tour?
The craziest thing? Oh God, I don't know… We drank a lot, it's hard to remember, sometimes it's all a blur. You know especially when Less Than Jake starts playing because they have a bar set up on stage with a bartender serving drinks, so you're standing on side of stage watching them play and it all goes fuzzy. I kinda like when they play after us *laughs* I'm tired of doing my show when I'm that hammered drunk, it's not a bad gig.
With so many albums under your belt, how do you go about putting a set list together for shows these days?
Well, it is kind of hard because there's so many albums and so many songs, but I think we have a pretty good idea just because we play so much we know what songs people like, and don't like, and want to hear and don't want to hear. We try to mix it up but I've become an expert in making the set list. I try not to do the same exact set list every time because that gets boring. Some of the favourites, some of the unexpected weird songs, it's just good fun.
A song like 'Take On Me' is now over thirty years old, yet it still rocks, and still takes place in your set, what do you think it is about that classic that still gets the crowd going?
I mean that's just a great song, everyone loves the original and people love our version too, I don't know, it's still one of my favourite songs to play, there's just something about the energy, something about that song… it's magical…
Being here a number of times before, besides the shows and obviously besides drinking, what's your favourite thing to do in Australia?
Well *laughs* the last few times I've taken my girlfriend with me and we go and see the animals, holding Koala Bears and laughing at the kangaroos balls and things like that *laughs*
Your shows are always a lot of fun, what for you is the most enjoyable part of being in Reel Big Fish?
Just playing music, I love performing, I love being on stage, I love playing guitar and singing in front of people and making them dance and party and have a good time. That's why we stay on the road like ten months out of the year, just because we love to play.
I spoke to Chris from Less Than Jake and asked him about the Ska Punk genre, it's a genre that certain bands have stayed the long run with it and you guys and Less Than Jake are two of those bands, what do you think it is about that kind of music that sticks and that people absolutely love?
I think it's because it's so much fun, there's so much energy in it and it's the kind of music that even if you don't know the band or you don't know all the songs it's still fun to watch the show and to be a part of it even if you're unfamiliar with that type of music or with the band. Some things I notice is that people get into it just because it's a lot of fun to see live.
What about your crowds, have you noticed that while you have your older fans, have you seen a rise in the younger generation getting into your music now?
Yeah definitely I think that the internet had a lot to do with it, people discover us on the internet but there seems to a lot of younger people coming to the shows but there also like the older fans who have been with us for years, but it's nice that it's not just the same crowd from way back when always just getting together, it's fresh people getting into the music and that's exciting for us to see that.
You've been doing this now for twenty three years, and a lot has changed in the music world in that time, what for you has been the most notable change in the way that the band works and or makes music now compared to those early days?
*laughs* I guess in the recording we use computers instead of tape or whatever we did back in the 90's, and then just getting the music out to people and watching the MP3 come out and people being able to get their music online. Computers, man! Crazy! *laughs*
Aside from your Christmas EP last year, your last studio was in 2012, are you guys currently working on or thinking about new music for the next Reel Big Fish album?
No! Hell No! We've got too many albums already… nobody wants a new Reel Big Fish album… Then it would be even harder to make the set list *laughs* No.. I'm always working on new songs, I almost have enough for a new album, but maybe next year *laughs*
Now, 'Everything Sucks' turns twenty this year, so cast your mind back, what do you remember about releasing that debut album?
Releasing 'Everything Sucks' that was our first release on CD and it was independent we did it ourselves, and that kind of was a big deal in the mid 90's because not every local band was able to put together an album and put it out on CD, it felt so official like you were becoming a real band *laughs*. Everybody sold tapes… I always loved my cassette tapes when I was little, you get a nice happy old time feeling just pushing that play button down on the cassette player *laughs*
Lastly, let's look ahead to the future, so finish this sentence for me, in 2016, Reel Big Fish will…
*laughs* will still be on tour, the never ending tour… next year is the twentieth anniversary of the release of 'Turn The Radio Off' our first album that was on a label and the big hit album for us in America.
So are there any plans for the twentieth anniversary?
Oh we'll be on tour, I don't know if we're gonna do one of those where you play the whole album back to front, but maybe we will a few times, we'll see what happens.
It does seem to be the flavour of the month with bands playing the full albums in celebration?
Yeah… That's why I'm not sure if we wanna do it because everybody does it these days.
Even better when it's a celebration of an album that wasn't even successful but we're gonna play it anyway…
Exactly, and that's the thing, whenever we have played the whole album, because people have asked us in the past, like "Oh my God, you've gotta play the whole 'Turn The Radio Off' album" we do it and the first half is all the songs that everybody likes, like 'Beer', 'Sell Out' , 'She Has a Girlfriend Now' and all those, and the second half is a little more deep cuts and people start to get really bored *laughs* their eyes glaze over…
Catch Reel Big Fish and Less Than Jake on tour in Australia at the following dates:
WEDNESDAY 30 SEPTEMBER – MELBOURNE, PRINCE BANDROOM – 18+
www.oztix.com.au
THURSDAY 1 OCTOBER – MELBOURNE, PRINCE BANDROOM – 18+ – SOLD OUT!!
FRIDAY 2 OCTOBER – SYDNEY, MAX WATTS – 18+
www.oztix.com.au / www.maxwatts.com.au / www.eventopia.co
SATURDAY 3 OCTOBER – BRISBANE, MAX WATTS – 18+
www.oztix.com.au / www.maxwatts.com.au / www.eventopia.co
SUNDAY 4 OCTOBER – GOLD COAST, COOLANGATTA HOTEL – 18+
www.oztix.com.au
Presented by Soundwave Touring
Essential Information
From: Orange County, California, USA
Band members: Aaron Barrett – Vocals, Guitar, Billy Kottage – Trombone, John Christianson (Johnny Christmas) – Trumpet, Ed Smokey Beach – Drums, Derek Gibbs – Bass, Matt Appleton – Saxophone, Vocal Harmonies
Website:  http://reel-big-fish.com/