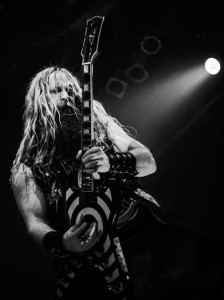 Since their late 90's inception, Zakk Wylde's Black Label Society, formed by guitar legend Zakk Wylde, have been at the forefront of their genre. Their taste for hard riffs and blazing solos has resulted in a slew of hugely successful albums and a reputation as one of the most powerful live bands of their generation. Fuelled by fiercely loyal fans and signature merchandise Zakk Wylde's Black Label Society have stamped themselves as an established brand in today's music culture and one that continues to grow..
Zakk Wylde is without doubt one of the most decorated guitar heroes in modern history. As Ozzy Osbourne'sguitarist for over 20 years (in addition to his work with Zakk Wylde's Black Label Society), this long term partnership led to a string of multi-platinum albums, including Osbourne's biggest selling "No More Tears," for which Wylde wrote all the music.
In addition to holding Guitar World Magazine's MVP four years straight Wylde has been bestowed with such accolades as "Best Rock Guitarist" from Guitar Player, "Metal Guru" from the recently held Classic Rock awards in the UK, "Golden God" by Metal Hammer, the "Best Guitarist" Award from Revolver Magazine. Wylde has proven time and time again that his songwriting, guitar prowess, and on-stage persona, along with his larger-than-life personality, have made him a force to be reckoned with.
Now Zakk Wylde's Black Label Society returns to our shores for their first appearance since playing their first headline tour since 2006.
One of the few true rock stars out there today, Wylde cuts a striking presence with his Vikingesque appearance and signature guitar artillery. Zakk Wylde's Black Label Society continues to engage and amass fans from around the globe, and is set to have his loyal stalwarts armed for action as they marshal rabid new fans to the fold.
Zakk Wylde's Black Label Society Australian Tour Dates 2015
Wednesday 25th November – Metropolis Fremantle 18+
Friday 27th November – HQ, Adelaide 18+
Saturday 28th November – Roundhouse, Sydney 18+
Sunday 29th November – The Tivoli, Brisbane 18+
Tuesday 1st Dec – 170 Russell, Melbourne 18+
Tickets on sale 9:00am local Friday Aug 7 from: