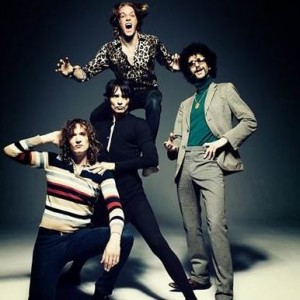 THE DARKNESS, multi award winning, multi-million selling megaband formed in 2000 by The Brothers Hawkins, Frankie Poullain and (now departed) Ed Graham have had good years and bad. And some years where they didn't actually do anything. This year is a good'un, because THE DARKNESS are back with their brand new fourth album Last of Our Kind, released in June 2015 and a new drummer Rufus Taylor (son of Queen drummer Roger Taylor), now they are back for an Australian Tour!
THE DARKNESS came to prominence with the release of their debut album, Permission to Land, in 2003. Backed by the singles "I Believe in a Thing Called Love", "Growing on Me", "Get Your Hands off My Woman", and "Love is Only a Feeling", the album was certified quadruple platinum in the United Kingdom. In 2004 the band won three Brit Awards: Best British Group, Best British Rock Act, and Best British Album.
''No straight-up rock band does riffs this dirty, choruses this massive and shows this ridiculously flamboyant. Excuse the faint whiff of cheese and the sound of someone retching in the background, but The Darkness truly are the last of their kind.'' – STEREOBOARD.COM
Forward to December 2013: After completing a gruelling world tour to promote third album Hot Cakes, THE DARKNESS delighted and beguiled the Classic Rock Awards by accepting the prestigious Showman prize. Job done – time to stop for a moment and prepare to pen a new set of hard rock anthems to satiate the baying hordes…. January came and went. The band nestled in their respective partners' bosoms and waited for the touring scars to fade… With defacto bandleader Dan Hawkins at the controls, relishing his new role of guitarist-producer, recording commenced. Recording continued. Then the recording stopped and the mixing began. Frankie, Justin and Emily downed tools and retreated to umpire charity tennis matches, give up smoking and deliver percussion master classes, respectively. The Druidical magic of Valentia Island flowed through the mixing process, and as the last chords echoed across the Celtic valleys, Dan rose up and declared that the album was complete.
''Last of Our Kind is a collection of 10 magnificent songs that THE DARKNESS are extremely proud of. It is the best rock album you will hear this year. It is the best rock album you will hear until next time THE DARKNESS makes an album. I should know. I'm the singer. Justin Hawkins''
''The Darkness blew the crowd away, giving them a night to remember. They seemed to recreate the magic of 70's hard rock with a sound driven by Les Pauls/Marshalls and a stage presence driven by adrenaline and testosterone.'' – Ultimate Guitar
Check out Open Fire (Official Video)

The Darkness November Tour Dates:
Friday 6th HQ Adelaide
www.oztix.com.au
Saturday 7th Metropolis Fremantle
www.oztix.com.au
Wednesday 11th Forum Melbourne
www.ticketmaster.com.au / 136 100
Thursday 12th Tivoli Brisbane
www.ticketmaster.com.au / 136 100
Friday 13th Enmore Sydney
www.ticketek.com.au / 132 849
Tickets on sale: 9:00am Thursday 6th August.
Facebook: www.facebook.com/THEDARKNESSOFFICIAL
Twitter: @THEDARKNESS