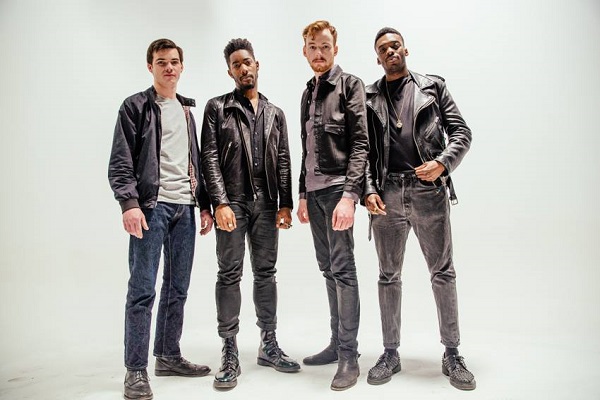 "All we're doing is making an album honestly of what we're capable of at the time, it's not as if we have a message to tell anybody or we have this ethos or anything, it's just the music, it's the songs because there was a lot of writing and these songs were the ones that came most naturally to us…"
From Release: Quickly building a stellar reputation on the back of a series of singles introducing their ludicrously melodic, snarling guitar pop, The Bohicas will release their anticipated debut album, The Making Of on Friday August 21. Hi def, fast, and above all fun, the band's signature is their barrage of killer hooks, razor riffs and choruses that slap you in the face, grab your hand and lead you to the dancefloor – found in full focus on The Making Of.
On holiday in Ireland, we chatted to Dominic McGuinness of The Bohicas ahead of the band's debut album release 'The Making Of…'. We chatted about making it (pun intended), playing live, touring Australia, and a little insight into him musically…
So for those that may not have heard of you, can you give us your best door to door sales pitch about the band?
We're four friends, we like the same kind of music, we grew up listening to that kind of early 2000's American guitar music like The Strokes, Kings of Leon, The Vines and The Hives, Black Rebel Motorcycle Club and all that sort of stuff, and we also like our parents music like The Beatles, Ray Charles, The Kinks, The Stones, all that sort of stuff. So those influences are at the core of what we're about but it's kind of we play music that's just guitar based at the moment, and songs about love and it's quite melodic and quite energetic and it's fun. It's not music that's very brainy, it's for the guts if that makes any sense.
You're about to release your debut album, what are the feelings like for you around this time?
I can't wait, because we've been playing the album live since the start of the year and before with choice songs here and there, but in terms of our set at the moment its basically the album, and if anybody knows any of our music they'll only know a handful of singles, so they only know like ten minutes of the set *laughs* so I'm really looking forward to when the album is released and people get to live with the album and then when we play live shows just to see if it connects in the same way that the singles have. We've had a wonderful reaction to the singles and if that transmits to the full album and live gigs then we're laughing.
Well it's a good start…
Yeah man it's dead exciting, we just got hold of the physical copies, the vinyls with the artwork, we just got hold of them and I can't let go of it, I feel like a kid with a new toy *laughs* I might as well be sleeping with it, you know…
When you set out to make the album that will essentially help introduce you to the world musically, how hard is it putting together the perfect album for that?
It's not hard as long as you're honest. All we're doing is making an album honestly of what we're capable of at the time, it's not as if we have a message to tell anybody or we have this ethos or anything, it's just the music, it's the songs because there was a lot of writing and these songs were the ones that came most naturally to us and the most fun to play and hopefully that comes across when you see us live or when you play the album for yourself. It's not difficult as long as you know what you're doing and if your intentions are the same at the beginning as they are at the end.
It's amazingly titled 'The Making Of…' what was the idea behind the album this name and the title track itself?
It's a bit a of a crap answer to this, but the truth is when I wrote the song 'The Making Of…' there was no obvious tagline in the chorus that sounded like a good song title, and I always had 'The Making Of…' I always thought it was an attractive song title for something, so I just threw it on that because it was in the back of the book and I could use it whenever I wanted. The same problem happened with naming the album and then I realized it actually suited the album more and I wanted to change the name of the song to give the album that title, but I couldn't so they're just both called 'The Making Of…' but I think it just suits the album more than the song. Even though I love that song I just don't think it suits the name as much as the album.
Well I thought it was a great name for an introduction to a band, like the making of your first album…
Yeah, oh cool, I'm glad you get it! Once you can dissect it and once you take a normal phrase and take it out of context it's automatically dissected and everybody finds a new meaning of it. So ;m glad you understand what I mean.
You worked with a few producers on the album, what was the idea behind that and what were they able to bring to the band individually?
Oh man it was a luxurious position because we didn't anticipate something like that; it was the label suggesting these people. First met Oli Bayston he's got his own thing called Boxed In, he's an extremely talented song writer and producer, we first recorded with him and he understood that as a band we wanted to, because all our favourite bands albums sound like all the songs are all pouring out of the same pike, like there was no indecisive or unsure things. If you listen to 'Is This It?' by The Strokes it sounds like everything's pumping in the same room and coming out of the same hands and mouths, and 'Aha Shake Heartbreak' by Kings of Leon has that as well. So he understood about the identity of an album so by doing that you have to limit your pallet of your effects so you've only got one type of distortion, one type of delay, one type of drum sound and one type of vocal effect or whatever, but he understood that. Then Mark Rankin who was suggested by the label had just come off finished working with Queens Of The Stone Age on 'Like Clockwork' and we we're just massive fans of that band and that album as well, the production is gorgeous, so he knew about the sonics and how to make every instrument sound like if you're listening on headphones that it's coming from the centre of your head, it doesn't sound like this wafty, ethereal thing, there's a real power inner quality to the sound he makes, so they worked together in the studio and that was boss, they'd never worked together before but they really gelled. We worked with another producer named Chris Hughes and that was before and after recording sessions, so he dealt with the songs and the song writing and the structure of stuff, and he did a lot of stuff in the 80's, music we don't really connect with because it was the generation just before us, but he has an endless wealth of knowledge of how to make a song work from start to finish and we learnt so much from all of them, it was an absolute privilege.
You were in Australia last year; tell us a bit about that experience?
Oh man, it was fuckin' wicked! *laughs* Long flight obviously, but it was crazy because we were invited over there on the back of one song and we were supposed to play for forty five minutes *laughs* so it was a big ask for the audience and us to kind of keep the theme going. We only did two shows, we did radio and interview sessions or whatever, but it was wonderful, we were in Sydney and Melbourne. Hopefully if the appetite's still there in Australia for us, we can come back and play them more music that they might have heard, and I kind of hope the next time we're over they'll know more than one song *laughs* because it might have been a bit premature for us to go over there but it was wonderful , the people were lovely, the atmosphere was great and it seems like there's a lot of love for us, so I'm eternally grateful for that.
OK, let's throw out some quick fire questions…
What band or artist made you want to be a rock star?
The Beatles and by the time I was a teenager, The Strokes.
First concert you ever went to?
Toploader, with my Dad *laughs*
Who is your favourite band to see live?
Fuck… *pauses* I think one of the best gigs I ever went to was Kings of Leon at Reading 2008, the sun was setting and they fuckin' nailed it. It was just before they got all sort of stadium, I think just before the third album came out, so they were still playing all those badass kind of shit kicker things.
Is there one song throughout musical history you wish you could say you wrote?
'Here, There and Everywhere' by The Beatles. They're the best, man! I'm a massive Beatles nerd, Chris Hughes one of the producers that worked with us, he's a huge Beatles nerd and that kind of swung it because now and again he'll call me up with a new bit of Beatle trivia and we can talk until the cows come home about them.
Lastly, let's look ahead to the future, finish this sentence for me, by the end of 2015, The Bohicas will…
Be touring and reacting to whatever the fuck our album creates *laughs*
Essential Information
From: Essex, UK
Band members: Dominic McGuinness – vocals / guitar, Brendan Heaney – drums, Dominic John – guitars, Adrian Acolatse – bass
Website:  http://www.thebohicas.com
Latest release: The Making Of…  – (out now-  EMI Music Australia / Domino) – Get it HERE