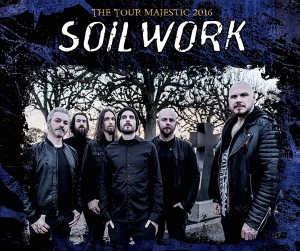 Visionary Swedish Melodeath metal masters SOILWORK are set to embark on a national tour of Australia this summer, the announcement coinciding with the release today of their tenth and triumphant studio album, The Ride Majestic.
Currently trekking through North America as part of their extensive world tour, Soilwork's Australian club dates will kick off at Perth's Rosemount Hotel on February 10, heading onto Adelaide, Brisbane and Sydney before wrapping up at Melbourne's 170 Russell on February 16.
Tickets for all shows will go on sale at 10am next Friday, September 4.
Telstra Thanks is bringing an exciting 48-hour pre-sale just for Telstra customers from 10am Monday August 31 until 10am Wednesday September 2. For more information on how to purchase, visit:telstra.com/music.
My Live Nation members can also be among the first to access tickets during the pre-sale commencing at midday on Wednesday September 2.
For complete tour, VIP package and ticketing details, visit: livenation.com.au.
Having toured the world, released a critically acclaimed double-album, a live DVD and a five-track EP over the past two and a half years, it's clear that Soilwork remain tireless masters of their craft. Now, they return with The Ride Majestic (out now through Nuclear Blast); another jubilant moment for a band whose body of work stretches across twenty years.
Stylistically, The Ride Majestic picks up where the band left off with their previous record, The Living Infinite (2013) – each track tempering instrumental aggression with soaring, intoxicating melodies. Lyrically the album is driven by an unshakable fixation with mortality, as vocalist Björn Strid explains: "Just about every member of the band had a death in the family while recording the album… We came up with this title to remember what we've gone through together and make it a hymn to those we've lost and celebrate their lives…"
AUSTRALIAN TOUR DATES
ROSEMOUNT HOTEL, PERTH
WEDNESDAY FEBRUARY 10
THE GOV, ADELAIDE
FRIDAY FEBRUARY 12
THE TRIFFID, BRISBANE
SATURDAY FEBRUARY 13
MAX WATTS, SYDNEY
MONDAY FEBRUARY 15
170 RUSSELL, MELBOURNE
TUESDAY FEBRUARY 16
TICKETS ON SALE
10AM FRIDAY SEPTEMBER 4
Telstra Thanks pre-sale:
10am August 31 until 10am September 2
My Live Nation & ticket agent pre-sales:
12pm September 2 until 5pm September 3
For complete tour and ticket information, visit:
www.soilwork.org & www.livenation.com.au