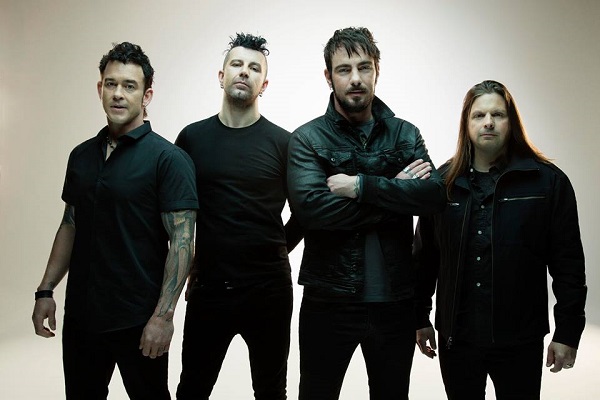 "…I'm enjoying this, I enjoy working with Adam, I'm very proud of the record we made and I think it's only the beginning of what we'll be able to do. There was two very hard decisions that we've had to make as a band, one was deciding on the name and figuring out what that was going to be, and the other one was deciding what songs to put on the record…"
From Release: Saint Asonia, featuring two of the biggest forces in rock radio over the past decade, Adam Gontier (formerly of Three Days Grace) and Mike Mushok (of Staind), along with band mates Corey Lowery (Stuck Mojo) and Rich Beddoe  (Finger Eleven), released their self-titled debut album July 31, 2015 on RCA Records. In only its 2nd week, "Better Place" has already reached the top 20 at active rock radio merely two weeks from release, making it one of the fastest growing songs of the year at the format.
At home in Connecticut we chatted to Mike Mushok of Saint Asonia about how the band came about, the making of the album, touring Australia and a sneaky one about the future of Staind…
OK, for those that may not be aware, give us the cliff notes on how Saint Asonia came to be?
Certainly, well listen, Staind and Three Days Grace had done a lot of touring together over the years and I knew Adam and I'd always been a fan of what they do, I always thought Adam was just a great singer, writer, performer and Staind was on a bit of a break as Aaron is pursuing a country career. I thankfully have a lot of music and was looking for something to do and I just kind of reached out to Adam after he left Three days Grace and asked if he just wanted to hang out, I was touring with Jason Newsted on tour in Toronto where Adam lives and I said I can stay for a couple of days and hang out and play some music and just get reacquainted or whatever. So we did that and it went really well, fast forward he had to make a demo for RCA and I'd written a couple of songs for him so we did it together, it was really after the demo that RCA heard it and everybody really liked what we did that it seemed like we were gonna do a band, they offered a record deal and it was with that that we figured we're gonna make a band out of this, went in January, recorded the record and here we are…
You've been busy the last few years with the likes of Newsted and now Saint Asonia, was it interesting going into projects other than Staind that you'd been doing for so long?
Well listen its exciting, it's something new, I'm very thankful for the opportunity to do it, Adam is just super talented and we've really gotten on very well and things have gone very smoothly, the writing's been really good, the record was fun to make, we actually had our last practice today and we start our first tour this week and that's really the last step in completing what we need to do. So it's all pretty exciting to be able to go and do that again.
What was the creative process like in putting this album together and working with Adam?
It really wasn't much different to anything I'd done in the past, I'll show up with a number of different ideas and songs kind of put together and once we figured out it was going to be something more than just playing together and writing some songs, I played him a bunch of stuff and we kind of weeded through it and figured out what he liked and with that if it wasn't finished we made the changes that were necessary and if there was something he liked, pretty quickly within a half hour or forty five minutes he'd take his note book and come back with lyrics, melody and the song basically written and it was always great. He also brought some song to the table that were really good and I really think they helped fill out the record to make it what it is which is something I'm really proud of.
You also had Johnny K produce the album, a guy you've worked with before, what was it like working with him on this album and what did he bring to the table?
I always enjoy working with Johnny that's kind of why we went back there , Adam hadn't and when it came time do the demo I said hey look, Adam was living in Minneapolis, Johnny is in Chicago it's not far and not too far for me it's a couple of hours plane ride, I said hey look, Johnny was available, Adam agreed to it and we went and did it and it went really well, he enjoyed working with him and that's kind of what lead him to doing the record. I mean the thing that I like about Johnny is that he always has ideas and keeps things moving if you ever get to the point where you're not sure what to do or where to go, he'll either push it and help come up with that or have an idea of his own to help move things along. So besides that I think he gets really good sounds and he knows the equipment and the studio and he's real capable of that and I also like that he works by himself, he doesn't have an engineer, he just does it so you're just working with him and I've always enjoyed this experience and this was a good one too.
Now I am a big rock fan obviously and songs like 'Better Place' and 'King of Nothing' really kick ass, but the one that stood out for me was 'Leaving Minnesota' just a really great song, is there a story behind that?
Beautiful, right? The idea was to put the best songs we had on the record and make a record that was hopefully something and for me there's nothing I want to skip, I really enjoy every song on it, so I hope people give it a chance and check it out.
Do you think we'll ever see you guys down here in Australia?
I'm hoping, in fact I had a conversation last week with management and I mean look the best way to get there these days is the festivals whether it's Soundwave or Big Day Out or whatever, we're probably more a Soundwave band I'd imagine *laughs* so hopefully we can make that happen and get there and if not through a festival, we can get on some kind of tour to get there, I mean it's definitely something we've spoken of and really want to do. The band really wants to make the rest of the world besides The States a priority as far as places that we can go twice and hopefully that happens.
Both yourself and Adam have been here before of course, do you have a favourite memory of touring Australia you can share with us?
I think the first time that Aaron and I ever went there we did like an acoustic tour, we played a few shows and to go there for the first time and to play there for a thousand people and they all know the words and you've never been there before, those were really, really great shows because it was something… we've done a couple of acoustic shows as a band but it was the first time that Aaron and I had ever done it together and I actually really, really enjoyed those shows for what they were. Having that been the only time we've ever done it together too was a lot of fun, and obviously you guys live in a beautiful country…
I was actually at that acoustic show you played in Sydney and loved it…
Oh thank you, wow.
From memory you did a killer acoustic version of 'This Love' by Pantera too…
We did play Pantera didn't we… *laughs* it was great, it was really a good experience, I remember that it was just kind of a way to get there and play and I enjoyed it for sure.
There's all this talk around that 'Rock is Dead' what are your thoughts on where it is at the moment?
I mean, listen *sighs* here in the States what I think is struggling is rock radio stations, and I don't know why that it, I have a theory as to what it is but you being in Australia I don't know, to me there's still rock bands and if you look at the rock festivals in The States, I mean we just played Rock on the Range and it was three days and it was sold out every day, forty thousand people, there are still bands out there that are doing great. Listen, I think it's not as popular as far as radio goes, people can't tell through all the advertising, that's what it really boils down to I think, to make a radio station survive, but I don't know, I think there a lot of great rock bands out there that are still doing well. I think we went through it before, now all of a sudden Rolling Stone will put on a cover saying 'The Return of Rock, it's back' *laughs* you know what I mean? I don't know… it's driven by what you do; people come out and say these things, but Gene Simmons was the one that really started it and when he says something you kind of take notice, right?
Can I throw a sneaky question in about the status of Staind, is there a future?
Yeah I mean as far as I'm aware *laughs*…  Aaron right now wants to pursue a country career, he has for years now, so that's what he's been doing, and we don't have a record deal right now, with our last record we finished our deal with Atlantic and so there's really nobody telling us that we have to go make a record, where if you still have a record deal that's usually your commitment. So right now there's not that, but I mean he's gotta figure out what's gonna make him happy really and in the meantime I'm very thankful for being able to do this with Adam and this band is something that we plan on continuing and moving forward with, and I'm really happy doing it. So that being said, we say there's going to be another Staind record, there's just no plan of when that will be…
I was going to ask about that, with a new project like Saint Asonia, have you gone into it rather than a side project and making an album, this is a band for you now…
Yeah it's definitely a band this is what I'm doing, like I said, Staind doesn't have any plans right now, so I'm enjoying this, I enjoy working with Adam, I'm very proud of the record we made and I think it's only the beginning of what we'll be able to do. There was two very hard decisions that we've had to make as a band, one was deciding on the name and figuring out what that was going to be, and the other one was deciding what songs to put on the record because there's three others that we did and they're just as good as anything that's on the record, it's like fuck, you only have to put some many out, people don't buy records, let's hold on to a few for whatever we need them for down the road and we will. There were other songs that we didn't finish and we felt we didn't need to because we have the record, so I look forward to completing those or growing and putting those songs together and then seeing where this will go.
Lastly, let's predict the future, so finish this sentence, by the end of 2015, Saint Asonia will?
Hmm… have played a lot more than only the one show we've played *laughs* that one's gonna be true, that's a future I can predict… we've only played one show and we must have forty five booked right now, so I know I will be correct in that assumption, I guess anything can happen but that one should come true. Honestly by the end of the year it's really about for us getting out there and reconnecting with hopefully some of our old fans that Adam and I have both been very fortunate to have from our other bands and hopefully make some new fans along the way, and make this something that people want to be a part of and come see and buy the record and come to some shows…
Essential Information
From: USA
Band members: Adam Gontier – vocals / guitar, Mike Mushok – guitar, Rich Beddoe – drums, Corey Lowery – bass
Website:  http://www.saintasonia.com
Latest release: Saint Asonia – (out now- Sony Music Australia) – Get it HERE
Purchase and stream "Better Place":
iTunes: http://smarturl.it/AsoniaBP
VEVO: http://smarturl.it/BetterPlacePV
Amazon: http://smarturl.it/AsoniaBPamz
Google Play: http://smarturl.it/AsoniaBPgp
Spotify: http://smarturl.it/AsoniaBPsp