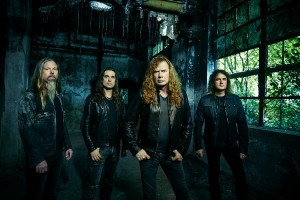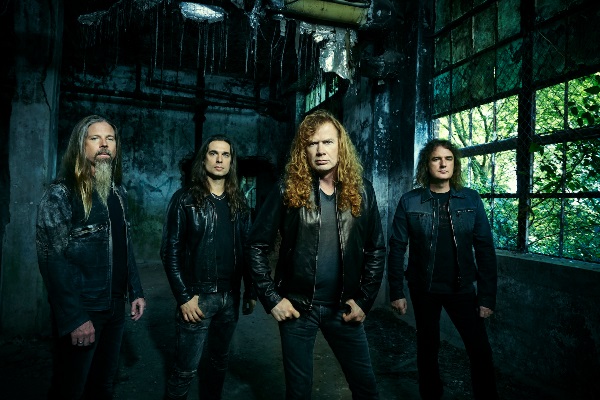 Thrash metal legends MEGADETH will return to Australia this October.  Fresh out of the studio where they have been working industriously on their new album, the follow up to 2013's Super Collider, Megadeth are eager to return to the live arena and Australia will graciously accommodate in Brisbane, Sydney, Melbourne and Perth. 
Having sold over 50 million records worldwide, earning platinum certification in the US for five albums and receiving eleven Grammy nominations, Megadeth have firmly cemented themselves in metal history as one of the most revered bands of all time. Alongside Slayer, Anthrax and Metallica they are widely regarded as one of the founding fathers of metal, responsible for the genre's world-beating, fear-mongering, 'wont-somebody-think-of-the-children' mainstream status.
Megadeth's new album, due for release in October in line with their Australian tour, will be the band's first with a refreshed new lineup featuring Lamb Of God drummer Chris Adler and renowned Brazilian guitarist Kiko Loureiro. The band's divisive leader Dave Mustaine spoke to Revolver Magazine about the recording saying  "There's a lot of riffing going on in there, that's for damn sure…I knew from the start that I wanted to go back to my roots and I wanted to make a thrash record".
Produced by  Mustaine and mixed by Josh Wilbur (Lamb Of God, All That Remains, Killer Be Killed, Hatebreed) Megadeth's 15th studio album has the weight of the heavy metal world's expectations bearing down on it. It's a gaze that has been long welcomed by Mustaine, who is notoriously unapologetic for his outspoken voice and vision.
WATCH MEGADETH AT QUEBEC CITY SUMMER FESTIVAL HERE
Making the trip alongside this monstrous metal band is melodic death metal masters
Children Of Bodom. The Finnish group are also finalising details of a new album I Worship Chaos, out via Nuclear Blast on October 2. Where Megadeth are recognised as the godfathers of thrash metal, Children Of Bodom represent the new generation of modern metal, boasting melodic hooks and insane instrumental acrobatics most recently labelled as "technically dazzling" by the New York Times.
WATCH THE CHILDREN OF BODOM TRAILER FOR 'I WORSHIP CHAOS' HERE
MEGADETH – AUSTRALIAN TOUR
With special guests Children of Bodom
All tickets go on sale to the general public on Monday August 24th, at 10.00am local time. For tour details and ticket information, visit daintygroup.com
Tickets $95 (inc. booking fees) + cc fees
Perth – Friday 16th October – Red Hill Auditorium – redhillauditorium.com.au
Sydney – Sunday 18th October – Hordern Pavilion – ticketek.com.au 
Melbourne – Monday 19th October – Festival Hall – ticketmaster.com.au
Brisbane – Wednesday 21st October – Eatons Hill  Hotel –eatonshillhotel.com.au
daintygroup.com
megadeth.com
cobhc.com