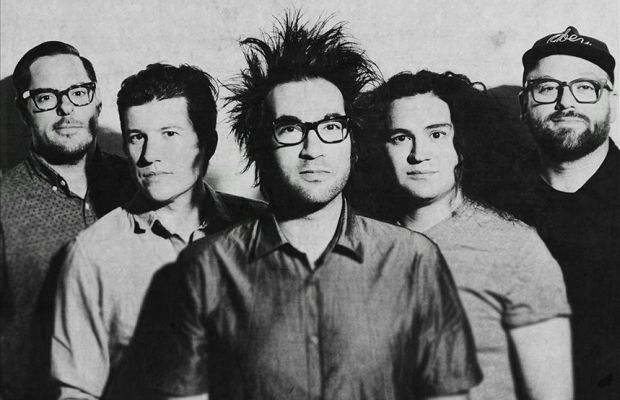 "Basically we took about a year to write songs which we'd never done before, so we had a lot of material diving into that period to choose from to put on the album, so it was actually a bit tedious trying to pick all the best ideas, we actually felt like we were very productive, we made a lot of songs that we really liked."
From Release: MOTION CITY SOUNDTRACK will be hitting our shores this August celebrating the 10-year anniversary of their critically acclaimed and fan favourite sophomore album 'Commit This To Memory'. Released in June 2005, 'Commit This To Memory' went on to become an instant classic of the genre, a sublime concoction of energetic melodies, catchy hooks, thumping drums and bursting keys.  A riveting album that infects your senses, grabs your heart and reminds you all over again – why you love music.
Getting up nice and early to chat to Matt from Motion City Soundtrack while at home and getting ready to come and see us in celebration of the tenth anniversary of 'Commit This To Memory', we chatted about the upcoming shows, the album itself and what it was like at the time, their new album 'Panic Stations' and much, much more…
You're heading back to Australia to celebrate the tenth anniversary of 'Commit This To Memory' what are some of your best memories of when the album was released?
That was a big time for our band, we had put out one album before that and then we had toured on that album for about two years very, very heavily and that era was great because toward the end of the record cycle of 'I Am The Movie' we had toured with Blink-182 and I believe the connection was there was a clothing company called 'Atticus' that Mark Hoppus was a part of and we had gotten a Cd to him and I think it just sat in a pile of stuff to listen to for a long time. Then several months later he finally listened to it and we found out via Rolling Stone magazine that he was enjoying our album *laughs* we got very excited and then we ended up getting a tour offer off them to open the tour in Europe and Japan and that was really, really incredible for us. So we ended up making a connection with Mark and we were sitting backstage one day just talking about music and things we had in common and things we grew up on, and asked him if he'd ever produced an album before, he said no and that he would like to, so then we said well why don't you produce our album? We have to make one very soon, he said that would be awesome, let's talk… So he ended up producing our album which was his first venture into the producing world, so that was a lot of fun and very surreal for us at first because Mark was one of the more famous people out there, you know, we're not gonna lie and to be honest that was very strange for us at first, but he's obviously just another guy that likes to play music. So that was really exciting to be able to work with him every day and to get his insight on just making records first of all, and music in general and just life in general because he'd been in a band for a while and it was just interesting to hang out with him and just kind of learn from him, oh and laugh at him because he's really funny, they were good times to be around. So yeah, I kind of rambled on there but that was definitely a period of growth for us and getting to know Mark really well was fun for us.
So we know you'll be playing the album start to finish, but what else can we expect at these upcoming Australian shows?
Yes, we're going to play 'Commit This To Memory' as you hear it on the record and then we'll come back out and play pretty much we'll try and span all the other albums and maybe a new song or two, then maybe a surprise, but yeah you can expect pretty much we'll be pulling from all of our albums after we play 'Commit This To Memory'.
Was it hard to, and pun severely intended commit some of these songs to memory that you may not have played in many years?
*laughs* I mean sure, it is, because a lot of times when you make a set list you play maybe eighteen or twenty songs and when you've got six albums worth you have to kind of pick and choose, so sometimes your babies get left behind you know? *laughs* and you kind of choose your favourites or ones that you feel like you should play that night and some you don't play for a very long time, so yes, we definitely had some issues. To be honest, this album for me is the easiest is to remember, I don't know why that is, but once we get into 'Even If It Kills Me' and 'My Dinosaur Life' and we go further down the road it's gonna get harder and harder for me, so if we ever do this shows I'll be very nervous… This album is a lot of fun and it flows really well and I guess at the time we only had two albums so we could play more of it in regular shows, but I think that's why it's a little simpler to learn those songs.
You've been here before, so besides the shows, what is your favourite thing about Australia?
I don't know if have one particular favourite thing about Australia, I just really like that to me you fly for so long and it's so far away on the other side of the world, it's the Southern Hemisphere, but it feels similar to home but it's different enough that you're still excited to be somewhere so far away and somewhere different, but, it's comfortable enough to where it feels like home so you're not lost you know? The Australian people in our experience have been absolutely wonderful  and when you're far from home, that's a good thing to have and I know it sounds kind of obvious and silly. You know, the coffee's good, I just like exploring the cities, I love Sydney and Melbourne, I mean I really like all the cities to be honest, and it's nice to be in Perth on the Indian Ocean, that's pretty wild for us… I could go on, there's a lot of good things about Australia.
Of course we also have a new album coming called 'Panic Stations', over the last few years since 'Go', what inspired what would become the album?
Well, after 'Go' we lost Tony our original drummer in 2013, so about a year after that album was out, so we had to stop for a little bit and figure out our plan, and so bringing in a new drummer was different, it shook things up a bit and we didn't want someone that was just going to show up and play the songs as we want them played, we wanted someone that was going to come in and be an equal member in the writing process and Claudio happened to be that guy and he was very excited to play. He had actually toured with us for years as our drum tech so he already knew most of the old songs, and we'd been friends with him for years so he was the natural guy to step in and help us out. Basically we took about a year to write songs which we'd never done before, so we had a lot of material diving into that period to choose from to put on the album, so it was actually a bit tedious trying to pick all the best ideas, we actually felt like we were very productive, we made a lot of songs that we really liked. So this time around when we went in our producer wanted to record live, all the guitars and drums together which we had never done as a band which is kinda crazy, so we really just rehearsed a lot up front and made it really, really tight so when we moved into the studio we could hammer them out after a couple of takes. That was a lot of fun, and it was pretty crucial to the sound of the album.
In talking about producers, you worked with John Agnello, a guy who worked on some big 90's grunge era records, why was he the right choice for the album and what did he bring to the record you hadn't had previously?
Like I just said, John, he comes from kind of the old school, he's like 'you're a rock band, why would you not play together in the studio?' so that's how we had it set up, we did the record in two weeks, largely because we recorded all together and we didn't have to track separately and spend hours a piece on one song whereas we just spent a few hours together getting the right take. So John, he had made records in the 90's especially, I mean he made great records since the 80's and into now, some of our favourites that stood out were Jawbox and Dinosaur Jr. as really being some of our favourite stuff that we grew up on, and still listen to today. So we really wanted a different approach on the recording side and the engineering, producing and recording side and then we would have a mixer come in and make it sound kind of like what our other records sound like on the mixing side of things, but we really wanted the raw side if that makes sense on the tracking side.
Looking back to 2003 when you released your debut, what for you is the biggest and most notable difference in the way that Motion City Soundtrack make music here in 2015?
I think technology has changed everything for us because back then basically I joined the band after they had recoded that record, then I went into the studio where they made the record to replace all the bass tracks because I replaced the bass player and they just wanted to get me on the album, then Epitaph signed us and put that version out. What we had to do then was live together, basically the band is from Minnesota but Tony, the old drummer and myself are from Virginia, which is a thousand miles away, so what we had to do was temporarily move to Minneapolis and live in a basement and practise two or three times a week, and when you write songs you have to be together. This is before people were recording on their own computers and sending their parts to each other, so my point *laughs* which has taken me a while to get to is that now we can do that, we still like to get together for a couple of weeks then we can split, take the ideas, really run them through our own brains individually, play them a lot on our instruments, add some flavour *laughs*, send them back to each other and we can refine things, we can also write individually and then send the parts to each other and get ideas going and build songs that way which is really, really cool to be able to have that sort of advantage as well as being able to get together and have things grow as a group if that makes sense. That would have to be the biggest difference is that we can write songs separately now and share them with each other and it doesn't matter if we're apart. Like you and I could make and album, we could start next week *laughs* and have it knocked out in no time, it's crazy…
Let's do it!
*laughs* Alright, why not, we've got the technology…
So what do you feel you've been able to achieve now that you wanted to 10 years ago?
Oh to be honest I set the bar low usually so I don't disappoint myself or anyone else, but seriously just joining the band in '02, getting signed to Epitaph and putting out a record and then having a few people buy it was my dream. Another thing I dreamt about when I was growing up and playing music was having people come along to shows and sing a long, and people still do that and I can't believe it, it still makes me very happy. It's not something I've ever taken for granted or really gotten used to, just the fact that I'm able to pay my bills and play music and see the world is just incredible, I really try not to like I said, take it for granted.
Random not really related but sort of is, question of the day… What's your all-time favourite movie soundtrack?
I really like 'There Will Be Blood' that Jonny Greenwood from Radiohead did, it's very terrifying and the string sounds that he was able to get was really incredible, that one sticks out for me as just a very impactful soundtrack. Let's see 'The Higher Learning' soundtrack was pretty great when I was a kid *laughs*, 'Judgement Night' blew my mind when I was a kid, I mean Slayer and Ice-T together?, come on… Helmet and House of Pain together? What? Those are a few that stick out for me.
Lastly, grab your crystal ball, let's predict the future, so finish this sentence for me, in 2016, Motion City Soundtrack will…
Be touring their butts off in support of 'Panic Stations' and living the dream, baby…
Catch Motion City Soundtrack on tour in Australia at the following dates:
FRIDAY AUGUST 28th – MANNING BAR, SYDNEY 18+
Tickets available at www.oztix.com.au | www.ticketek.com.au
SATURDAY AUGUST 29th – MAX WATT'S (THE HI FI), BRISBANE 18+
Tickets available at www.oztix.com.au | www.maxwatts.com.au
SUNDAY AUGUST 30th –170 RUSSELL, MELBOURNE – 18+
Tickets available www.170russell.com  | www.oztix.com.au
WEDNESDAY SEPTEMBER 2nd –THE GOV, ADELAIDE – 18+
Tickets available at www.oztix.com.au |www.moshtix.com.au
THURSDAY SEPTMEBER 3rd –THE ROSEMOUNT, PERTH 18+
Tickets available at www.oztix.com.au

PRESENTED BY TAPERJEAN TOURING, SELECT TOURING, METROPOLIS TOURING AND BOMBSHELLZINE
Essential Information
From: Minneapolis, MN, USA
Band members: Josh Cain, Jesse Johnson, Justin Pierre, Matt Taylor, Claudio Rivera
Website:  http://www.motioncitysoundtrack.com/
Forthcoming release: Panic Stations – (released September 18, 2015 – Epitaph) – Get it HERE