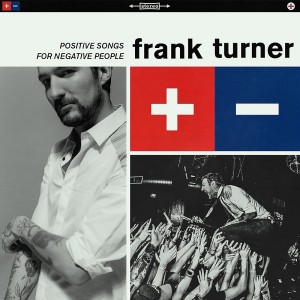 Straight off the bat I have to say how much I dig Frank Turner, there's just something about his music, his attitude and his all-round being that makes him what he is, that being an artist you should all listen to if you have no idea who he is, plus with my musical hero Butch Walker at the producer helm and creating a dream team up in my opinion, I'm already eager and ready to check out Frank's new effort, 'Positive songs for Negative People'
Opening with such a beautiful simple acoustic guitar and vocal performance, 'The Angel Islington' just became more than a light blue property in Monopoly, its delivery is perfection, but my biggest downfall here was turning the volume up to really hear it as its volume was low, little did I know that 'Get Better' which should now be renamed 'Get New Speakers' as the Frank Turner of old blows things up with this rowdy rocker and clicking in under three minutes it's short, sharp delivery is exactly what I wanted from this album and here it is. 'The Next Storm' keeps the positive vibe up and is so well structured and broken down that it will be the perfect live song to add to Frank's already amazing live show.
'The Opening Act of Spring' is a folk rocker at its best, in really listening to this one there are so many things going on and the balance is perfect. Ooh I like this one straight away!! 'Glorious You' rules not because I can hear a cowbell in it, but because it has a little bit of a different rockin' feel, and I love it. Catchy hook (as many if not all of Frank's tunes have) and the great lyrics you expect from a man who can write a bloody good song are what you get here. I'm not sure how it's possible but every song keeps getting better, 'Mittens' instantly hits a groove melodically and wow… This one just could be my favourite so far, 'I once wrote you love songs but never fell in love' I mean now that is a lyric! Oh shit how's the middle 8 here! OK, Turner, you just hit a home run on this one, I caught it and now have a bitchin' souvenir. Thanks!
'Out of Breath' sounds exactly as it reads, it's like Butch said 'OK Frank, what we're gonna do here is throw every instrument into a room, make them all be played at once and then make the tempo ridiculously high. OK?' And Frank said 'why not!' The end result is a frantic rocker that could've just been a mess but the genius of Butch Walker makes every instrument clear as day and as I said the aptly titled 'Out of Breath' just works. 'Demons' continues the album and another lyrical pearler takes a clever outlook on the title like 'You won't get everything you wanted, but you will never be defeated'… 'Josephine' has Butch's stamp all over it and that's cool with me, I'm not sure why but when I saw the song title I envisioned a ballad ha ha couldn't have been more wrong, as this up tempo rocker hits a killer progression and groove, plus my weakness for gang 'Whoa oh's' is once again satisfied.
With only a few songs to go, 'Love Forty Down' has my foot tapping along and enjoying this one immensely, it's 2:30 of Frank belting out a song with the passion he exudes for his craft. 'Silent Keys' is a very interestingly phrased track throughout the verses but as odd as it sounds up first it works. This is also the 'epic' on the album clocking in a 4:40… Watch out Don McLean!! I kid, I kid because Frank Turner could and would easily beat the shit out of me. Closing the album is 'Song For Josh' and going out the way we came in with just vocal and guitar is a stroke of genius, this song is somewhat heartbreaking though *sad face* and obviously very sentimental and a song that means a lot to Frank.
In closing, sometimes, all you need is a bit of Frank Turner to beat the shit out of you, slap some sense into you and turn whatever frown you may have upside down, and only then is all OK with the world… This is by far his best work yet in my opinion, and now that may not count for anything but man, I dug the shit out of this album!
Essential Information
From: Winchester, England
Release date: 7 August 2015
Produced By: Butch Walker
Record label: Universal Music Australia
Website:  http://www.frank-turner.com
Track Listing:
The Angel Islington
Get Better
The Next Storm
The Opening Act of Spring
Glorious You
Mittens
Out of Breath
Demons
Josephine
Love Forty Down
Silent Key
Song For Josh