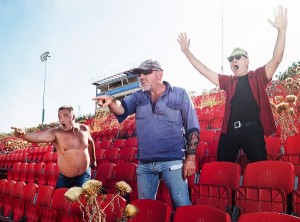 They're heading back out on the road, and before doing so, Ross from Cosmic Psychos sat down and gave MTRBWY a list of his most underrated bands for us to share with you all. So check out his list here and make sure you head out and catch the Psychos at one of their shows. All the dates and details you need are below…
Cosmic Psychos' Most Underrated Bands
Written by Ross Knight
1. I'd love The Cows to reform. I don't know if you've ever heard of the Cows. They're a fantastic band in America. We toured America with them several times and they're just a unique bunch of blokes that had a sound all to their own. I wish they'd get back together.
Cows – 'Hitting The Wall'

2. The Fluid that was around in the heady days of the Seattle scene and the grunge scene when it was all happening in the early '90s / late '80s there was a band called The Fluid, who I thought should have been one of the biggest bands in the world. They were just amazing. I don't know if they're still playing or not.
The Fluid – 'She Don't Understand'

3. I've always been a great one for the Hard-Ons. A great Australian band that just never, never got what they deserved. I really think they were at the forefront of that power pop stuff – they're a bit heavier now – but they were at the forefront of that power pop scene before anyone had done it. You look at a lot of international bands that made squillions of dollars out of it, well maybe the Hard-Ons should have got that recognition that they never quite got.
Hard-Ons – 'Where Did She Come From'

4. The Meanies. They once again could have been anything if just the timing was different. A lot of bands – they've been doing their thing for so long.
The Meanies – 'Gangrenous'

5. Tumbleweed. Again – they had some great stuff. They just re-released that album after 20 years – Galactaphonic. That was just a classic record and they never got their dues too or what they deserved.
Tumbleweed – 'Hang Around'

"There's more to me than beer and pubs", implores Ross Knight on the Psychos track 'Bum For Grubs' , "So take me home, I'll check your bum for grubs". Cosmic Psychos are nothing if not eloquent wordsmiths.
The infuriating thing about this three-piece is that even if their grotty sensibilities aren't to your taste, those riffs can bore their way into your head like some gnarly heavy duty farming plough.
It's a reality recognised throughout reviews for the Psychos' new album Cum The Raw Prawn, which delighted in the band's awesome form and confirmed that they're "as cheeky, angry and depraved as ever" (Stack Magazine).
This week, the three-piece unload their new video while announcing their return to the road for a second lap of honour. The new video has large Blundstones to fill following the success of the previous effort; a gory Wolf Creek pisstake starring some serious Australian acting talent.
Luckily the band enlisted their documentary ( Blokes You Can Trust) team Matt Weston (director) and Lluis Fuzzhound (animator) to lend their insightful imaginations to the cause.
Cosmic Psychos' album 'Cum The Raw Prawn' is out now.
The Bum For Grubs tour commences on August 28.
Friday 28th August – The General, Mount Hotham
Free entry
Friday 4th September– Uni Bar , Wollongong
www.yoursandowls.com.au  & www.oztix.com.au
Saturday 5th September– Newtown Social Club, Sydney
www.newtownsocialclub.com
Sunday 6th September– The Great Northern Hotel , Byron Bay
www.moshtix.com.au
Tuesday 8th September– Crowbar, Brisbane
www.oztix.com.au
Friday 11th September-Barwon Club , Geelong
www.oztix.com.au
Saturday 12th September – Karova Lounge , Ballarat
www.oztix.com.au
Sunday 13th September– Golden Vine. Bendigo
www.oztix.com.au
Friday 18th September–  170 Russell, Melbourne
www.170russell.com
Saturday 19th September– Westernport Hotel , San Remo
www.oztix.com
Social media:
www.facebook.com/cosmicpsychos