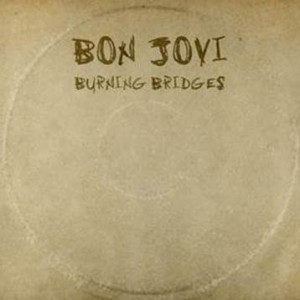 BURNING BRIDGES PRE-ORDER IS LIVE NOW WITH FIRST TWO INSTANT GRAT TRACKS: "WE DON'T RUN" AND "SATURDAY NIGHT GAVE ME SUNDAY MORNING"
New Jersey rock icons and Grammy award winning band Bon Jovi will release a special album for their fans, BurningBridges, August 21st via Mercury Records, in conjunction with the band's international tour kicking off in September.  Pre-orders for the release launched HERE  with two instant grat tracks going up at that time: "We Don't Run" and "Saturday Night Gave Me Sunday Morning."  On August 7th , another two instant grat tracks will go up: "A Tear Drop to the Sea" and "Blind Love", followed by August 14th with "I'm Your Man."
The track listing for the special "fan piece" is as follows: 1. A Teardrop to the Sea * 2. We Don't Run * 3. Saturday Night Gave Me Sunday Morning * 4. We All Fall Down * 5. Blind Love * 6. Who Would You Die For * 7. Fingerprints * 8. Life Is Beautiful * 9. I'm Your Man * 10. Burning Bridges
This will be Bon Jovi's first album since What About Now (2013, featuring the worldwide Top 40 hit, "Because We Can"). What About Now was the band's third consecutive multi-million seller to enter Soundscan at #1 (following Lost Highway in 2007, and The Circle in 2009), and their fifth overall release to reach #1 on theBillboard 200 chart.
Over an illustrious career spanning more than three decades since their formation in 1983, Bon Jovi has earned their place among global rock royalty.  Selling more than 135 million albums worldwide to date, an extensive catalogue of hit songs, and more than 2,900 concerts performed in over 50 countries for more than 37 million fans.  Bon Jovi took home the Top Tour Award at the 2014 Billboard Awards, which acknowledges the top grossing tour and the Eventful Fans' Choice Award.  Bon Jovi is the consummate rock and roll band!
Bon Jovi 'Greatest Hits' from 2010 is over 7x platinum in Australia and boasts 82 weeks in the ARIA Top 50.
Bon Jovi have also enjoyed nine ARIA #1 albums, including the top spot for the last studio album, the gold-selling 'What About Now', from 2013
Bon Jovi Burning Bridges PRE-ORDER HERE