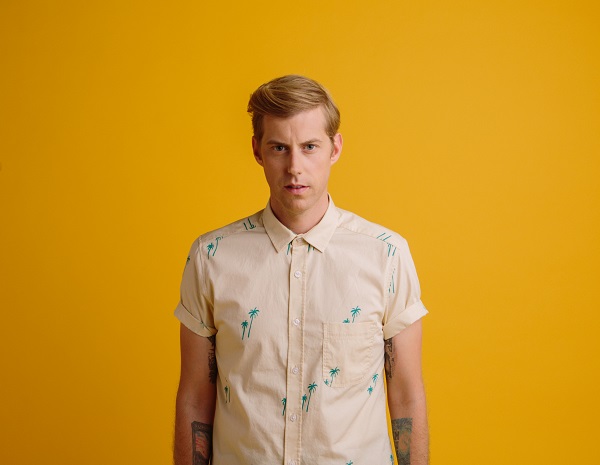 "I met a bunch of people along the way that really excited me and inspired me in a new way towards creating and I think about after a year or so of kind of time away from making music for myself, I jumped in and started writing songs and gearing up to start the Wilderness project."
ANDREW MCMAHON needs no introduction fronting the seminal rock band SOMETHING CORPORATE and JACK'S MANNEQUIN, his introspective lyrics and dazzling voice has amassed a reverent and dedicated fan base across the world. Fast-forward to 2013, ANDREW MCMAHON metaphorically reset, ditching the moniker JACK'S MANNEQUIN and creating music as ANDREW MCMAHON IN THE WILDERNESS marking the start of a new musical chapter.
At his house in San Clemente we gave Andrew McMahon a call ahead of his Australian tour in promotion of his newest release 'Andrew McMahon in the Wilderness' and chatted about the shows, the album, inspiration and Tommy Lee… check it out!
Thanks for your time today, Andrew, now you've come to Australia a number of times with various projects, have you seen your fans here come along for the ride or have you noticed a change with each project?
You know it's really interesting, Australia's been a market where time and time again I've just been shocked and I can't make it back more than every couple of years or so and even seeing the reaction to the shows we have coming up has been really exciting, it's definitely one of my favourite places to visit in the world so I like the fact that we have some fans out there *laughs* to support us for these trips. I feel like every time I go over to Australia I just have an incredible time but I just think there's something about it that I find super inspiring.
I saw you way, way back when with Something Corporate I think maybe in 2003? What do you remember from those early tours?
Oh wow…  Gosh… I remember the crowds were so passionate out there and it's funny, you get out on the other side of the world and it's like you're turning your whole world upside down, you get out there and truthfully it's kind of like a dream when you're that jet lagged and you jump in and start to play these shows and I feel like every trip that we've had there's been something major. It's funny, the Something Corporate tour that we did out there I guess it was The Offspring tour, was kind of when we sort of went on hiatus and I switched over and decided to do Jack's Mannequin. It's like every time I go over some big, life changing awesome thing happen when I start thinking about my world in new ways, not to get too abstract on you or anything *laughs.
Now you're headed back, what can we expect this time around, how do you shape a set these days?
There's two things to think about, obviously we're promoting new music so it's exciting for me to expose new audiences to the songs on the Wilderness record for sure, but then the other side of it is obviously finding that balance from songs from my catalogue and both Jacks Mannequin and Something Corporate and trying to make the show sort of almost like a story where you're getting these new songs played against this background of nostalgia, out of these other areas of my career. So yeah, from tour to tour if there is a song or two from either the older catalogue that I haven't dug into, we'll start bringing back old songs and I try and just juggle from tour to tour that we're keeping it fresh and that fans keep coming back to get a taste of both the new and old music.
There are a few artists that have progressed and had different projects, such as Butch Walker, Chris Carraba, William Beckett and so on, but how has it been for you in making the changes, how do you take on a new name or idea and create the music around it?
You know I tend to let it happen musically, the two major shifts from Something Corporate to Jack's and then Jack's into the Wilderness project, most of the time the changes were led by some moment in my life where it felt like the way to get to the best music and to stay inspired was to close one chapter and open a new one, and certainly every time you open a new door you kind of find there's a lot of things that are inspiring because you're kind of hanging yourself out there and you have to find new ways to express yourself and new sounds and new things that keep you interested and excited. So usually it starts by closing the door on something and then diving in to an experiment of writing and new sound and once the music starts coming together that's usually when I say 'Ok it's going to be this project and I'm gonna call it this or I'm gonna approach it like this and this will be the band' and that's kind of how it evolves.
The in the Wilderness album has been out for a while now but I wanted to ask about the process of making this record, did you set out with the intention of wanting to do something different or did it as you said just come naturally with the songs?
It's interesting, I knew right around the time we were finishing the last Jack's Mannequin album that it was going to be the final instalment of that story, and I wasn't really sure what was gonna come next, I moved out of Los Angeles where I made the last two Jack's records and I knew I kind of wanted to go back to the beach where I had spent most of my early days growing up and sort of get back into that mindset. There was still some things unresolved just from those years in the six or seven years following my cancer diagnosis and recovery and I think more than anything I dug into that first before I really even thought about the music, and slowly projects started showing up, I was being asked to go in and write with other artists or other songwriters and then I started doing some work for television, writing for TV and I met a bunch of people along the way that really excited me and inspired me in a new way towards creating and I think about after a year or so of kind of time away from making music for myself, I jumped in and started writing songs and gearing up to start the Wilderness project.
Has this new solo work lit a fire under you, and can we expect a lot more coming from you as a solo artist?
Yeah absolutely, it's interesting because in a lot of ways Jack's Mannequin was my solo project and I think getting to the point when I was ready to pack that up that the next logical thing was to put my name on it and certainly when you get behind your own name or a moniker or something to that effect, yeah, it makes you feel in some ways accountable and in that sense I'm constantly writing and constantly creating and trying to find new sounds and explore different approaches to writing and to creating songs and yeah, it certainly has lit a fire.
Now you're heading out here with a band and I have seen you solo and with a band behind you and you give the same energy at both, but what's it like for you performing with a band rather than solo?
Well I think the dynamic changes, when I'm up there alone it really becomes I think about telling stories and building a rapport with the audience, it keeps them engaged and there's a certain type of entertainer you have to be when you're alone on a stage versus when you have a band. The benefit for the band for me and for the audience I think is that you have this huge arc that you can play in to, you can really push things just from a dynamic standpoint and just grow your sound, and grow your show to where there's these huge peaks and then you can bring it back down to just a piano and do something that is a little more moving or a little more sentimental or quiet. I think for me when we started talking about doing the run out there and doing an International run and knowing it had been a long time since I'd been to Australia with this whole band, I didn't want to do it alone, I wanted people to see the new music come to life and hear sort of the way it was sonically intended, and so for me that's the thing I'm most excited about just because it's been a while since I've taken a band overseas.
You mentioned before working with other artists, so I do have to ask, what was it like working with Tommy Lee? 
Oh man… one of the highlights of my career for sure was working with Tommy, both writing for his record and having him come in and collaborate in the studio for mine, it's a crazy thing with a character like Tommy as obviously he's pretty regularly in the press and you hear lots of stories and clearly he's a larger than life character even before you get in a room with him. To me I think the thing that struck me the most about Tommy was just his commitment to music, period, he is such a lover of music and when you get in the studio with him the energy is through the roof, and he's like a kid he gets so excited when you're on the path to a good song and it made working with him such a pleasure because it really was an inspiring space to be in when you're creating in a room with him.
Lastly with 2015 now over half way done, let's predict the remainder of it. So finish this sentence for me, by the end of 2015 Andrew McMahon will…
*laughs* Oh my gosh you're talking to a guy that tries not to look at the future in any respect whatsoever… Andrew McMahon will be tired from a really, really intense set of tour dates and promotion for this album but hopefully will be holding a big hit record in his hand *laughs* and will probably be on vacation somewhere hiding for a couple of weeks to gear up to make a new record.
Catch Andrew McMahon in the Wilderness at the following dates
FRIDAY AUGUST 21st –MAX WATT'S (THE HI FI) , BRISBANE 18+
Tickets available at www.oztix.com.au | www.maxwatts.com.au
SATURDAY AUGUST 22nd – THE FACTORY THEATRE, SYDNEY LIC/AA
Tickets available at www.oztix.com.au | www.factorytheatre.com.au | www.ticketek.com.au
SUNDAY AUGUST 23rd–170 RUSSELL, MELBOURNE – 18+
Tickets available www.170russell.com  |  www.oztix.com.au
TUESDAY AUGUST 25th–FOWLERS LIVE, ADELAIDE – LIC/AA
Tickets available at www.oztix.com.au | www.moshtix.com.au
WEDNESDAY AUGUST 26th –AMPLIFIER BAR, PERTH 18+
Tickets available at www.oztix.com.au
PRESENTED BY TAPERJEAN TOURING, SELECT TOURING, METROPOLIS TOURING
TICKETS AVAILABLE www.metropolistouring.com | www.taperjeanmusic.com
Essential Information
From: USA
Band members: Andrew McMahon
Website:  http://andrewmcmahon.com
Latest release: Andrew McMahon in the Wilderness – (out now-  Vanguard/Caroline Australia) – Get it HERE