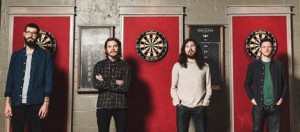 The Devil Wears Prada's first official release since 2013, the conceptual Space EP, will be in-stores on August 21 (Rise Records), and is available to pre-order now.
The Space EP is comprised of six songs and is a wholly-collaborative effort, with all band members – Mike Hranica (vocals), Jeremy DePoyster (rhythm guitar, clean vocals), Andy Trick (bass), Daniel Williams (drums), and touring musicians Jonathan Gering (keyboards), and Kyle Sipress (lead guitar) – contributing.  The end result is a collection of thematic songs that each explores a different point of view of space and those things that exist outside of the Earth's province – the sun, the moon, aliens, asteroids, and the interstellar space explorer.
While The Devil Wears Prada has performed the track Supernova in concert over the past several months, the band is premiering the final studio version of the song via this "listening video." 
The very metal Space EP features some of the most sophisticated lyrics, arrangements, and musicianship The Devil Wears Prada has produced, depicting the emptiness, loneliness and vastness of space.  Planet A, tells the story of an interplanetary ship's commander;Alien is straightforward and brutal, leaving no hope for the survival of mankind.  Fear, arrogance and a near-incantation of what's really important in life are at the center of Asteroids.
"We learned a lot from the Zombie EP," said Hranica of the band's critically-acclaimed 2010 hit. "We wanted each song on the Space EP to have a specificity about it, to have its own identity separate from the others, to have its own sound, but still have them all united in concept.  We talked about a lot of different themes, but Space just felt right."
Like Zombies, "space opera" doesn't run too close to the personal interests of Hranica.  "Making this EP was a great experience because it allowed me to open up my imagination and creativity, not to be hindered by having too much knowledge of the subject and become overly analytical, being able to write a more fictional narrative.  We really look forward to making more records like this." 
About The Devil Wears Prada:
The Devil Wears Prada is the musical embodiment of a generational shift. Built on a diverse array of heavy, dark, melodic and genre-defying music; hardened and sharpened by putting in road work together since the days when they had to skip class to tour: The Devil Wears Prada is at the forefront of a movement that bridges the gap between Rockstar Mayhem and the Vans Warped Tour.
FOLLOW THE DEVIL WEARS PRADA
OFFICIAL WEBSITE | FACEBOOK | TWITTER