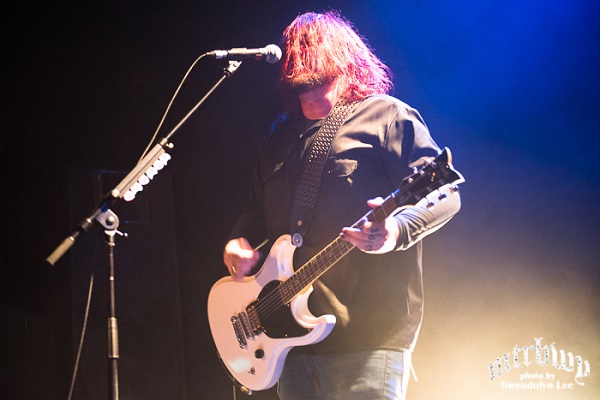 It's been two and a half years since Seether have graced our shores and tonight they're back in a big way, with a new album out they're ready to Isolate and Medicate Sydney tonight and everyone is ready.
I made it in to catch the last few tracks from Glass Ocean, now they were good but maybe in a different setting, but I'll definitely check them out again. Whereas Red Bee who I've seen before tonight truly put on a set worthy of their spot, their very 80's inspired almost thrash type metal comes across perfectly tonight as it feels like a mix of Anthrax meets Metallica meets Faith No More, and I'm fucking impressed. In all honesty I wasn't sold when I'd seen them before but seeing how they've grown and what they're now doing is amazing, almost a completely different band and I'm ok with that. This is chunky, tight and watching the crowd they all agree with me. Well played Red Bee, well played.
As the band take the stage and Shaun tears into the riff of 'My Disaster' the dimly lit band, now a four piece for touring sound absolutely huge and the balance vocally instantly is noticeable and going to be of great benefit tonight I feel. If this opener is anything to go by, we're in for a big night. Then all it took was the opening riff of 'Gasoline' and the place erupted which was cool to see, as they scream vocals back to the stage, I stand here thinking that this could be one hell of a show and I'm stoked to be a part of it. 'Needles' is up and sounds chunky and the crowd interaction in this mid song tells me we're set, and if we're in this early then I fear for us during the remainder of the set. Bring it on I say.
With some very cool loop pedal action in between songs, the band changes instruments to 'Rise Above This' which is a more middle of the road Seether track and one of my faves that's for sure and also of many here as the applause trumps any so far. Now 'Nobody Praying For Me' rocks out, and then we go back, way back to 'Fine Again' and to say that the 'Disclaimer' album hit a lot of people here due to the success of 'Broken' but when a song like this gets the reaction it did, it's kinda cool to be a part of. Speaking of 'Broken' here it is!!! Before it even starts let me say how good a song this is, and I'll defend it until my dying days, as will the 1,000 other people here singing every word to this song right now. This song of course truly launched Seether into the known musical universe and thankfully so, and when you talk ballads, Amy Lee version or not, this one stands out and to hear it this early in the set is special.
A perfectly timed drum solo takes its place in the set as the band returns to the stage to melt some faces with the opener of their newest album 'Isolate and Medicate' with 'See You At The Bottom' and watching how this was received was great in terms of Seether's new material in that it fits in with their catalogue and watching them deliver the heaviest song of the night, and it being new is a great thing to witness. Sticking with the new album, 'Words As Weapons' and the way it fit into the set was flawless again, testament to the new material and the ongoing catalogue of Seether. Then as the country drawl of funnily enough 'Country Song' begins they are loving it here, then as the loop pedal continues, their clever use of it between songs is something I haven't seen before and I welcome it. Now as Shaun plays over his loops he stands on the stage solo to 'Gift' which lets Shaun's voice power through
'Tonight' is my favourite Seether song and no word of a lie was second only to 'Broken' in the set in terms of reaction so far, that song is made for the live show and it killed it here tonight, 'Same Damn Life' went off as did 'Fake it' which you'd expect this late into the set, hang on a sec… "Oh oh oh you're such a fucking hypocrite' just had to join in… As a pit opens on the floor and the band plays it out, they thank us yet waste no time launching into 'Remedy' and truly the only way the band could close out tonight.  The pit was bouncing and the fans were happy, which is exactly what you want from a live show, and tonight Seether played one hell of a rock show.
Essential Information
Venue: The Metro Theatre – Sydney
Presented by: Metropolis Touring
Supports: Glass Ocean & Red Bee
Date: July 3, 2015
Website: http://www.seether.com
Photo by: Gwendolyn Lee  – Check out our full gallery HERE
Check out our recent interview with Shaun Morgan of Seether HERE 
Set List:
My Disaster
Gasoline
Needles
Rise Above This
Nobody Praying For Me
Fine again
Broken
Drum solo
See You At The Bottom
Words As Weapons
Country Song
Gift
Tonight
Same Damn Life
Fake it
Remedy