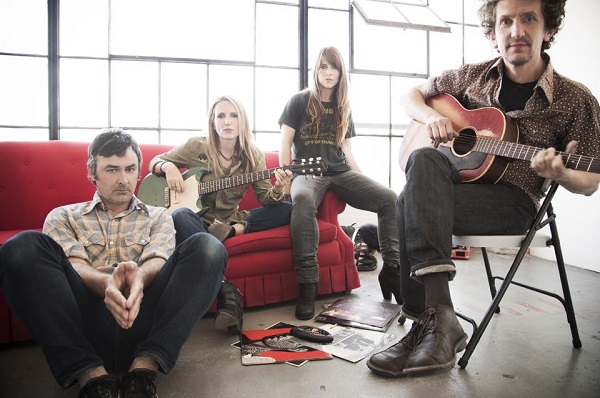 "…the album really tells our story from breaking up to getting back together and beyond, and I look at each song like  a page ripped out of an old notebook, we've really looked at our past and studied it, and tried to get to the essence of what broke us up and why we couldn't stay together as a band…"
From release: Veruca Salt's original members Nina Gordon (guitar/vocals), Louise Post (guitar/vocals), Steve Lack (bass), Jim Shapiro (drums) will release their first full-length album of new material written and recorded together since 1996.  The album, entitled Ghost Notes, was recorded in Los Angeles, and produced by Brad Wood, who helmed production for the band's seminal, platinum-selling debut, American Thighs. Ghost Notes is an amalgamation of everything that made Veruca Salt into a household name from the beginning and then some.  All the hallmarks of the well-loved Veruca Salt sound are there:  careening guitars, crashing drums, savory bass lines, and the unmistakable, incredible vocal interplay of the band's two fearless leaders – Nina Gordon and Louise Post.
We once again caught up with the delightful Louise Post of Veruca Salt to talk about the band's new album 'Ghost Notes' and its creation, working with the original crew, touring and their status as role models…
It's great to talk to you again, Louise, and to start off, what was it like getting back into the studio with the original guys to make a whole album?
It was nothing short of stupendous and sublime *laughs* we had such a good time being back together and we've had such a good time making this record, and writing this record, it's all been incredibly meaningful, it's sort of what you would imagine, four people who formed a family and made music together there's nothing like it. We were as close as a band could be and then we imploded, we all went our separate ways and there was a lot of bad feelings and acrimony and none of us ever thought we would get back together, so this has been a very surprise happy ending for us and the beginning of a new chapter that none of us expected and none of us ever anticipated.
Did you find that after getting back together and touring for the time you did last year helped to recreate the dynamic within the band?
Yeah the dynamic didn't change much at all from the first go around, we're still very much the same people and musically speaking the magic is still there and the air is still charged with us creatively and we found out that we had a lot more to say and do together, and we're in the midst of it right now. We didn't know that but we aren't finished and we weren't finished, so then beyond that what we were reminded of is that the most important thing to each of us is just making each other laugh in the band, so we spend most of our time just trying to make each other laugh. *laughs*
So, tell us 'Ghost Notes' what does the title represent to you?
Well, the album really tells our story from breaking up to getting back together and beyond, and I look at each song like  a page ripped out of an old notebook, we've really looked at our past and studied it, and tried to get to the essence of what broke us up and why we couldn't stay together as a band and we've looked back and look at it from all angles and tried to figure out what it was and work through the regret that we have for not staying together and not gotten over our shit sooner, and also just honouring what got us to the place we're in now and how all the stars had to align for us to get back together. This is an incredibly important moment in our lives individually and in our lives as a band, and so like I said, 'Ghost Notes' is representative of our past and each song is like a page ripped out of the notebook of our past.
So was there a concept or idea you had in mind for this album or was it as you just described?
It wasn't the intention, it wasn't a concept album until it just became naturally that and it turned in to our story really, which we hope has universal themes that everyone can relate to in their own way, but it carries deep personal meaning for us in that it really tells our story of our band and specifically more than anything my relationship with Nina which is really sort of a love story of sorts.
In terms of writing the tunes, how did you tackle it this time around?
This record is more of a collaboration than anything we've ever done, we definitely worked and some of the songs were worked from the ground up like 'Empty Bottle', like 'The Gospel According to Saint Me' those were songs that were pure collaboration, and in many of them Nina or I would write a verse and then throw it to the other person for the chorus, or for the bridge. The song 'Eyes On You' I was totally stuck, I couldn't figure out a bridge, and she came up with this perfect, beautiful bridge, just took it home and brought it back the next day with this glorious bridge that finished the song, then I was stuck on the lyrics for that song and she came out with this particular lyric that just finished the song and we were able to do that with each other. On the song 'Come Clean, Dark Thing' she texted me and said "I've got this song with the title 'Come Clean, Dark Thing' and I've got a great verse and melody, but you've got to write the chorus" and I was like "OK, I got it" and I came over and wrote the chorus and that's just how this album happened. The guys were really creative as well, they had a lot more to do with stricture than they had in the past and conceptually they had more input, Nina and I were in town for the whole making of the record, and Jim and Steve don't live in LA so they had to commute to be in the band, but when we were all together it was a highly charged, intense creative process. When we were apart Nina and I were feverously working in the studio to make the record.
What was it like working with Brad Wood again?
It was fantastic, I can't imagine a better producer for us and for this record, there was so much of us coming full circle on this record with various relationships, like with Brad Wood, with Minty Fresh releasing our first single last year, working with Tim Rutilli who is from the band Califone and Red Red Meat who directed our 'Seether' video, he directed 'Laughing In The Sugar Bowl', and we even worked with our photographer from our first Geffen shoot, the one when we first put out 'American Thighs'. We worked with a lot of the same people, it's been fantastic, and Brad has only gotten better and became sort of a fifth member of the band in the studio, we couldn't have had a better producer for 'Ghost Notes' he was perfect.
It's been almost twenty years since you guys all recorded together, was it almost like a school reunion in some way?
You know we of course had sort of had a period that was like a reunion, getting together again, catching up on people's lives and then we just got down to work, all of us are very active and passionate artists and no one seems to have missed a beat, in fact everyone seems to have gotten better, so it was a joy making this record with him, it was inspiring and he was a powerful creative force in the room with us, and on the album itself. He did not sleep on the job for a second, he was fully present and active and passionate on this album, and we were in such safe hands and creative hands with him I couldn't be happier with how it turned out.
You had an amazing run of shows here in Australia last year, when can we expect to see you back?
I'm hoping we'll be back in the beginning of 2016, there are whisperings to that effect right now, although nothing is set in stone yet.
Great news, you guys were on fire last year…
Thank you, we had an incredible time returning to Australia last year, and we couldn't be more excited to come back and we hope that it's really soon.
A dear friend of mine who is now thirty five sites you as a huge influence in her growing up wanted me to ask you if you realize the impact you've had on females of younger age when you were at your height in a time when there were no other real female role models at that time?
Well that is the ultimate flattery, I can't imagine anything nicer to hear, and we did experience that on our Australian tour last spring and we have experienced it here as well, it's hard to even process what kind of impact we might have had on girls in their teenage years when we first came out, but we know what it was like when the bands we loved impacted us when we were teenagers, so we have an idea. There were a lot of female lead bands at the time, so the fact that we made a lasting imprint on anyone's life is more profound than I could ever imagine when I first started playing music, and it's an incredible gift to have been able to do that. I hope that we have encountered women to whom we meant a great deal as teenagers and the only way we understand that is by thinking about the female fronted bands and female musicians that impacted us when we were growing up and opened the doors for us and I hope that the same women find the same amount of meaning in 'Ghost Notes'. It was fantastic to see all those girls in the front row, it meant a lot to us and we can't wait to come back and play some more shows and connect with our fans again.
Lastly, let's once again try and look ahead and predict the future… so finish this sentence for me, by the end of 2015, Veruca Salt will…
Huh… *pauses* be back on the map in a big way.
Essential Information
From: Chicago, IL, USA
Band members: Nina Gordon (guitar/vocals), Louise Post (guitar/vocals), Steve Lack (bass), Jim Shapiro (drums)
Website: http://www.verucasalt.com
Latest Release: Ghost Notes (July 10 – Warner Music Australia / El Camino)