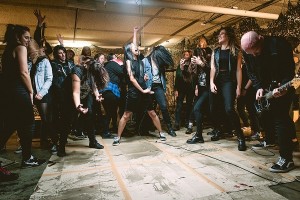 To celebrate the release of HIGH TENSION'S ripper 2nd album Bully out this Friday, they've decided to share their powerful tough as nails video called Bully. The video features a female fight club with powerful, emotionally charged women.
Check out the video for Bully HERE.
Karina Utomo, the front woman of High Tension, says this about the video:
?"T?he underlying theme of the song and the video is about conquering fear relating to the feminine struggle; it references themes around social aggression and negative connotations (that are unfortunately) part of this struggle."
"The intention is to execute a powerful video with only women, the create a sense of empowerment without being blatantly literal / typical, this video is not about riding the 'feminism' wave, it's much, much deeper than that."

"Traditionally the hardcore/metal scene is very much a 'boys club' without meaning to be, on the contrary I have always felt welcome & safe at hardcore/metal shows;
my personal struggle in attempting to be in a heavy band was about conquering my own personal fears: physiological (physical strength and ability) and to be honest, I was afraid that as a female, I would not be taken seriously."

"I feel as though that I am not alone in feeling this way; during the King Parrot tour we have seen more women come to these shows, and more young women who are keen as shit to play in hardcore bands, asking for advice on "how long does it take to learn to sing like that etc"…. very positive, we are seeing a shift…"
"The goal of the video is about conquering that fear, conquering 'bullies', including our own personal bully. We want to show that women are strong, powerful and tough as shit despite any physiological and psychological limitations."
Bully is the follow up to 2012's Death Beat, which landed them nominations for Best Hard Rock Album at both the ARIA and AIR awards. Bully, the perfect soundtrack to flying down the highway, tinnies in the back and no room for fucks to give. Recorded in Adelaide with James Balderston, guest spots include Matt Young from King Parrot and grunge heroine Adalita.
Here are what the critics have to say about the album:
"A militaristic march, a diseased pulse in the neck, a lurking menace, Utomo's vocals a low slur." – The Music (Album Of The Week 4/5 stars)
"High Tension find the ideal mix of songcraft and head trauma-causing brutality" – Rolling Stone Magazine 4/5 stars
"Bully sits perfectly between the definitions of its as a noun and an adjective: using strength to intimidate and a very good; excellent." – Blunt Magazine (4/5 stars)
"Bully really gets exciting when High Tension build heaviness with mood and dynamics, rather than just roar blasts." – Hysteria Mag
"One of Australia's finest live acts are building an impressive catalogue to showcase. A must buy!"  – Wall Of Sound (4.5/5 stars)
"If things get better with age then hell awaits, because this album is a monster." Wickedd Childd (9.5/10 stars)
PRESENTED BY THE MUSIC
TOUR DATES:
SATURDAY 11 JULY – HOWLER, MELBOURNE
Tickets $15 + bf available from www.moshtix.com.au
Doors 8pm
With I Exist, Outright & YLVA
FRIDAY 17 JULY  – CROWBAR, BRISBANE
Tickets $15 + bf from www.oztix.com.au
Doors 8pm
With Lizzard Wizzard, 100% & Pissed On
SATURDAY 18 JULY – NEWTOWN SOCIAL CLUB, SYDNEY
Tickets $15 +bf available from www.newtownsocialclub.com or 1300 724 867
Doors 8pm
With Mere Women, Narrow Lands & MSV BCP
PRE-ORDER BULLY FROM HIGH TENSION WEBSITE| ITUNES | JB HI-FI
WEBSITE| FACEBOOK| TWITTER| INSTAGRAM | COOKING VINYL AUSTRALIA
Comments
comments