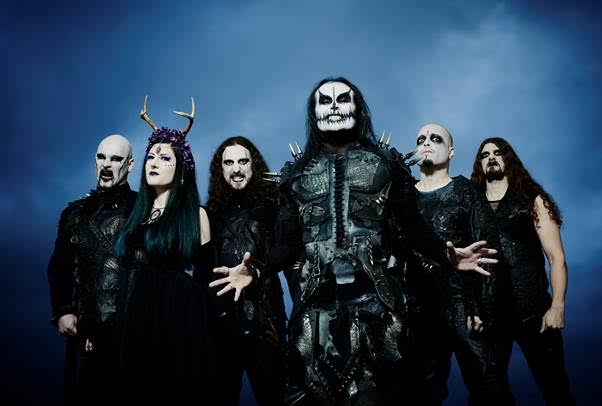 "Our interpretation of that was obviously the opposite, putting the hammer in the witches hands so they have the power, it's about retribution, revolution, revenge I guess… because we're not particularly a Christian band so we can entertain that notion."
From Release: Unquestionably one of the greatest and most influential British metal bands of all time, CRADLE OF FILTH have cast a commanding and macabre shadow across the metal scene for nearly a quarter of a century. Armed with their trademark, cross-pollinated assault, that taps into myriad strands of sonic extremity and morbid opulence, they have steadily conquered the entire world, unleashing a malevolent slew of classic albums along the way. The Cradle ethos and aesthetic has had a huge impact on the evolution of metal, the band's insatiable appetite for performing live and frontman Dani Filth's unerring charisma and sense of occasion ensuring that they have established a powerful and enduring connection with Hell-bound acolytes everywhere.
In a very hot England, while in his office with classical music blaring in the background we chatted to Dani Filth about the band's new album 'Hammer Of The Witches' and its creation, touring, his thoughts on music today and of course that infamous T-shirt…
The new album is called 'Hammer Of The Witches' can you tell us about the title and what it represents to you and for the band?
When we were writing an album I usually get three or four songs delivered or finished in order to judge where it's going, one or two don't really cut it, and there's always that initial panic period of 'what the hell am I going to write this record about?'. When it gets to three or four you start to get a feel for it and being into the occult and witchcraft and demonology for a long time and having an extensive library on it, it just popped into my head really that the songs were suggesting something along those lines. So I saw on my shelf a couple of copies of 'Malles Maleficarum' which was the medieval guidebook / handbook / legal document for the rooting out and subsequent punishment of witch cults and witchcraft, it was a really misogynistic, evil book that sent hundreds of thousands of people to their untimely deaths in the name of religion, and the translation of 'Malles Maleficarum' is literally 'Hammer Of The Witches' implying that the power is in the judges gavel, it's a hammer to root out and crush the witch craze. Our interpretation of that was obviously the opposite, putting the hammer in the witches hands so they have the power, it's about retribution, revolution, revenge I guess… because we're not particularly a Christian band so we can entertain that notion. So it's really sort of playing for the underdogs, the album is very hilt in the medieval, it's not a conceptual record but the artwork and the titles and everything would lend you to believe that because it's quite immersive, quite cinematic, the artist Arthur Berzinsh who's a Latin contemporary artist did a fantastic job of illustrating the lyricism and making this great general walkthrough the booklet, so yeah there you go in a nutshell as I ramble on for half an hour…
What was the process like putting this album together with the new line up compared to previous releases?
Well it was great, compared to the previous releases it was everybody contributing, whereas the previous couple of releases it was more about one or two people doing the bulk of the work, this time we had to get two new guitarists out of necessity because we were playing a co-headline tour with Behemoth across Europe at the beginning of last year 2014, and having known that one of my guitarists couldn't do it for personal reasons we were struck with a double whammy with our other guitarist James who had been undergoing quite considerable neck problems through an injury had to have major surgery, so we had to find out of necessity two guitarists obviously joining the band for an extensive, prolific tour at the same time, being fans of the band as well and knowing a lot about it, we just gelled really well. That tour became a springboard for the album, so that helped a lot the fact that everybody contributed and the fact that we had two people starting out on their career with Cradle at the same time, it just really helped, it was a good sense of occasion the fact that suddenly we had a full working line-up with lots of prolific ideas, perhaps too many, we had to drop three songs immediately, great songs as well, hoping to release those at the same time but we were working under the premise of its quality not quantity, didn't want to spread ourselves too thinly either.
Did you go into this record with an idea of how you thought it was going to play out before you got in there or did you work from a title and go from there?
Basically having worked on it considerably from its inception until we got out of there was a year almost, we were on and off in the studio for eleven hour days, didn't work the weekends, and because the band are spread across the known universe, the rest of the band would fly in, we had a holiday home out in the sticks and those things of isolation are good as well, it just means we can keep our noses to the grindstone and indeed the studio's name is Grindstone Studios, kind of apt… so it was a lot of work, actually a lot of it was done on the road as well, we did a bunch of shows on the summer festivals last year and then we went to Russia for nineteen dates which was a bit of an eye opener, then I went out with my other band Devilment, and when I got back we literally were in the studio, so a lot of work was done while we were busy doing other things which is cool as well because obviously we can go through new material in hotels and sound checks and what have you.
It's now almost twenty five years that Cradle of Filth has been with us, what is it that you enjoy about being part of this band?
Not being reminded that we're old *laughs* we're still there and still very much into what we do, obviously line-up changes have kept things fresh obviously but they come out of necessity, it's about mutating and surviving, we could've given up a few times due to line-up changes but we have to knuckle down and say this is what I want to do, the band and the fans want continuation so why the hell should we? It's great, we're basically free to do what we want and I know there's obviously premises and boundaries that we've kind of backed ourselves into as a band lyric wise and image wise and that, but we're pretty much free to do what we want and that's a good feeling.
Obviously now with the Nuclear Blast worldwide release must be a great thing for you guys too…
Yeah I don't know why they didn't do that before, the first release that's worldwide on the same say I thought that would be obvious, but yeah they've treated us very well, my other band Devilment actually signed to Nuclear Blast before Cradle did but it's nice to have everything in the same place. Nuclear Blast have been after the band for ages, like initially I was flown over to Germany to entertain a contract back in 1996… and subsequently went to Music For Nations back then because they were more local, they were based in London rather than Germany and a lot of the bands on the label like Paradise Lost and My Dying Bride, Cradle were friends with and it just made for the obvious choice. Now that we've found a home at Nuclear Blast we're very happy and the people there are cool and they do a great job with the band and their roster is pretty good, I mean they've got some shit bands obviously but they've got a multitude of great bands and it's cool because when they release the album it gets out before anybody else, that's got to say something.
Touring wise, I have to ask, when can we expect to see you in Australia again?
Well I've been just talking actually to my booking agent who came in about some other shows, at the present we just had our European tour announcement that's mid-October to pretty much the end of November, then there's talk of us going to South America, then American tour mid-January until March and that's pretty much where we've gotten to on the digital horizon there, but he was then talking about Australia and also putting in New Zealand because that's something the band has wanted to tick off their bucket list for quite some time, so we've got high expectations about coming. He was hinting that we'd be looking around April / May time which would be great because that's your autumn, we came there last time and the weather was really clement. We're from England and we just melt as soon as there's any hot weather.
Isn't it ridiculously hot there at the moment?
It is ridiculously hot and I'm in my office and of course it's mainly black and I'm just melting, literally melting…
Now you mentioned New Zealand, is there something you haven't done or somewhere else you haven't been that you still need to tick off the list?
Yeah there's loads of places, I managed to tick off Iceland, we didn't play there but my friend Bam Margera got married there so he flew me and my wife and a friend out to be at the wedding, that was a year and a half ago. Every time we go to play Turkey something happens, last time was all those riots and the government, we were supposed to be playing with Slayer, us Stratovarius and a few other bands and that, and huge, like 40,000 and the government obviously saw that as a large social gathering and cancelled it, but I think that was our fourth attempt to get to Turkey, every time we try something happens, so I think we'll make that eventually.
I wanted to ask as it seems to come up in the news every now and then, the infamous most offensive T-shirt… how do you feel being able to lay claim to such an honour?
*laughs* Just a string to my bow I guess, it's always going to haunt us and I'll never get away from that but I'm not like Christopher Lee who forever sharped the idea of being labelled as the best Dracula, I could live with that, best Dracula and I can live with the shirt as well, I mean initially it was come up with as a bit of joke, a bit of a sort of an anarchic statement rather than a satanic one really, it could've been anyone, it just seemed apt and I'll explain that when I get to the pearly gates that you should be so lucky that we mentioned you *laughs* but obviously the thing with New Zealand recently someone highlighting the shirt by trying to cover it up which is totally ironic, but yeah obviously it's going to be something that haunts us forever, but why not? I'm particularly proud of it. It's not every day you can say you've got the most offensive T-Shirt in the world…
What are your thoughts on where the death metal / black metal / metal scene is now?
Well it's good, it's thriving, this year we've got some great records coming out, you've got Maiden, you've got Ghost, you've got Slayer, us, Lamb of God, Lindemann the Rammstein front man just brought a good album out, it's very prolific. Music in general is suffering somewhat and you could probably just put that down to the digital age, and I can put that in context, for example, here in England if I were to have a bootleg copy of something like Jurassic World that has just come out, if I was giving them to people or selling them to people, I could go to jail for that, but, if I had a bootleg copy of something like the Slayer album for example and sending that out to people I'd probably just get a wrap on the knuckles and told to stop doing that, and that's the problem with music nowadays, there's no government legislation protecting it. Obviously the film industry there's so much money that goes into each and every individual film that they've got to try and protect their assets, but with music it seems to be fair game and that's what killing music, people not buying CD's and downloading them for free. A) It loses the magic, B) people are just getting flippant about 'oh I don't want to pay for it so I'll just move on to the next' and when you pay for something and you've earned it you spend a bit more time on it, when I was young and I only had a certain amount of income and I bought an album and it was shit, I'd sit there and listen to it over and over again to make sure I liked it or at least try to like it and some albums warrant repeat listens to get into it because some of them are very multi layered, it was like that when I heard 'Operation Mindcrime' by Queensryche and that's an absolute classic. Anyway my point is that if musicians don't get paid for what they do then it's going to filter down through everything, those bands are going to find it hard to support themselves, like some of my friends from very well-known bands started taking on second jobs, and their album's going back a year and it's like this domino effect, and you notice it, it's affecting radio stations, magazines, gig outlets, everybody…
For a band like you guys where the imagery is so sort of important and goes with the album, do you find that your fans tend to buy your stuff a lot more?
Well metal can be a double edged sword, people can be very loyal then on the same respect you get a lot of bickering like 'this band's shit, that band's shit'  and if you ever read Blabbermouth which I don't for that exact reason that's exactly what I mean. People are very loyal, they like buying into a lifestyle and being part of a thing, the visual aspect is important to us, not quite as much as the music obviously but we'd like to explore every facet of our art and that's kind of the fun part, once you've done all the hard grasping on the album is to get out there and represent it through video, I'm a massive horror movie buff so the film is a massive bonus for us and working with really high end artists and doing photo shoots and just generally mucking around like bands do. That's kind of your reward for a year of writing…
Lastly, let's predict the future, so finish this sentence for me, by the end of 2015, Cradle of Filth will?
Be near dead by possibly too much touring, hopefully celebrating a very well received album and definitely tired because it looks like we're coming straight off the bat of a European tour, going straight to South America and that is always completely knackering, fun but knackering.
Well you're still doing it so that's got to be good…
No, don't get me wrong, not in the slightest, I'm absolutely loving it and having been in the studio up until like probably the back end of April because I actually snuck back in and made some adjustments after we played a festival in the Philippines and the album was supposed to be delivered by then… so, yeah, having been sort of cocooned in the studio until then and coming out as this horrible big, fat spotty moth thing and facing the word again is starting to get exciting again, you know, you kind of forget what it's like because when you get to the back end of a touring cycle you're exhausted and praying for some time off, then you write… swings and roundabouts, really, emerging…
Essential Information
From: United Kingdom
Band members: Dani Filth – Vocals – Martin Skaroupka – Drums – Daniel Firth – Bass – Richard Shaw – Guitar Soul – Ashok – Guitar Soul – Lindsay Schoolcraft – Keys and Female vocals.
Website: http://www.cradleoffilth.com
Latest release: Hammer Of The Witches (Out Now – Nuclear Blast)