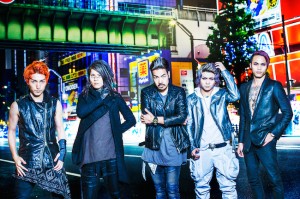 UNFD are extremely proud to announce their newest signing to the label, Japan's 
Crossfaith
 for Australia, New Zealand, Europe and the United Kingdom. The band will release their UNFD debut
Xeno 
on September 18. Pre-orders are available now at 
24Hundred
.
Crossfaith are no strangers to Australian shores, having played Soundwave Festival in 2013 and 2015, as well as a massive tour with Bring Me The Horizon and Of Mice and Men in 2013.
UNFD A&R Luke Logemann says of the signing "UNFD has been wanting to work with Crossfaith ever since we first heard them in 2011. This band is incredible and bring so much energy and creativity to the genre. We're also amped to work with our good friends at Raw Power Management on this release."
Xeno has a story of hope, failure, love, betrayal and death woven into its fabric so skilfully it's impossible to tell where truth ends and fiction begins. It's both an escape from and an examination of reality that reveals more truths the further it delves.
Produced by Josh Wilbur (Avenged Sevenfold, Lamb Of God, Hatebreed) and mastered by Ted Jensen,Xeno takes the groundwork laid by 2013's Apocolyze and 2012's Zion EP as well as the band's vast touring history and catapults them into a whole new league. Xeno is an artistic endeavour like few others, with roots in manga, anime and the furthest reaches of its creators' minds. Frontman Kenta 'Ken' Koie, guitarist Kazuki Takemura, bassist Hiroki 'Hiro' Ikegawa, keyboardist Terufumi 'Teru' Tamano and drummer Tatsuya Amano are, quite simply, operating on a different level.
Click the image below to listen to 'Xeno' which was premiered on BBC Radio 1 Rock Show this week.
---
Crossfaith – Xeno is out September 18 via UNFD.
1. System X
2. Xeno
3. Raise Your Voice
4. Devil's Party
5. Ghost In The Mirror (feat. Caleb Shomo)
6. Dystopia
7. Wildfire (feat. Benji Webbe)
8. Tears Fall
9. Paint It Black
10. Vanguard
11. Calm The Storm
12. Astral Heaven