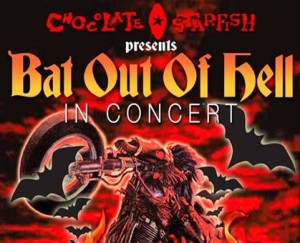 After a massive Halloween show last year paying homage to the Bat Out OfHell album, iconic Aussie band Chocolate Starfish are hitting the road with the same show for a special run of tour dates. The enigmatic rockers were inundated by requests for a repeat performance of their Meat Loaf inspired show so added a small run of four dates throughout Tasmania, Victoria and New South Wales.
For many a band, tackling such an iconic piece of work would be a daunting prospect to say the least, but the larger than life band – with enigmatic frontman Adam Thompson – are one of the few who are easily up for the challenge. Chocolate Starfish have an envious back catalogue and the reputation for a rockin' live show and their special Bat Out Of Hell show is already going down in Australian music history. What started as a one off special event for Halloween 2014 has evolved into a full tour, thanks to the rave reviews of last year's gig.
The Bat Out Of Hell show is a perfect extension Adam Thompson's already reputed theatrical talent. Adam says the show will be an extension of 20 years of Chocolate Starfish antics and theatrics, rolled into an album that was 'ready-made' for the band's style of performance. In fact, the band will perform the album in it's entirely. "The Bat Out Of Hell album is a huge challenge which we are looking forward to presenting to the audience. It will still have the Chocolate Starfish 'live' interpretation that we bring to all our live shows, so be prepared for familiarity coupled with dangerous interpretations."
As a kid growing up in the country, Bat Out Of Hell was an album that Adam cut his teeth on. When he suggested taking it on as a show, the whole band embraced it, as it turns out the album meant something to each of them. "Chocolate Starfish's first album was a variety of styles and moods, always delivered with bombastic energy and that is something that resonated with us when we considered doing Bat Out Of Hell," says Adam. "From the theatrical Paradise By The Dashboard Light – with a full make-out scene – to the energy charged Bat Out Of Hell, to the beautiful ballads of Heaven Can Wait, we really relate to the variety that an album like this can provide as a live experience."
On a personal level, lyrically the songs resonate with Adam's personality. "I was only commenting to the band the other day how amazing Jim Steinman was to write these words at such a young age," he says. "Particularly a song like Paradise, where he puts himself in the shoes of an older person coping with being married to someone he wasn't in love with, all for the sake of a romp in the backseat of the car. Musically it is loud, full on with massive arrangements that require you to be on your game."
Chocolate Starfish are widely reputed as one of the best live bands on the scene. Their energetic shows are all about the music and they don't apologise for rockin' hard. The band arrived smack bang in the middle of the grunge scene of the 1990s and refused to fit the mould. They had their own sound and their own direction; and this individualistic attitude earned them respect far and wide, something they've kept alive across the past two decades. Throughout their career, Chocolate Starfish had six top 40 singles and two top 10 albums on the Australian charts, gold and platinum record sales and an ARIA for 'Most Popular Album'. They left an indelible print on the Aussie music scene and ingrained themselves in local music history with their singlesFour Letter Word, Mountain and You're So Vain to name a few.
Don't miss this unforgettable night of classic music as one of Australia's most iconic bands pay homage to a legendary album. Chocolate Starfish are bringing Bat Out Of Hell to a town near you. Tickets are on sale now.
Friday 31st July 2015
Wrest Point Showroom, HOBART TAS
www.tixtas.com.au
Saturday 1st August 2015
Country Club Showroom, LAUNCESTON TAS
www.tixtas.com.au
Friday 7th August 2015
Palms at Crown, MELBOURNE VIC
www.ticketmaster.com.au
Saturday 8th August 2015
SSA Club, ALBURY NSW
www.ssaclub.com.au
For more information please visit www.chocolatestarfish.com.au