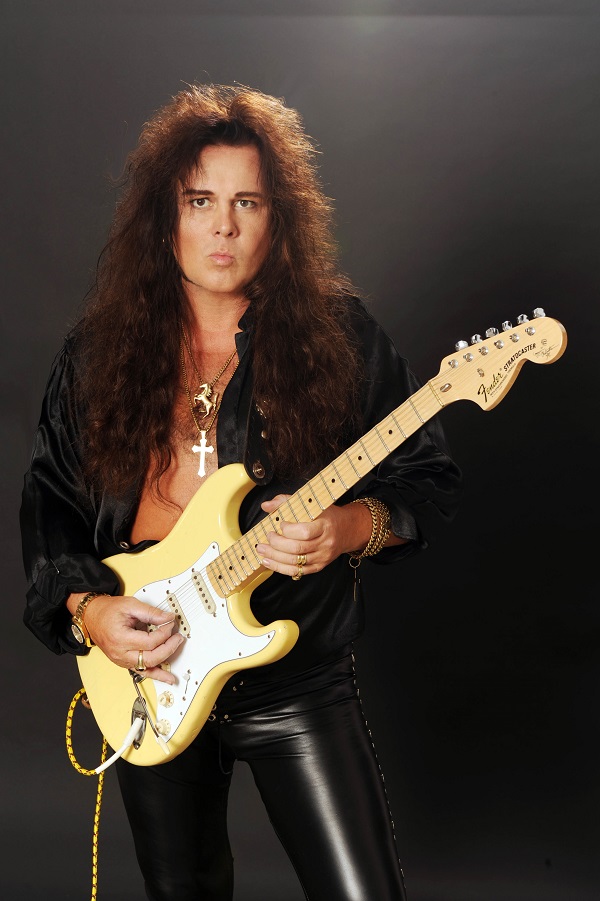 "There's a saying, there's only two man-made objects that can be seen from outer space, The Great Wall of China and the Malmsteen Marshall stacks *laughs*."
From release: Yngwie J. Malmsteen has been blowing minds across the globe with his incredible guitar skills and showmanship for over 35 years and in June 2015, Yngwie and his band will be returning to Australia and New Zealand for the first time in a decade to strike awe into the legions of guitar fans. The Swedish born, but now US based, guitar legend is venerated as one of the founders of the art of guitar shredding. His neo-classical style and the sheer speed of his playing made him the most notable musician in the genre, and he has influenced a new era of music and guitarists alike.
Yngwie gave us a call from his studio to discuss his upcoming Australian tour, new music, old music and much more…
It's been just under ten years since you've been to Australia for a tour but have been back since with a masterclass, what are some of your best memories of your times here?
I have nothing but fond memories, every time I've been there the people have been super nice, the food is great, the weather is great, everything is great and I always have the best time *laughs*, so I'm looking forward to coming back.
After so long between tours, with numerous albums out in that time, do you have an idea of how you'll put together the set lists for these Australian shows?
No *laughs* the way I do things is that if I go on tour, we do thirty dates or whatever, I never do the same set list, ever, and right before we go on stage I call the guys into my room and say 'here's the set list' and I go on stage and I play something else, so even when I have a set list I don't follow it, you know what I mean? A perfect example is the two live pieces I just put out from Orlando and Tampa because it was recorded one day apart or whatever, and were different shows, that's just the way I like to do things.
Well one of your biggest here and my personal favourite of yours is 'Heaven Tonight' you still give that one a run, yeah?
Sometimes…
Sometimes?! Any chance you can play it in Sydney for us please?
Yep… *laughs*
So, with the 'Live in Tampa' album out now, this was your first live release since 2002, why was now the right time to record and release this?
I didn't have a specific reason, I just felt like doing it, you know?
Looking at some live videos, your stage set up is amazing, it looked like about 35 Marshall cabinets and about 18 heads, what do you travel with in terms of your show for a tour like Australia?
I have Marshall who provides me Marshall's in Australia, but when I tour America I bring my own stuff and I use 43 heads and 26 cabinets. There's a saying, there's only two man-made objects that can be seen from outer space, The Great Wall of China and the Malmsteen Marshall stacks *laughs*.
So what do you bring with you, when you have to bring the expensive guitars, how do you keep them roadworthy, what do you do when you have to bring them down?
I just bring my Malmsteen models and they just go under the plane like baggage. They're fine.
It's been just over a couple of years since 'Spellbound' are you currently working on anything new for a studio album?
I'm in the studio as we speak, I'm actually calling from the studio. I'm really far into it, in the past you'd do an album then go on a big tour and then go back and do an album, nowadays I tour and record, I tour, I record, I tour, I record and it's not like a cycle like it used to be. In fact, before I come to see you guys I'm going to do some South American dates and some European dates, so I'm in the recording studio, then I go to do some gigs, then I go back to the recording studio in a way it's actually better because it keeps us really on top instead of like the past where you spend six months in the studio and then on the road for a year and so forth. So I like it this way, but I've been on and off recording for a few months and I'm really happy with it, it's hard to describe it, it's very Malmsteen-esque, it's Malmsteen for sure.
After playing for so long with no signs of slowing down, how do you keep things fresh and interesting in terms of creating music?
Well… this is the same reason I don't do the set list the same, because if I would just do written stuff, everything I do is improvised, everything… solos, intros, whatever, and when I write it's the same thing, the stuff comes out like that. That's how it becomes never old, because even when you have pieces of music that you recorded years ago, when you go on stage you don't play it the same way, I mean I don't play it the same. So that to me is what makes it fresh, because if it wasn't, it's much more challenging, it's a bigger challenge for me and that's what keeps me going, because if it was just pre-figured out there wouldn't be a challenge.
This may sound like a silly question, but do you still have to practise or is it all natural for you now?
I don't think I ever practice perse, I just pick up the guitar and play a lot, and I still play quite a lot.
I have to say that I always found your guitars harder to play with the scalloped frets, I just couldn't get it right…
Well it's something once you get used to it there's no going back, my son in seventeen now and he's been playing guitar for three years, he can and I can play a neck that's not scalloped but once you get to the scalloped frets, it is great especially for bending and stuff like that.
When you look back to Rising Force, an album now over thirty years old, what do you remember about making that debut solo album?
I was a band called Alcatrazz and I was offered a deal to go solo and we started and toured and were in japan and in America were out with Ted Nugent and everybody, and we had a couple of days off and I fly in do a couple of solos and I tried to put that record away while I was still with them. Then everything came to a head and we had a big fight and I left and finished it, and it was done more like the way I make records now, on and off, not just in one shot and it was quite casual because it was like I'm just going to throw something together. No one excluding me expected it to become what it is now, sort of like a blueprint almost, no one, I just jammed and did it, I'm careless, it was very casual.
Do you have a message for up and coming guitarists?
Guitarists and other musicians, it doesn't matter what you play, one thing to say is there's no short cut, so only blood, sweat and tears, man. Especially nowadays they're so used to this computer stuff, you push a button and there's what you want. This is a piece of wood with steel strings on it and it doesn't give you anything, it's all you, and you have to work real hard to get something out of it and once you get into it and learn how to express yourself with it there's nothing like it, so it's well worth the effort. I want you to go out and buy my book 'Relentless' because it's about how against all odds you can actually make it. I wrote a book called 'Relentless'.
Lastly let's predict the future, so finish this sentence for me, by the end of 2015, Yngwie Malmsteen will…
Be playing the guitar, driving Ferrari's and having a good time…
And just being awesome by the sounds of it…
*laughs* Yeah, and that *laughs*
Yngwie J. Malmsteen Australia & New Zealand Tour Dates:
Thursday June 4th – Powerstation, Auckland NZ
Saturday June 6th – The Astor, Perth
Wednesday June 10th – 170 Russell, Melbourne
Thursday June 11th – The Tivoli, Brisbane
Friday June 12th – HQ, Adelaide
Saturday June 13th – The Factory, Sydney
Essential Information
From: Sweden / USA
Band members: Yngwie Malmsteen
Website: www.yngwiemalmsteen.com
Latest release: Live in Tampa