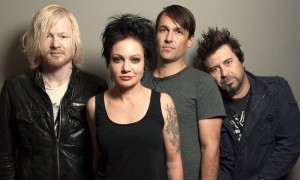 Fronted by one of Australia's most charismatic front-women of our time and currently on tour and performing to sold out crowds across the country as part of the She Who Rocks tour with the Baby Animals, THE SUPERJESUS are the latest rock act to sign a record deal with Social Family Records, with their new single, 'The Setting Sun', due to drop via digital outlets on 19 June and released to radio on 9 June.
With a number of multi platinum albums already to their name, including "Sumo", "Jetage" and "Rock Music", along with hit singles, 'Gravity', 'Secret Agent Man', 'Down Again', and more, ARIA award-winning, THE SUPERJESUS, are back in the studio recording their much-awaited upcoming EP, due for release later in the year.
"The band's amped to be back in the game with new material, it's been a long time coming. The Social Family Records crew are sharp and creative and we are all very excited to see what possibilities unfold from here on." – THE SUPERJESUS (Sarah McLeod, Stuart Rudd, Tim Henwood and Paul Berryman)
With Sarah McLeod's vocals hotter than ever, THE SUPERJESUS return as a rock entity to be reckoned with as they release their new single, 'The Setting Sun' – set to sizzle the airwaves.
NEW SINGLE 'THE SETTING SUN' RELEASED TO RADIO 9 JUNE
AND AVAILABLE DIGITALLY 19 JUNE
THE SUPERJESUS joins the ever-growing roster of artists at Social Family Records, which includes Suze DeMarchi, Baby Animals, Steve Balbi, Dallas Frasca, Reece Mastin, Amber Lawrence, Troy Kemp, Jason Owen, Christine Anu, and David Campbell.
Follow The Superjesus
Facebook | Website