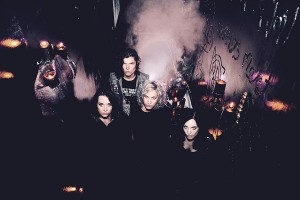 Right off the back of their highly successful, 'Dead Inside' tour, The Art continue the momentum with the 'She Who Rocks' Tour with the Baby Animals and Superjesus in New South Wales. 
"We are super excited to play with the Baby Animals and Superjesus!! " – The Art
Then it's back to join the lineup at the 'God Save The Queen' Festival at the Lansdowne on Sunday the 7th of June. They will be joined by the Snowdroppers, The Rumjacks, Born Lion, The Stiffy's and a rocking lineup for the long weekend event.
Back on the road after a year's hiatus The Art's new single Dead Inside has been enormously well received by their adoring fans and left them only hanging for more.
"Sydney's The Art's new single is at first a solid example of new indie rock – a decent melody. '90's indie riffs, pop, punk attitude – that politely suggest radio play would be a good idea. Investing a few more listens, and the melodies begin to beguile, the him and her vocals of guitarist Azaria Byne and bassist Kara Jayne dance enticingly and the investment pays off – Killer Track!!" – Shane Pinnegar – 100% Rock
Dead Inside was produced by Stevie Knight, recorded at Electric Sun Studios, Sydney Australia. Mixed and Mastered by Dave Petrovic and they are joined by special guest, Gene Clark on Piano. The video clip directed by Oliver Heath just tops off a 'killer track' with a 'killer video': 
"A dark beauty revolves around the band's fusion of punk and classic rock sensibilities and it's one that come through the lyrics brilliantly." – the au review
THE ART are founding members, KJ and Azaria and they have recruited the hard hitting drummer Jordan McDonald and melodic dynamic guitarist Natalie Connolly.
Stylistically, THE ART are difficult to pigeonhole. A darkly perfumed oddity, eclectic in emotional elements and delivered with blistering rock and roll impact. The sonic diversity of 'The Art's' sound has earned them fans across genres, the common tie binding all elements at play being an intense sincerity. A tight wound tapestry of verosity, nobody at an 'Art' show leaves shortchanged, and more often than not, nobody at an 'Art' show leaves unaffected.
The Art are proud to announce they are currently supported and sponsored by Pistonhead Lager Australia. Great Brew, great times, awesome people & rock 'n' roll attitudes. Kustom built in Sweden. We built it, you tilt it! #pistonheadlagerau
https://www.facebook.com/followTHEART
Tickets:
http://www.moshtix.com.au/v2/event/god-save-the-queen/77446
http://www.moshtix.com.au/v2/event/she-who-rocks-tour-baby-animals-the-superjesus-special-guests/75030