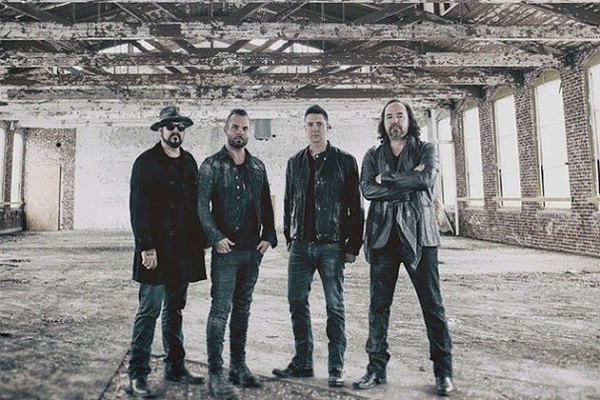 "So it felt god to get back to that because it had been a long time. We took our time writing and recording it, we knew we weren't in a hurry but we just wanted to make sure if this were going to be our return record you get one chance, and we're very pleased with what we produced."
From Bio: Live's catalogue is filled with songs like those. Among those seminal tunes are mega hits such as "Lightning Crashes", "I Alone", "All Over You", and "Lakini's Juice"—which remained pillars of the nineties both musically and culturally. That's just a fact. Live's influence never dwindled in either the fan's lives or the founding band mates. 2012 saw them reborn. Chad Taylor, Chad Gracey, and Patrick Dahlheimer approached long-time friend Chris Shinn [Unified Theory] about potentially joining the group. After one practice session, the musicians had tapped into the same magic that characterized their early days. The creative process had been galvanized and rebooted, and Live re-entered the studio with Shinn behind the mic.
Patrick from Live called in for a chat about the band's return to not only Australia with Def Leppard, but the band's return in general with new front man in Chris Shinn, as well as much more…
It's been a while since you've been to Australia and this will be your first time with the new guy, Chris Shinn, what's it like for you heading back to a territory with a new front man?
It's almost invigorating, it's kind of like in the early days when nobody really knew Live, there was like this improve attitude when we went on stage, I almost feel that way again… there's this new factor in the band and there's some doubters, and there are some believers, so I think there's a feeling of when we get on stage it's like 'hold on, you guys watch this because you're gonna lose your minds' it's like a show improve thing for us, it's exciting, it hasn't been this fresh for us in probably fifteen years or so, there's a lighter air amongst the band to write and record the new record that we put out, 'The Turn' was painless. It had been years since the four of us were able to actually sit down in a room and actually start and finish a song as four people, so a lot of stuff has happened and it's all good stuff and I think we're in a great position now as a band. Tour dates, we have our health, we can't complain.
You're heading over with Def Leppard which is kinda cool, have you ever toured with those guys before?
Never, we did some shows maybe four or five years ago we did a few festivals together here in the States, but never done any sort of touring together.
It's a pretty cool pairing, how did it come about?
A random phone call from their agent to our agent, and we weren't particularly looking to do any dates at the end of the year, but I guess when you have Def Leppard call and ask the question 'Hey, you guys wanna go to Australia?' you should just say yes *laughs* so we were honoured, Def Leppard is a band that continues to be the band I think they are, they always seem to be a better band when I see them or hear new music, they've got legs they've been together forever and it still seems fresh, and it still seems like they're excited about it because that gets us off, because here we are in our forties let's say mid to late career for us, it's awesome to be able to look at a band like Def Leppard and say ok, they're doing it, we've got this too.
Set wise, how does a Live show shape up these days and what can we expect on this run?
For the fans that have been with us for a long time I think there's going to be a lot of old songs they haven't heard, we spent quite a few weeks working on older Live material, as well as some of the new stuff from the new record. I think the show that we're doing now with Chris in vocals is just a bit more of an edgy, there's a feeling of urgency and the need to just get the music out and like I said earlier, show improve. It's hard to explain, it's a good feeling, it's just a matter of wanting to play and the fact that it's enjoyable to play, a few years late in the last version of Live with Ed that were just… relationships were becoming strained and it was just almost work… so getting into a situation again with your friends and it's refreshing and uplifting, I can't describe it, it's a great place to be right now.
Now of course you have been to Australia a number of times, do you have a favourite memory of touring here previously?
I actually once remember, I think it was the last trip, I think I was in Perth and we had a day off and took a golf outing, and I turned the cart at the seventh tee box and there were these four kangaroos there hanging out on this golf course, and as a funny gut from the US to see a kangaroo on the golf course seemed a bit stereotypical for me, I thought someone had planted them or something… I was like 'did you put these here?' they're like 'oh no, they run around the course'. Yeah we have some great memories… Sugar Ray was down with us on one tour as an opening act, I can remember them happily, I think they were happy to be in Australia *laughs* I don't know how well they played, let's just say they had an awesome time and they were fun to be with.
One that stands out for me was when you were in Sydney and the New York fire fighters were there just after 9/11 had happened, that still sticks with me…
Yeah, that was a big deal, we had just released a record a week or two to three weeks prior to 9/11 and you know, to realize in the grand scheme of things and what was happening here at home, to put out a record and how the record was doing on the charts or anything just felt so trite and useless, we didn't quite know what to do as a band. So we did what we knew how to do and we toured, and someone here in the States picked up on the song 'Overcome' which became somewhat of an anthem, like a healing anthem to a lot of people here in The States. It was a difficult period all around, I don't know what to say about that…
I wanted to go back to that time during the hiatus when you made The Gracious Few album, was there a time when you thought Live were done and you'd continue on as The Gracious Few?
I didn't know if we were going to carry on as The Gracious Few, Chad, Chad and I knew that we wanted to continue to perform and play together, I think there's an inherent sound of the three of us as a rhythm section that is Live, I can't describe it or tell you what those elements are, but apparently the three of us have a signature sound. So The Gracious Few record was almost our tribute or reaching out as a tip to the hat to like AC/DC or just classic rock, we tried to make a modern classic rock record if that was possible. So when that was over, and the touring was finished, Chad, Chad and I really had to sit down and decide what we were going to do, then we thought we're not going to walk away from what is still in our hearts, and what is still in our hearts was Live. So we started to write some new material and realised we weren't going to get far without a singer, and we took a couple of days, I said everybody come back on Tuesday and lets everybody have a name or a couple of names, and lo and behold the three of us all had the same name that happened to be Chris Shinn *laughs* and we called Chris and he said 'Man I would love to fly down and we'll just play and see what happens, and I don't even remember what song, we ran through a Live song and we got through, we put the guitars down and said 'OK, that's it, you're the man' and from there we just moved forward into reconnecting. We'd known Chris from when we did a tour with one of his bands in the early 2000's and so it took a while to establish the relationship again, and fall into the normal routine or writing and determining how we were going to write and I would say as soon as we got in the rehearsal room for that first song and we completed it we knew that we would continue on with Live, it just felt right.
For those that may not be aware, you've released a new album called 'The Turn' with Chris and in the past with Ed being the primary song writer, but now with Chris taking the reins, how did the songs come together compared to your previous releases?
It was actually, it was a return to the early days for like 'Mental Jewelry' and 'Throwing Copper' where one of us would come in with 'look I've got these three chords which I think might be a verse, I don't have a melody, where do we go with it?' so it was a return to actually four guys in a room with three chords and let's see what we can turn this in to. With Ed, in the later few Live records just really been taking over that position as lead song writer we got further and further away from what was core to Live, and that was the writing style of just four people in a room and everyone relies on each other. So it felt god to get back to that because it had been a long time. We took our time writing and recording it, we knew we weren't in a hurry but we just wanted to make sure if this were going to be our return record you get one chance, and we're very pleased with what we produced.
What I loved about the album is that you had Jerry Harrison produce it with you, after working with him previously on The Gracious Few album, what did Jerry help bring to this new Live album that you felt the band needed?
We needed an anchor to be honest, I think we needed someone almost to remind us what Live was when we started the band. Jerry is like the fifth Beatle to us, we met him when we were children, we were like eighteen years old, we did our first record with him and we continued to work with him on and off through our career and when you know Jerry is on the project, there's a comfortable factor that sets in, I think everybody's nerves go 'phew, ok, Jerry's gonna be here so don't worry' *laughs* he's just kind of a master mood setter so to speak. Again, we can be in the studio with Jerry and the three of us have a language musically that we can speak and Jerry's been around so long that he as well has fallen into that almost non-verbal way of communicating when we're putting songs together, r recording them. Plus he's in the Rock and Roll Hall of Fame *laughs* I like to introduce him to people like 'Hi this is Jerry, he's the only one in the room in the Rock and Roll Hall of Fame, so if you have any questions, talk to him…'
Lastly, let's look ahead and predict the future, so finish this sentence for me, by the end of 2015, Live will…
We will have hmm… I've got to watch my words saying this… we will have torn open Australia *laughs* with this tour and wow I don't know, be happy and fat for Christmas time *laughs* I don't know… Hopefully Live will be at home for Christmas at the end of the year and be ready to start work on a new record in the new year.
Catch Live in Australia with Def Leppard at the following dates:
SYDNEY
Qantas Credit Union Arena – November 17
Def Leppard with special guests LIVE & Baby Animals
Tickets on sale Thursday June 11 from Ticketek
MELBOURNE
Rod Laver Arena – November 18
Def Leppard with special guests LIVE & Electric Mary
Tickets on sale Thursday June 11 from Ticketek
PERTH
Red Hill Amphitheatre – November 21
Def Leppard with special guests LIVE & Baby Animals
Tickets on sale Thursday June 11 from Red Hill Gigs
Essential Information
From: York, PA, USA
Band members:  Chris Shinn, Chad Taylor, Patrick Dahlheimer, Chad Gracey
Website: https://www.freaks4live.com
Latest release: The Turn – (Out Now)
Check out our greeting from Patrick on our YouTube channel HERE