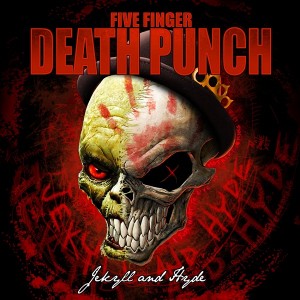 FIVE FINGER DEATH PUNCH have dropped their brand new song "Jekyll and Hyde" at radio and it made it's Australian premiere last night (Tues, June 16) on Triple J's The Racket.
It is the first single from their highly anticipated sixth full-length album "GOT YOUR SIX" which will be released on August 28th via Eleven Seven Music/Sony Music Australia.
The single premiered with an exclusive stream on Monster Energy's webpage here 
"GOT YOUR SIX" will be available in the following formats
Standard album, digital (11 tracks)
Deluxe album, digital (11 tracks + 3 bonus tracks)
Deluxe physical CD (11 tracks + 3 bonus tracks + redeemable code for an exclusive t-shirt)
Vinyl (11 tracks + 3 bonus tracks + digital download card for the deluxe version of the album)
Australian fans can pre-order the album now via iTunes
Deluxe Edition: http://apple.co/1LcYuRg  Standard Edition: http://apple.co/1Bj6rUC
Also via JB Hi Fi http://bit.ly/1BjCGmH & Sanity http://bit.ly/1ejxWDB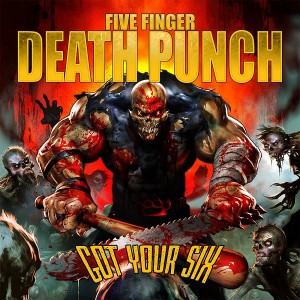 "If someone asked me to sum up who and what Five Finger Death Punch is, I would tell them everything they need to know is on this new record. Hands down, "Got Your Six" is our best one yet…  As for the first single, everybody is Jekyll and Hyde. There are multiple personalities to every human being, and no matter how civilized and sophisticated you think you are, if you dare to look at yourself very, very closely, you'll see…  somewhere deep down… there is a demon inside. Your circumstances may not have provoked it yet but trust me, it's there…"  says Ivan Moody vocalist of FIVE FINGER DEATH PUNCH about the lyrical theme of the song.
"The verses are actual unaltered voicemails from Ivan. We have an ever-growing collection of these 4:00am messages Ivan usually bombards us with, and Jason had this idea to copy them to a hard drive, then literally wrote the song around them… what you hear is the actual voicemail" reveals FIVE FINGER DEATH PUNCH guitarist Zoltan Bathory about the unusual process of making "Jekyll and Hyde".
FIVE FINGER DEATH PUNCH's 2013 albums, "THE WRONG SIDE OF HEAVEN AND THE RIGHTEOUS SIDE OF HELL, VOLUME 1" and "VOLUME 2" both debuted on the U.S. Billboard album chart at #2 within a four-month period in 2013, as well as in the top ten mainstream charts all around the world.
Volume 1 has since gone gold in the U.S. and Canada, and between them, the two albums feature three #1 radio hit singles – "Lift Me Up" feat. Rob Halford of Judas Priest, "Battle Born" and "Wrong Side Of Heaven", the video to which has over 30 million views to date, fast approaching the level of success of the band's three previous consecutive Gold certified albums: "THE WAY OF THE FIRST" (2007), "WAR IS THE ANSWER" (2009) and "AMERICAN CAPITALIST" (2011). The band has also exceeded cumulative single sales of 6.5 million to date.
The band is currently on tour in Europe as special guest to Judas Priest on their arena tour. 5fdp are also performing at all major European summer festivals this month and, this past Friday played to 90,000 screaming fans on the main stage at Download Festival in the U.K.
"Kick, scream, bitch, moan, fold your arms all you want. But this is happening.
Five Finger Death Punch are Metal's next superstars."
—Metal Hammer U.K. July 2015
FIVE FINGER DEATH PUNCH will be touring North American arenas this fall with Papa Roach and support from In This Moment and From Ashes to New.
In an innovative move, the band involved their fans by giving them the opportunity to request the tour come to their city via a "demand campaign'. An overwhelming 1.5 million fans made their voices heard and tracked the daily progress of the conversation via "heat map" online. Fans will get to see four of Rock's most exciting, relevant bands under one roof in one night for $40 – a nice price for a package sure to excite fans who voted to bring the tour to their town.
FIVE FINGER DEATH PUNCH is
Ivan Moody (vocals), Zoltan Bathory (guitar), Jeremy Spencer (drums)
Jason Hook (guitar) and Chris Kael (bass).
Track Listing "GOT YOUR SIX" 
DELUXE – 14 tracks
STANDARD – 11 tracks
Got Your Six

Jekyll And Hyde

Wash It All away

Ain't My Last Dance

My Nemesis

No Sudden Movement

Question Everything

Hell To Pay

Digging My Own Grave

Meet My Maker

Boots And Blood

Bonus tracks:

You're Not My Kind

This Is My War

I Apologize

Got Your Six

Jekyll And Hyde

Wash It All away

Ain't My Last Dance

My Nemesis

No Sudden Movement

Question Everything

Hell To Pay

Digging My Own Grave

Meet My Maker

Boots And Blood

 
www.fivefingerdeathpunch.com
 www.facebook.com/fivefingerdeathpunch
@FFDP