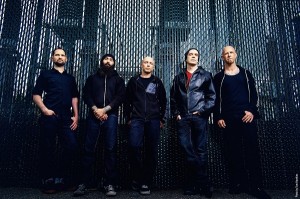 DEVIN TOWNSEND is one of the most prodigious and prolific contemporary talents in the metal world, along with being one of the most admired and celebrated.
For almost 20 years, DEVIN TOWNSEND has amazed, beguiled and occasionally baffled all comers in numerous incarnations spanning the extreme noise metal of Strapping Young Lad to the intricate melodies of Ocean Machine; Devin has had his hand in almost every genre of music, from industrial metal to progressive rock to ambient sounds.  All of these projects had one thing in common: GENIUS.
There are no more joyous experiences in modern metal than a DEVIN TOWNSEND concert, and on his upcoming October tour fans can expect a career defining set, featuring songs from across his expansive catalogue.
PERIPHERY has defied the boundaries of conventionality, bringing new life to the metal scene. Their meteoric rise to the upper echelon of the metal world will be in full display when they return to Australia supporting DEVIN TOWNSEND PROJECT.
The latest offering for PERIPHERY is the incredible, simultaneously released double album 'Juggernaut: Alpha and Omega'. "Alpha and Omega are full-fledged masterpieces: intricately deft, jazzy as all hell, passionate, moody, estrogen- and testosterone-infused beasts." – Metal Sucks
—————————————————————————————————————-
TICKETS ON SALE FRIDAY 19 JUNE, 9AM LOCAL.
THURSDAY 22 OCTOBER – BRISBANE, MAX WATTS – 18+
www.oztix.com.au / www.maxwatts.com.au / www.eventopia.co
SATURDAY 24 OCTOBER – SYDNEY, ROUNDHOUSE – Licensed All ages
www.ticketek.com.au
SUNDAY 25 OCTOBER – MELBOURNE, 170 RUSSELL – 18+
www.eventopia.co  / www.oztix.com.au / 170russell.com
Presented by Soundwave Touring