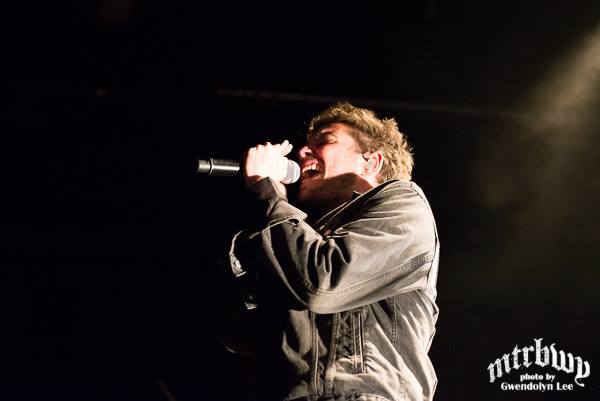 You Me At Six or maybe tonight it's You May The Sixth ha ha… man it's the small things that amuse me sometimes. So here we are again at The Metro, I've found myself a perch at the back of the venue to be able to see everything and everyone, and judging by the length of the line to get in tonight, this room is going to get quite full quite quickly and bring it on I say, there's nothing like a room full of fans loving a good live music show.
Luca Brasi get the job of opening tonight and with their blistering melodic style punk rock they delivered some catchy tunes with killer musicianship. This was my first time seeing these guys which is weird because I've known about them for so long, but tonight they didn't disappoint. I'd love to see these guys tear it up in a pub on a small stage as I think they would destroy!!
Now, this will be the third, actually maybe even fourth time I've seen YMAS and with each visit they've just gone from strength to strength. This is a band that commands a stage and give everything they have into their performance and back again this time still off the back of their latest album 'Cavalier Youth' it'll be great to see what the set looks like tonight.
A very dark, moody introduction to 'Room To Breathe' is happening right now as each member makes their way to the stage to join in… As it explodes into all its glory, the band still bathed in dim light deliver the perfect opener for the night. No sooner had the feedback resonated they take on 'Loverboy' as the floor starts moshing along and front man Josh leading the crowd in a chorus which is always amazing to witness this early on followed by the opening onslaught of 'Stay With Me' has them screaming and sees a sea of phones surface to capture this one. These short, sharp rock songs are exactly what YMAS are good at and these songs are perfectly written for the stage and delivered the way they were written but with such passion and gusto.
'Contagious' rocked it then followed by sirens leading into as Josh put it 'every action has a consequence' and of course 'Consequence' was huge, even with some guitar trouble the band played on like nothing was wrong and absolutely nailed it. With the promise of a whole lot of old stuff tonight and that statement met with rousing cheers means these here have been with this band for quite some time which is testament to a great band. 'No One Does It Better' somewhat slows the tempo down a little for the first of what I hope is many of the band's 'ballad' repertoire but that didn't last long as 'Underdog', one of the bands rockier tracks gets them all worked up as the band continue to be bathed in not much lighting at all, this is my only complaint so far, but of course lighting doesn't affect the music so we're good in that regard and they didn't miss a beat on that one at all. Heading back to 'Cavalier Youth' with 'Carpe Diem' and it's so interesting to hear the old compared to the new, this song sounds so mature in both musical and lyrical structure and I can't wait to see what the band is going to do next. It's time for a bit of a 'Dilemma' with its slinky groove but 'Reckless' hits that nail square on the head as noticeable by the way the crowd are enjoying this one down on the floor. These cats know how to write a song and this one hits that perfect formula that's for sure.
Ok, so I know what's next and I need to take this one in so I'll be back… Ok so 'Crash' just happened and that is simply an outstanding song not only recorded but when played live, they smashed it out of the park the reaction to this one being played was astounding, I'm glad they pulled this one out tonight. They keep the tempo down with 'Fireworks' in their 'slow song' section of the night and this as per the other tracks is perfectly suited for the stage and not hearing this one live before I absolutely love it. Man, you all should know by now that I'm a sucker for a big ballad so cut me some slack.
It's now time to 'Forgive and Forget' as they rock the set back up after expressing their love for Australia which seems pretty obvious tonight that the love swings both ways looking at the way the people here are into this show tonight. 'Bite My Tongue' was on fire but absolute respect to the band for stopping mid song as security helped a young girl out of the crowd, but once clear they did not miss a beat and finished the song with consummate professionalism. 'Fresh Start Fever' is another perfect choice as we head to the end of the set they've really thrown out the big guns! The crowd looks like it's gotten bigger on the floor which is killer and with only one to go, there's only one it can be and it's a good one.
Closing the set tonight is 'Lived a Lie' from Cavalier Youth and this was amazing, a YMAS song that has now become a fan favourite and I'll say it again, these guys can write a damn good song, they play them even better and if you haven't had a chance to or ever thought of seeing YMAS before, then I highly recommend you do as you won't be disappointed and I can guarantee you'll walk away as a fan.
Essential Information
Venue: The Metro Theatre – Sydney
Date: May 6, 2015
Presented by: Soundwave Touring
Website: http://www.youmeatsix.co.uk
Support band: Luca Brasi
Photo by: Gwendolyn Lee – check out our full gallery HERE
Set List:
Room To Breathe
Loverboy
Stay With Me
Contagious
Consequence
No One Does It Better
Underdog
Carpe Diem
Dilemma
Reckless
Crash
Fireworks
Forgive and Forget
Bite My Tongue
Fresh Start Fever
Lived a Lie