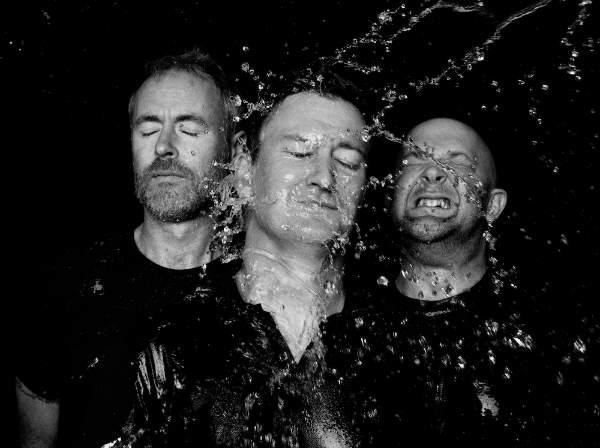 "Typical live show… there's not really ever a typical live show with Peep Tempel *laughs* we never know what to expect, but it's just going to be a lot of sweat usually, you can expect that, but there's going to be a lot of dancing and an all-round good time."
From release: Indomitable Melbourne trio THE PEEP TEMPEL are taking their distinctly Australian, gritty rock'n'roll to the people. The 'Gettin' On By' tour is going to exhibit all the slack, head-noddin' abandon to be found on their track of the same name. 2014 sophomore album 'Tales' catapulted The Peep Tempel beyond the gnarly confines of West Melbourne, where it was conceived, written and recorded. It earned them a spot on the AMP Prize shortlist, and triple j acknowledged the disarmingly polite off-kilter love song Carol. The Sydney Morning Herald hit the nail on the head, calling Tales "a sustained dip into a part of the national psyche our creative cultures rarely reach." Inspired garage rock'n'roll imbued with wacky vernacular and unsettling characterisation. It's all there in the live show too, with more dancing
We had a chat with Stew of The Peep Tempel about the band's current tour, their music, new music and much more…
So for those that may not know about the band, how would you best describe the sound and vibe of Peep Tempel?
I'd call it twistedly trashy rock and roll music I guess *laughs* yeah it's definitely its own beast that's for sure, just full of dark stories with the twisted rock and roll that we do.
You released your second album last year, and the second is always a big step but did you have a idea of how you wanted to create and what you wanted to create out of it?
No not really, we just wanted to put together a bunch of songs that we liked that we knew we were going to have to play for the next two years kind of thing. At first it was a bit of a long process but once we wrote songs like 'Carol' and 'Big Fish' and stuff we thought alright this is kind of the direction and it kind of took off from there.
Did you feel there was a lot of growth within the band between records that helped you to make what became 'Tales'?
Yeah 100% for sure, yeah, coming up to the first record we hadn't really toured properly as a band before that and then we did a few east coast tours and we headed over to Europe, like when you have your first record you only have those twelve songs that you do in your set and we sort of knew what we wanted to add to our set of live material.
Do you find with the difference between the first and second album that it's weirder playing the older songs now?
Nah not really, I think it fits in really well, the newer stuff gets a bit more of a reaction because a lot more people have gotten out and gotten hold of 'Tales' but we still love playing the older stuff, it's great fun.
So what is the process like in creating a Peep Tempel song?
Most of the time it's just getting in there jamming, but sometimes one of us will have a riff or will bring in a song idea or stuff like that. We demoed a heap of songs the other day and Steve our drummer brought in this really cool bass line and we liked that and it came out as a song, so we're trying different things all the time, just trying to evolve.
You're also in the middle of a tour playing some shows out and about, describe a typical live show from the Peep Tempel and what people can expect if they come and check out a show?
Typical live show… there's not really ever a typical live show with Peep Tempel *laughs* we never know what to expect, but it's just going to be a lot of sweat usually, you can expect that, but there's going to be a lot of dancing and an all-round good time.
Touring seems to be a big thing for you guys, how do you manage to play so many consecutive gigs without carking it?
Well it's just what we do, it's what we look forward to doing and every time we're not doing it, we want to be doing it and it's just great to be able to get out and about, get out to places, I've never been to WA before and we were there last weekend and it was just an awesome experience to get out there and do it.
Are you guys already writing or even contemplating new music at this stage?
Yeah as I mentioned before we're sort of demoing some stuff from when we had a bit of time off and when we can and there's definitely a couple of keepers in that. We're looking to record hopefully at the start of next year, hopefully try and have an album out this time next year.
Have there been any thoughts about heading overseas?
Yeah 100% we definitely want to try to get to The States next year, that's definitely the market we'll be trying to get 'Tales' released over there at the moment and hopefully that leads us over there doing a bunch of shows in the U.S., that would be unreal.
So, what's your favourite thing about being in The Peep Tempel?
I really love playing live, getting on stage, the adrenalin and you never know what to expect when we roll into town and meeting lots and lots of really cool people when we're out on the road, and the travelling, you see beautiful things that you'd never get to see just doing day to day work *laughs*
Ok time for a quick fire insight into you…
Last album you bought?
The Led Zeppelin reissue of Led Zep 4
Favourite band to see live?
I saw Flipper play a few years ago at The Esplanade  in St Kilda and it floored me, I didn't think it was going to be as good as what it was, but they're quite older blokes now they put their albums out in the last seventies/ early eighties and fuck, they've still got it.
What band or artist made you want to be a rock star?
Definitely Guns N Roses when I was a kid, 100% *laughs* I had walls covered in Guns N Roses posters.
What's one song you'd love the band to cover that no one would expect you to?
*laughs* We did do once a cover of 'Total Control' by The Motels… it was a friend of ours birthday and it's one of her favourite songs, so we learnt it and played it and no one expected us to do that, that's for sure *laughs*
Has it ever made it back into the set?
No *laughs* but we do have a live recording of it from the show.
So what's next for you guys?
We're out until the start of June but I think we've got another couple of bits and pieces coming up in June / July a few shows yet to be announced, and yeah, we'll start working on the next record, pre-production, writing and all that jazz…
Lastly, finish this sentence for me by the end of 2015, The Peep Tempel will…
Hopefully still be alive after our tours *laughs* but The Peep Tempel will be recording…
Catch The Peep Tempel at their remaining 'Gettin'On By' tour dates
Saturday 23rd May – Howler, Melbourne – TIX HERE
Saturday 30th May – The Railway Club, Darwin – TIX HERE
Friday 5th June – Crown & Anchor, Adelaide – TIX HERE
Saturday 6th June – The Eastern, Ballarat
Essential Information
From: Melbourne, Australia
Sounds like: Rock and Roll
Band members: Blake, Striker & Stewart
Latest Release: Tales
Website: http://wingsing.co/thepeeptempel/